Minister only talks of female victims and male perps

Family violence tops Ambrose's to do list
Toronto Star, OTTAWA BUREAU, JOANNA SMITH, 9 Sep 2013, page A6
New health minister has worked in women's shelters and sex abuse centres

"It's my view that family violence is a public health issue. It's a public policy issue."
RONA AMBROSE, FEDERAL HEALTH MINISTER
OTTAWA- As an emergency room physician who has dedicated his career to promoting the prevention of injuries, Dr. Louis Hugo Francescutti has seen his share of victims of domestic abuse.
He welcomes the news that Rona Ambrose, who replaced Leona Aglukkaq as federal health minister in the cabinet shuffle this summer, plans to make ending family violence a major theme of her tenure in the portfolio.
"As medical professionals, you have a vital role to play in helping to address violence by recognizing the signs, reporting violence and ensuring your patients get the physical and mental support they need," Ambrose told physicians at the annual meeting of the Canadian Medical Association in Calgary last month, where Francescutti was installed as president of the professional body representing more than 78,000 doctors nationwide.
Still, years of experience in the real world of emergency medicine had Francescutti diluting his praise with a strong word of caution, noting his own reluctance to ask his ER patients about violence at home because a bed in a safe shelter is so often unavailable.
"I think it's great, but we better make sure that we deliver resources, because there would be nothing worse than creating false expectations for these individuals that find themselves in very difficult situations," Francescutti told the Star Friday.
Given the plethora of timely topics to choose from - home care, the safety of prescription drugs and the push for a new 2014 Health Accord, to name a few - it may seem surprising that Ambrose has decided family violence, with a particular focus on violence against women and girls, will be the issue she plans to champion at the cabinet table.
But for Ambrose, who was recently the minister for status of women and worked with women's shelters and sexual abuse crisis centres before she entered politics, it was an obvious move. "It's my view that family violence is a public health issue. It's a public policy issue," she said last week. "I believe that all orders of government should be raising awareness of this issue and so as health minister I believe I have a great opportunity to raise the profile of this issue both domestically and internationally." She also understands the importance of appealing to the pocketbooks - and not just the hearts - of Canadians and governments and points to a report from Justice Canada last year that estimated the economic cost of spousal abuse to be about $7.4 billion annually, or $220 per person. Based on 2009 figures, the report notes the cost to victims is almost $6 billion annually, including nearly $21 million in acute hospitalizations, visits to doctors and the emergency department as well as nearly $180 million related to mental health issues. She has some specific ideas about how to tackle it within the health portfolio, beginning with something as obvious as making sure doctors have access to pamphlets for their offices - in numerous languages, so as to reach out to immigrant communities. She also wants to push for better incentives for physicians to boost their training in the area of family violence, such as making sure they get continuing education credits for learning Read More ..out it. She plans to speak to provincial and territorial health ministers at their annual meeting in Toronto next month about better co-ordinating services for victims of family violence, which she said also includes elder and child abuse.
And she wants to breathe new life into the Family Violence Initiative, a co-ordinated effort between 15 federal government departments, agencies and Crown corporations led by the Public Health Agency of Canada, which falls under Ambrose's portfolio.
"I've already begun to work with them on looking at where are we putting our money. Are we putting it in the right places?" said Ambrose.
She also said she is committed to supporting the re-establishment of the Commons special committee on violence against aboriginal women, which would be disbanded if Parliament prorogues as expected.
Francescutti said he hopes this efforts turns into a national strategy that involves the new health minister bringing other areas of government on board and looking at the issues in a holistic way.
Brainwashing Children - Divorce - Family Law

TV Show about Parental Alienation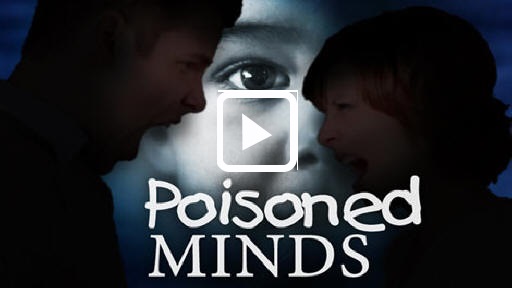 November 7, 2009
The world of divorce is scary for any child. But when a divorce becomes especially toxic, children can become the target of an unrelenting crusade by one parent to destroy the child's relationship with the other. Experts call it parental alienation.
Mothers Who Kill Their Own Children

Days after buying another woman Valentine's Day flowers, a Sydney father came home to find a trail of blood leading him to the bodies of his two young children lying next to their mother, a court has been told.
Australian Associated Press
Aug 24 2009
The woman had given the couple's three-year-old daughter and four-year-old son rat poison and an unidentified pink liquid before smothering them and killing them, court papers said.
She then tried to take her own life, the NSW Supreme Court was told.
Doctors agree the mother, from Canley Heights in Sydney's west, was suffering from "major depression" when she poisoned her children on February 19 last year.
She has pleaded not guilty to the two murders by reason of mental illness.
As her judge-alone trial began, the mother's lawyer told Justice Clifton Hoeben his client didn't think life was worth living after learning about her husband's affair.
American Psychological Association
Nearly one in 10 girls and one in 20 boys say they have been raped or experienced some other form of abusive violence on a date, according to a study released Sunday at the annual meeting of the American Psychological Association.

More and More teens are becoming depressed. The numbers of young people suffering from depression in the last 10 years has risen worryingly, an expert says.
BBC, UK, August 3, 2004
Government statistics suggest one in eight adolescents now has depression.
Unless doctors recognise the problem, Read More ..uld slip through the net, says Professor Tim Kendall of the National Collaborating Centre for Mental Health.
Guidelines on treating childhood depression will be published next year. Professor Kendall says a lot Read More ..eds to be done to treat the illness. Read More ..

Woman convicted of killing 3 kids after custody battle
THE ASSOCIATED PRESS, USA, August 26, 2008
HELSINKI, Finland - A court in Finland has convicted a woman of murdering her three young children and has given her a life sentence.
The Espoo District Court says Thai-born Yu-Hsiu Fu was found guilty of strangling her 8-year-old twin daughters and 1-year-old son in her home.
She tried to kill herself afterward.
The verdict on Tuesday says the 41-year-old woman was found to be of sound mind at the time of the murders.
Court papers show the murders were preceded by a bitter custody battle with her Finnish husband who was living separately from her at the time of the murders.
A life sentence in Finland mean convicts usually serve at least 11 years in prison.