Boycott - David and Goliath Hate Products
BOYCOTT of WAL-MART in 2004. In 2004 we found recently that WAL-MART was selling "BOYS ARE STUPID: THROW ROCKS AT THEM" Calendars on their Wal-Mart.com website
December 2004 - Wal-Mart Canada has refused to explain the extent of distribution in their Canadian stores and has not stated that they will stop selling these items on the website.
Commentary - March 9th, 2004
Hate Crime Complaint filed with Toronto police
The Canadian Children's Rights Council has filed a hate crime complaint with the Toronto Police against the Toronto Star newspaper, the clothing distributor and retailers selling clothing which have printed misandric child hate messages.
The Toronto Star is the largest single newspaper in Canada and is located in Canada's largest City, Toronto, Ontario. The Toronto Star is unique when considering newspapers from around the world because of the papers tremendous efforts to follow the principles of it's founder Joseph Atkinson. The Atkinson principles require a substantial social justice content for the newspaper, pursuit of the truth and advocacy for positive change in our society. We at the Canadian Children's Rights look forward to reading "The Star" daily.
The Toronto Star carried a special section in its Saturday, March 6th, 2004 celebrate International Women's Day edition titled "Shopping" "Feminist fashionistas". A major article on page L3 with the headline "Funky femorabilia" followed by "Products with girl power messages have a point to make" taking up 2/3rds of the page contained large pictures of a clothing line from the United States that states" BOYS ARE STUPID, THROW ROCKS AT THEM!". The same clothing manufacturer also supplies other misandrist and child hate slogans.
The Toronto Star article also carried a large picture with a bottle of "TOTAL BITCH " bubble bath.
The Toronto Star has led the way amongst Canadian newspapers when it comes to social issues such as poverty and equality rights. Until recently, they had a nationally known feminist columnist.
They have never has had a masculist columnist. They have frequently, to their credit, written about children's issues although they haven't had a children's rights activist as a columnist and usually write such articles from a feminist perspective.
The new Toronto Star Publisher, effective next month, Michael GoldBloom, stated on March 6th, 2004, just days ago that "We do share the belief that a newspaper is a public trust, that a great newspaper has a unique role and responsibility in a democratic society, that we must pursue the truth, in the words of (New York Times editor-in-chief) Adolph Ochs, without fear or favour, and that we can and must be a constructive advocate for change in our society...."
HOW COULD THE TORONTO STAR PROMOTE SUCH ITEMS IN THEIR "SHOPPING THERAPY SPECIAL SECTION"? This Section was titled "Shopping - Feminist Fashionistas" as the huge headline of the section and was accompanied by a huge full page picture of 2 women in window that read " Celebrate International Women's Day".
This wasn't the coverage of a news item. It was a misandrist young female writer promoting what's cool and inviting children to dress in and use such hate products.
The first lesson taught, in the first class I attended when this writer was enrolled in "Women's Studies" in 1971, was to reverse the gender soles in a situation and try it on for size.
Can you even imagine clothing with "GIRLS SMELL" OR "GIRLS ARE STUPID. THROW ROCKS AT THEM!" OR " GIRLS ARE PIGS" or "KIDS ARE STUPID, THROW ROCKS AT THEM" OR "KIDS ARE PIGS".
The President of the Canadian Children's Rights Council stated "We put this clothing into the same category as a white person wearing a shirt with the slogan " BLACKS ARE STUPID, THROW ROCKS AT THEM!" or some person wearing a shirt with "JEWS ARE STUPID, THROW ROCKS AT THEM!" This is clearly a hate crime."
This violation of the human rights of both female and male children must be stopped. Girls are being victimized by parents spreading hatred. Can you imagine a white supremacist parent buying a shirt for their child that states " BLACKS ARE ARE STUPID, THROW ROCKS AT THEM!" Boys are constantly receiving the message that they are not worth as much as girls and that it is ok for girls to make such statements that violate boys' human rights.
The Canadian Children's Rights Council today asked the Minister of Public Safety and Preparedness, The Honourable Anne McLellan, to instruct the Canada Border Services Agency to review the hate clothing importation and to discuss this matter with other Ministers.
The Canada Border Services Agency has advised us that under the current Criminal Code of Canada, there is no provision to stop hate materials from entering the country which are based on hatred of either gender, or of the hatred of children. They referred to legislation currently before the Senate of Canada, a private members bill, that would include such hate against gays or lesbians as an offence under the Criminal Code of Canada.
We have asked the Minister to intervene and initiate a Charter challenge under the Security of the person provisions of the Canadian Charter of Rights and Freedoms. It is our position that Canadian children and youths need and deserve the protection of the Charter as provided by their government.
We have requested the Government of Canada to instruct Canada Custom's Inspectors to block the importation of clothing provided by David and Goliath Inc., an American company located in Clearwater, Florida.
The Canadian Children's Rights Council contacted the manufacturer of the clothing in Florida and spoke with a person who identified herself as Cindy Lou, V.P. International Sales. Her response to the issue of hate and the human rights violation messages on their clothing was met with her stupid comment "No one has reported being hit with a rock yet."
The Canadian Children's Rights Council contacted the co-owner of the retail store mentioned in Star article to inquire. The co-owner Shane Moxy was delighted that we were concerned about the human rights violation and commented positively to our statement about us possibly filing a human rights complaint, stating that negative publicity would be great for his business. He stated to the male caller " What's the problem? Aren't your balls big enough to take it?" 1st off the issue was concerning male children. Secondly the remark was a variation of the "Can't you take it like a man?" theme, another classic misandrist statement.
The position of the Canadian Children's Rights Council is that such offensive messages on clothing or view by children in public are an infringement on their human rights. Such messages are clearly derogatory and discrimination against boys. How you you think a 7 year old boy feels when he walks down the street and sees a groups of girls wearing shirts with the message " BOYS ARE STUPID, THROW ROCKS AT THEM"
The discussion with 33 year old, Daphne Gordon, the Toronto Star reporter who wrote the offending article was lively. Her comments were such that she was asked "Are you a parent?" She replied "I have a niece and nephew". For those of us that have raised many children, there is a substantial difference between visiting our child relatives occasionally and raising our children 24/7 in sickness and in health.
After further discussions with Daphne Gordon, we conclude that we at the Canadian Children's Rights council are supposed to, as the saying goes, "Take it like a man." This flippant young writer should be fired. She certainly doesn't represent the principles upon which the Toronto Star was founded.
We are also filing a complaint with the Press Council.
We're filing a human rights complaint in every province of Canada if the governments of each province won't do it themselves.
These items are now appearing under license from this same manufacturer on many products such as lip balm, pajamas , calendars, coffee mugs etc etc. It's not just T-shirts.
---
Some other slogans put out by the same manufacturer (David and Goliath) states:
"BOYS ARE SMELLY", "BOYS ARE STUPID", "MEN ARE PIGS"
"THAT'S QUEEN BITCH TO YOU", "WHITE TRASH", "CHICKS RULE", "HIGH LOSER" with a picture of a smiling girl making the statement, "YOU SAY I'M A BITCH", "MAGICALLY DELICIOUS" written on the front area of the crotch of the underwear (panties)
"KISS ME" with an inappropriate set of lips and/or lipstick on the front crotch area of the underwear (panties)
"HERE BOYS" with a picture of a dog bone
"IT'S ALL ABOUT ME" ( 2 different models)
"BOYS LIE, POKE THEM IN THE EYE"
"BOYS ARE GOOBERS, DROP ANVILS ON THEIR HEADS"
"LOBOTOMY; HOW TO TRAIN BOYS'
"BOYS ARE STUPID: THROW KNIVES AT THEM"
"If Boys are So Tough, Why are They So Afraid of Knives (this with a picture of a boy running away with knives in the air)"
"Tape Can Be Fun, a T-shirt with a boy's mouth covered in tape.
One of the T-shirts is actually featured in the February issue of YM magazine this year.
We called up the manufacturer of the offending clothes. Their Vice President of International Sales, Cindy Lou, stated to us that the clothing was aimed at the 16-28 year old market. When confronted with the question "Would you sell a shirt with "BLACKS ARE STUPID, THROW ROCKS AT THEM", she refused to answer.

The shock value of profane T-shirts
Slogans labelled racist and sexist
Desire to be edgy, a cry for attention
The Toronto Star, TRISH CRAWFORD, LIFE WRITER, Jan. 24, 2005
It's certainly not your grandfather's T-shirt.
Internet mail order houses, custom shops in malls and do-it-yourself kits have spawned an unprecedented deluge of shock shirts. They can be racist, sexist or profane, sporting bloody hammers, rude gestures and gory photos from the news pages.
They get our attention with message such as "Jesus is my homeboy," "Boys are stupid, throw rocks at them," or, teen singer Charlotte Church's contribution, "Barbie is my crack whore." Read More ..
---
The mean T-shirt: From the Stupid Factory
Todd Goldman says his popular boy-bashing T-shirts are simply funny.
So why are retailers having second thoughts?
The National Post, Georgie Binks, Saturday Post, May 29, 2004
---
Suddenly, boy-bashing is all the rage for teenage girls
Edmonton Journal, Calgary Herald; CanWest News Service, Shelley Boettcher, February 06, 2004
---
LA Chain Agrees to Pull 'Boys are Stupid' T-Shirts After Storm of Protest from His Side Listeners
January 6, 2004, Men's News Daily, MND NEWSWIRE
---
Retailers pull Boys Are Stupid products
Protests say merchandise may promote anti-male bias
The Associated Press, Jan. 29, 2004
---
April 1, 2004, By Pat Cangelosi
Helen Grieco, Executive Director of the National Organization for Women (NOW), California chapter, attacked men's and fathers' rights columnist and talk show host Glenn Sacks, labeling him a " women-bashing, backlash shock-jock radio host" in a Christian Science Monitor feature story published today.
Grieco also belittled the importance of Sacks' highly publicized campaign against 'Boys are Stupid' clothing, saying "[At NOW we] don't have time for T-shirt campaigns."
Sacks began the campaign in December when he urged his radio show listeners and supporters to pressure retailers into removing the products. In six weeks the products were knocked out of 3,500 retail outlets-- over 95% of the outlets where they were previously available. The campaign received worldwide media attention, and was covered in most American newspapers, as well as by hundreds of television and radio stations, and in magazines such as TIME and Forbes.
Matt Campbell of the National Coalition for Free Men fired back at NOW, noting "any outspoken men's rights advocate standing up for true gender equity in our society gets criticized and labeled marginal and not representative...feminists want to keep our issues on the back burner." Read More ..
---
This webpage published with thanks to the volunteer efforts of Laurie A. Couture, M.Ed, LMHC 2004
Laurie A. Couture 's website is www.childadvocate.org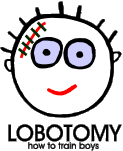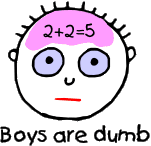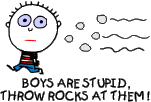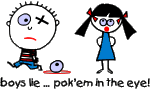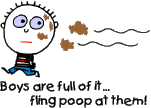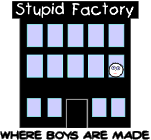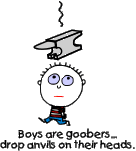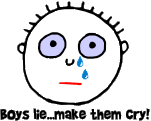 For the past five years, the feminist-promoted trend of "girl power" has gradually evolved into what has now become a conceited, self-righteous pop-culture fad of hatred towards boys. Recently, the David and Goliath T-shirt Company's "Boys are Stupid" line of T-shirts and merchandise has gained popularity with girls, making a fashion statement out of promoting hatred, sexism and abuse against boys - in the name of "fun" and humor.
Despite the pervasive popularity of male bashing and boy-neglect in the past decade, men have been largely silent in demanding and end to this reactive sexism. Corporations are cashing in on this opportunity. However, with the arrival of the David and Goliath "Boys are Stupid" product line, male activists such as Glenn Sacks, as well as women and girls, have been demanding that stores immediately cease carrying these offensive products. Several chain stores have complied, including Claire's and Bon Macys. However, David and Goliath itself remains firm that the shirts are their biggest sellers, and will not be pulled from production.
The anti-male radical feminism of this decade has strayed embarrassingly far from the feminism of the 1960s, which sought to promote equality between two equally valuable sexes. Read More ..
---