Infanticide and mothers who kill their children
---

Winnipeg Sun, by David Larkins, Wednesday, October 22, 2014
WINNIPEG - Winnipeg police now say the bodies of six babies were found in a U-Haul locker Monday afternoon and have made an arrest in connection to the horrifying incident.
Police provided an update Wednesday morning and said it was not three or four infant bodies as originally thought that were found in the storage locker.
Andrea Giesbrecht, 40, of Winnipeg, who police say also goes by Andrea Naworynski, has been charged with six counts of concealing the body of a child and one breach of probation. She was arrested at a home, police said.
The offences are alleged to have occurred between March 7 and Oct. 20.
Police spokesman Const. Eric Hofley could not provide much more detail on how the babies were killed, why they were there, or what their relation is to the accused.
Hofley said the case has not been turned over to the homicide unit because more details still need to come to light on many lingering questions.
Hofley said homicide charges have not been laid, but have not been ruled out.
"So many of the questions that I expect you have will be answered forensically," Hofley said. "As you can see by the charges laid, right now we don't have any information regarding a homicide."
Hofley said the child abuse unit is still investigating, but acknowledged finding the answers may prove difficult.
"It's early in the investigation ... some of these questions may never be answered," he said. Read More ...
---
There were 33 homicides committed against children under the age of 12 in 2003, the lowest number in over 25 years. Of these victims, 14 (or 42%) were under one year of age.
Of the 27 solved homicides against children, 23 were killed by a parent: 10 by a mother, 9 by a father, 4 by a step-father, and 1 by a step-mother (in one incident, both parents were accused). In addition, 2 children were killed by their day-care provider and 2 by a stranger.
Considering Canada's population of 34 million people, there are, thankfully, very few children murdered in Canada each year.
For the 2006 statistics and general information click here
---

Warning: this story contains disturbing details
CBC News, June 9, 2009
A 32-year-old woman in London, Ont., was rearrested on fresh charges Tuesday after an autopsy determined the remains of three babies - not one, as originally suspected - were found in a home on the weekend.
A police forensic identification van is seen Tuesday outside a northeast London, Ont., home where the remains of three infants were found over the weekend. (CBC)Police were called to the home in the city's northeast on Saturday after the current resident found remains of what was believed to be an infant in advanced stages of decomposition in a bucket in the basement.
An autopsy performed on Monday determined the bucket contained the remains of three infants, London police said.
The house was being rented by a woman and her boyfriend, but the couple recently split up and the woman moved out, the CBC's John Lancaster reported on Tuesday from outside the house.
According to a neighbour, the man came out of the house on Saturday with the bucket, which contained blood-soaked babies' clothing. Read More ..
---

THE CANADIAN PRESS, June 09, 2009
LONDON, Ont.-A woman described as a recluse was back in custody and facing additional charges Tuesday after police discovered that infant remains found in a southern Ontario home were in fact the badly decomposed bodies of three babies who may have died years ago.
The grisly find left police with a slew of unanswered questions ahead of an autopsy to be performed Thursday, including the sex of the children, the causes of death, and their relationship to the woman charged.
What is clear is that the bodies are severely decomposed, so much so that police initially thought they were dealing with the remains of only one child, said London police Det.-Supt. Ken Heslop.
"The bodies have been decomposing, it could be over a number of years," Heslop said. Read More ..
---

Joint submission from lawyers seeks no jail time for Angela Kuehl
The Ottawa Sun, by Terri Saunders, April 21, 2009
Prosecutors are not seeking a jail sentence for an emotionally disturbed woman who smothered her newborn with a plastic bag to keep her pregnancy a secret.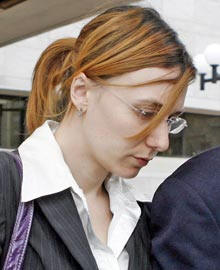 In a joint submission before Judge Lynn Ratushny today, both the prosecution and defence suggested Angela Elizabeth Kuehl, 27, of Ottawa, be sentenced to a year of house arrest followed by two years of probation on a charge of infanticide. Ratushny reserved decision and will sentence Kuehl in August.
Kuehl sat quietly in the front row of the Ottawa courtroom throughout the hearing, periodically wiping her eyes with a tissue. She was surrounded by family members, friends and her new boyfriend.
Kuehl pleaded guilty to one count of infanticide in February after a charge of second-degree murder, which had originally been laid against her in the baby's death, was withdrawn. After a series of psychological assessments, it was determined that Kuehl was in a "disturbed state of mind" at the time and was not capable of fully understanding the implications of her actions.
Kuehl went to an Ottawa hospital on April 19, 2007 to seek treatment for complications following childbirth. At the time, the infant could not be located and an investigation was launched to try to find the baby.
On April 30, police officers found the body of a male infant inside a city garbage truck. An autopsy determined the child was Kuehl's and had been alive at the time of the birth. Read More ..
---

The Los Angeles Times, By Alexandra Zavis, April 15, 2009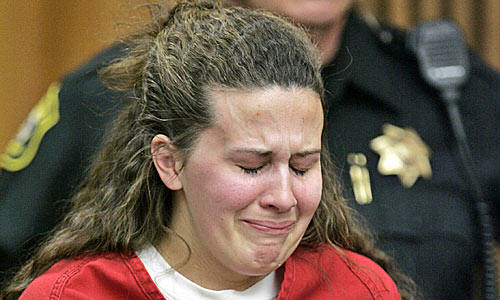 Melissa Huckaby, 28, cries during her arraignment in which she's charged with murder with the special circumstances of kidnapping, rape with a foreign object and lewd or lascivious conduct with a child. Read More ..
---

Canada's largest daily newspaper
Mother tried to deny father access to boy, court documents show
The Toronto Star, Emily Mathieu, STAFF REPORTER, April 01, 2009
In the months leading up to the death of Jayden Marc-Anthony Bernard, the toddler's parents were involved in a bitter custody dispute, according to court documents.
The documents show the father of the 18-month-old boy, who was found dead inside a parked car last week, had filed for joint custody after the child's mother attempted to deny him access to his son.
Shortly after the boy's body was discovered, police charged his mother with first-degree murder. Read More ..
---

Canada's largest daily newspaper
Woman's 911 call led police to her son's body
Toronto Star, by Bob Mitchell STAFF REPORTER, March 28, 2009
A 34-year-old mother of three from Bolton tried to commit suicide after allegedly killing her 18-month-old baby boy, police say.
Peel police yesterday found the dead infant in the passenger seat of a Honda parked in an underground parking garage of a downtown Mississauga office building.
The child's mother, Nadine Bernard, who had called 911 a little earlier, was found at the scene and taken to hospital, police said.
"We believe she attempted to commit suicide," Peel Const. Wayne Patterson said. "She was taken to hospital and treated." Read More ..
---

Canada's largest daily newspaper
Infant's body found in passenger seat of car parked in underground garage
Bob Mitchell, Staff Reporter, March 27, 2009
A 34-year-old Bolton mother has been charged in the slaying of her 18-month old child.
The toddler's body was found earlier today in a car parked in an underground garage of the Mississauga Executive Centre located directly across from Square One Shopping Centre.
The woman is to appear later this afternoon in a Brampton courtroom. She will be charged with first-degree murder. Read More ..
---

The Toronto Star, March 01, 2008, By Peter Small, Courts Bureau
Xuan (Linda) Peng has been found guilty of second-degree murder in the drowning death of her 4-year-old autistic daughter Scarlett in a bathtub in the family home.
A Superior Court jury returned its verdict Saturday morning after two days of deliberations. Read More ..
---

The Canadian Press, various newspapers and media throughout Canada, February 8, 2008
ST. STEPHEN, N.B. - A New Brunswick judge says a woman who burned and dismembered her newborn son is criminally responsible for her actions. Read More ..
---

CBC News, Friday, April 18, 2008
Police have identified a "person of interest" in the discovery of the body of a baby boy dumped outside Edmonton, RCMP said Friday.
A man walking his dog west of Edmonton discovered the body of a dead baby in this wooded area Wednesday morning. Read More ..
---

Associated Press, various newspapers in Canada and the U.S.A., May 07, 2007
CAPE TOWN, South Africa - " A woman was convicted today of hiring a hit squad to murder her lover's baby, ending a trial that had dominated headlines for months with details of South Africa's first known contract killing of an infant. Read More ..
---

Police probe reports boy tossed from overpass
The Toronto Star, ( Canada's largest daily newspaper ) Dec. 4, 2006. HENRY STANCU, STAFF REPORTER
Toronto police are investigating reports that a mother threw her young son from an overpass over busy Highway 401 near the Toronto Zoo last night and then jumped after him, killing them both.
Shocked police officers found the bodies of the boy, about 3, and his mother in the westbound collector lanes under the Morningside Ave. bridge at about 7:15 p.m. Read More ..
---

A safeguard for women? An insult to women? Canada's infanticide law, like the crime itself, ignites strong emotions on both sides. Just how did the legislation evolve and why do some legal experts want it scrapped?
The Edmonton Journal, David Staples, Sunday, November 12, 2006
"You heartless bastards!"
The words rang out in a Wetaskiwin courtroom, Ryan Effert's verbal attack on the eight-woman, four-man jury that had just found his 20-year-old sister, Katrina, guilty of murdering her newborn baby.
Ryan Effert was the first to lash out at the jury, but his angry words have been echoed by many others. Defence lawyers, legal experts, pundits and members of the public have all expressed upset and bewilderment at the decision on Sept. 26. Read More ..
---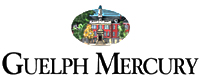 One father enraged, another relieved as woman who killed two baby sons is acquitted of murder
Guelph Mercury, Scott Tracey, September 12, 2008
GUELPH - A Guelph woman who admitted killing her two sons was acquitted of two counts of murder yesterday, prompting an angry outburst from one victim's father and tears of relief from the other.
"You're a f---ing murderer," the woman's former partner yelled at her before storming from the courtroom at Guelph's Superior Court. "No matter what, you're a f---ing murderer."
The man, followed from the courtroom by his mother and grandmother, could then be heard screaming and banging in the corridor. Read More ..
---

THE CANADIAN PRESS, Tamara King, September 11, 2008
GUELPH, Ont.-A 27-year-old woman from Guelph, Ont., facing first-degree murder charges in the suffocation deaths of two of her infant sons, was instead convicted today of the rare crime of infanticide.
The woman - who cannot be identified because she was 17 at the time of her first son's death - had admitted to police that she smothered the two babies, using blankets and plastic baby carriage covers.
The boys were born four years apart to different fathers.
Ontario Superior Court Justice Casimir Herold found that the woman's mind was disturbed by the effects of childbirth, fitting the legal definition of the lesser charge of infanticide.
"I am satisfied on a balance of probabilities, at least, at the time she killed... (her) mind was disturbed as the result of her not yet having fully recovered from the biological effects of giving birth," Herold said in his lengthy written verdict. Read More ..
---

Canadian Press , Oct. 17, 2006.
A Toronto mother has been charged with concealing the death of her baby more than three years ago.
Police allege the woman gave birth to a child sometime in 2002 or 2003.
Its believed the child died after failing to receive any assistance. Read More ..
---

The Globe and Mail (Canada's largest national newspaper), ANTHONY REINHART AND CHRISTIE BLATCHFORD, October 12, 2006
The mother accused of first-degree murder in the deaths of her two little girls last week was admitted to a psychiatric ward of a local hospital as a suicidal patient just five months earlier.
Frances Elaine Campione, The Globe and Mail has confirmed, was admitted to the Royal Victoria Hospital in Barrie, Ont., for an emergency assessment.
The 31-year-old's history in an active file at the Children's Aid Society of Simcoe County raises alarming questions about why the agency returned her two vulnerable youngsters Serena, 3, and Sophia, who was just a year old to her care and what workers and supervisors were doing to monitor her.
Ms. Campione was admitted to hospital early last June after taking an overdose of medication and leaving a suicide note. She was discharged June 30, and within a week or so, The Globe has learned, had managed to regain custody of the little girls and had them back living with her.
Ms. Campione was discharged the same day that another mother who was on the ward at the same time walked out of the Royal Vic but with a battery of support services in place. Read More ..
---

The Globe and Mail, February 1, 2004
TORONTO -- By about 11 o'clock yesterday morning, 25-year-old Elizabeth Cao was essentially free as a bird.
She was given a conditional sentence of two years less a day, plus three years of probation, meaning no jail time. Read More ..
---

National Post ( one of Canada's 2 national newspapers), by Barbara Kay, Wednesday, October 11, 2006
We have heard the story before. The names change, the province changes, the particulars of the custody case change, the age of the dead child changes, but some things stay the same when a mother kills her own children: Any objective observer can see the tragedy coming a mile away,
the children are not removed from her toxic embrace before it happens, and the mother is not only insufficiently punished (if at all) for the crime, but receives public sympathy on the assumption she was driven to it by forces beyond her control.
Last week, Frances Elaine Campione, 31, locked in a year-long custody battle with her estranged husband Leonardo, was charged with the murder of their two baby daughters, one-year-old Sophia, and three-year-old Serena. Whatever the truth turns out to be in this case, warning signs
had abounded: The Children's Aid Society of Simcoe County, Ont. had kept an open file on this family for some time; former neighbours portrayed the mother as unstable and possibly suicidal; some described bizarre and frightening public behaviour; she had been hospitalized for treatment on several occasions.
In the past five years, there have been several comparable tragedies. In 2003, 13-month-old Zachary Turner was drugged and drowned in Newfoundland by his mother, Shirley, while she was out on bail for the third time on charges of murdering Zachary's father. Then there was Toronto baby Jordan Heikamp, who in 2001 starved to death in his mother's care under the eyes of the Catholic Children's Aid Society (no jail time), and Toronto baby Sara Cao, abused to death in 2001 by her mother Elizabeth (again no jail time -- has any murdering mom ever done jail time in Canada?). According to Christie Blatchford, who followed the case, Sara's mother was "treated by the system, and in the main by the media, as a pitiful [woman], worthy of sympathy." Read More ..
---

The Globe and Mail, by TIMOTHY APPLEBY, October 5, 2006
Mother-on-child homicides are rare in Canada but far from unknown.
Twenty-seven of the 37 children slain countrywide in 2004 -- 73 per cent -- were killed by their parents, and mothers were responsible for as many of the deaths as were fathers.
Among those 27 victims, 13 were killed by their biological mothers, eight by their biological fathers.. Read More ..
---

Girls, 1 and 3, found dead at home
Family court appearance set for today
JIM WILKES AND JESSICA LEEDER, STAFF REPORTERS, Oct. 5, 2006
BARRIE - Friends say a woman charged with killing her two young daughters feared she was about to lose them in a bitter custody battle with her estranged husband.
The latest chapter in the custody dispute was to have played out in family court today, but yesterday's slayings of Sophia Campione, 3, and her year-old sister Serena have brought that hearing to a tragic end. Read More ..
---
Zachary Turner, a 13 months old baby, died at the hands of his fugitive mother, Dr. Shirley Turner, who killed him and then committed suicide on August 18, 2003.
Turner was facing extradition to the United States to stand trial for the 2001 murder of Dr. Andrew Bagby, Zachary's father.
28-year-old Dr. Andrew Bagby was found shot to death in Keystone State Park, 55 kilometres northeast of Pittsburgh, PA, U.S.A.
Turner fled to Newfoundland, Canada where Zachary was born. She was out on bail against the wishes of U.S. authorities at the time of Zachary's death.
We have a whole section with the coroner's report Read More ..
---

Inebriated 27-year-old told police she fell asleep on top of 4-month-old girl
The Associated Press, Oshkosh, Wisconsin, USA, Nov 12, 2005
OshKosh, Wisconsin U.S.A.. - A 4-month-old girl died when her inebriated mother fell asleep on top of her while breast-feeding, prosecutors said.
Lorinda Hawkins told police she fell asleep about 15 minutes after she started breast-feeding the baby Feb. 23 because of her intoxication, a criminal complaint said.
When she woke up about an hour later, the baby was pale and wasn't breathing, the complaint said. Hawkins was charged Friday with one count of child neglect causing a death. If convicted as a repeat felony offender, she could be sentenced to 29 years in prison and fined $100,000. Read More ..
---

Canadian Press, Thursday, September 28, 2006
(CP) - Katrina Effert of Wetaskiwin, Alta., has been convicted of second-degree murder for killing her newborn baby boy. Here's what has happened in some other Canadian cases of newborn killing:
Melanie Sheila Murphy, 21: left her baby daughter in garbage bag at the college she was attending in Camrose, Alta. Given suspended sentence in 1998 for infanticide and ordered to perform 75 hours of community service. Read More ..
---

Canadian Press, By: LISA ARROWSMITH, September 27, 2006
WETASKIWIN, Alta. (CP) - It's a small farming community whose high number of auto dealerships has given it a reputation as a good place for a deal on a car.
But the morning after a young local woman was convicted of murdering her newborn baby, debate on the leafy streets of Wetaskiwin, Alta., was over much higher stakes than Ford Vs. Chevy.
"Ten years is not sufficient," said an adamant Gail Doolittle, referring to the sentence handed out to Katrina Effert, 20.
"That's the justice system. We need to give them a chance," she sneered as she loaded her two-year-old daughter Heather into a car seat at a local grocery store. Read More ..
---

Murder convictions rare when moms kill newborns
The Edmonton Journal, Jim Farrell, Thursday, September 28, 2006
EDMONTON -- Legal experts, stunned by Tuesday's second-degree murder conviction of a 20-year-old woman who killed her newborn baby, declared an appeal on the grounds of "unreasonable verdict" a virtual certainty.
Expect Katrina Effert of Wetaskiwin to win that appeal and get a new trial says a University of Winnipeg criminologist.
"I think her chances are pretty good," Kirsten Kramar said. "Effert's second-degree murder conviction is completely out of step with jurisprudence in other provinces. It wasn't a just outcome."
The jury at Effert's trial had the option of finding her guilty of second- degree murder, of infanticide or of manslaughter. Convicted of infanticide or manslaughter, Effert might have gone to jail for a short period of time or she might have received only a conditional sentence and done no time at all. Read More ..
---

Canadian Press, September 20, 2006
EDMONTON - Three women who have known Katrina Effert for decades told the jury at her murder trial how she has been loved and revered by children all her life and how she returned that affection.
Effert, 20, is accused of strangling her baby last year with a pair of her thong underwear and dumping his body over a neighbour's fence within hours of secretly giving birth in the basement of her parent's 'Wetaskiwin, Alta., home.
Defence witness Cathy Doty testified she has known Effert all her life. She said children loved Effert.
"They loved her to pieces," said Doty, Effert's second cousin. "They didn't leave her alone. They surrounded her all the time. Read More ..
---

Edmonton Journal, CanWest News Service; Friday, September 29, 2006
Wetaskiwin AB - Katrina Effert, 19, in disguise, quickly enters the Wetaskiwin Court House for her trial, she's charged with second-degree murder in the death of her newborn son in Wetaskiwin in 2005.
EDMONTON - Lawyers for an Alberta woman are appealing her second-degree murder conviction for killing her newborn baby.
In the meantime, they hope Katrina Effert, 20, of Wetaskiwin, Alta., will be able to get bail during what could be a lengthy process.
'We did that this morning, 'lawyer Sheila Schumacher said Thursday after launching their appeal. Read More ..
---

Associated Press Writer, By JIM SUHR, Sun Sep 24, 2006
EAST ST. LOUIS, Ill. U.S.A. - A woman accused of killing a pregnant woman and her fetus told police she drowned the woman's three young children and stuffed them into a washer and dryer at their apartment, an official said Sunday.
Preliminary autopsies on the dead children Sunday appear to show they were drowned, Ace Hart, a deputy St. Clair County coroner, told The Associated Press.
As of Sunday, Tiffany Hall, 24, had not been charged in the children's deaths, but prosecutors on Saturday accused Hall of killing their mother, Jimella Tunstall, 23, and her fetus. The fetus had been cut from her womb, authorities said. Read More ..
---

21-month-old hurt Friday night
The Toronto Star, by HENRY STANCU, STAFF REPORTER, Oct. 12, 2004.
A Toronto woman has been charged after her 21-month-old daughter died from severe blunt trauma to the head, police say.
City police and ambulance were called Friday at 11 p.m. to an apartment on Pape Ave. at Queen St. E. Inside, they found Starlin Waide, who wasn't breathing. She was rushed to the Hospital for Sick Children but died Saturday at 5:30 p.m., police said. Read More ..
---

Associated Press, U.S.A. October 14, 2005
A University of Southern California student was charged Thursday with murder for allegedly leaving her newborn son in a box next to trash bin where he was found dead.
Holly Ashcraft, 21, of Montana was charged with one count of murder and one count of child abuse, Deputy District Attorney Efrain Aceves said.
Ashcraft, who was arrested Wednesday, made a court appearance Thursday but her arraignment was postponed to Nov. 9. If convicted, she would face 25 years to life in prison. Read More ..
---

Canadian Press, by Alison Auld, June 16, 2008
Karissa Boudreau is shown in this undated handout photo. An arrest has been made in the mysterious case of Karissa Boudreau, the 12-year-old Nova Scotia girl whose frozen body was found in February near Bridgewater after a two-week search. (THE CANADIAN PRESS/HO)
BRIDGEWATER, N.S. - Penny Boudreau, the Nova Scotia woman charged with the first-degree murder of her 12-year-old daughter, clutched a tissue and openly sobbed Monday when she made her first court appearance.
The 33-year-old from Bridgewater, N.S., hid her face and said nothing as the first-degree murder charge was read into the court record.
Later, as she was led out the rear door of the courthouse to a waiting sheriff's car, about 100 people gathered to see the accused mother, dressed in a red T-shirt and jeans. Read More ..
---

Associated Press, various newspapers and media in U.S.A. and Canada By LISA FALKENBERG, May 12, 2003
TYLER, Texas (AP) - A woman charged with bludgeoning two of her sons to death with rocks and critically injuring a third child may not understand the capital murder and aggravated assault charges against her, her lawyer said in court Monday.
Two days after Deanna LaJune Laney, 38, called 911 to report killing two of her sons, the petite woman appeared in court, wide-eyed and nodding responsively when District Court Judge Cynthia Kent asked her if she understood her rights. Laney's newly appointed lawyer, F.R. (Buck) Files, questioned Laney's understanding of the situation.
"I'm not sure if she can truthfully say she understands what is going on," Files told the judge.
Laney is accused of killing Joshua Laney, 8, and Luke Laney, 6, and injuring their 14-month-old brother, Aaron. The toddler remained in critical condition Monday at a Dallas hospital. Read More ..
---

Sheriff: Texas woman says God told her to kill sons
No decision on seeking death penalty, attorney says
CNN, USA, Tuesday, May 13, 2003
TYLER, Texas (CNN) -- Whether authorities will seek the death penalty against a Texas woman accused of beating to death two of her three young sons has not been decided, according to the district attorney who will try the case.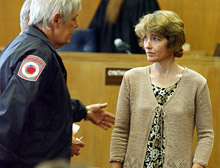 Texas woman accused of beating to death two of her three young sons Deanna LaJune Laney made her first brief court appearance Monday
Smith County D.A. Jack Skeen said he wants to wait until all the evidence is gathered before making that decision in the capital murder case of Deanna LaJune Laney, 38.
In Texas, a capital murder charge carries a punishment of either life in prison or death.
Laney made a brief court appearance Monday, in which a judge read aloud her rights and put her bail at $3 million, the district clerk said. Laney's court-appointed lawyer, F.R. "Buck" Files, advised her to stand silent.
Files said he was simply being cautious because his client has not yet had a mental examination -- the results of which could be key to her defense.
"We have such uncommon allegations against her that it raises, for anyone who's ever been in the system, questions of sanity and competence," he said.
---

Associated Press, U.S.A., Monday, May. 12, 2003
Tyler, Texas - A woman accused of fatally beating two of her sons with rocks spent Mother's Day sobbing and muttering in a jail cell.
Deanna LaJune Laney, 38, remained on a suicide watch Monday at Smith County Jail, where she was held in lieu of $3-million (U.S.) bond on capital murder and aggravated assault charges.
Ms. Laney is accused of killing Joshua Laney, 8, and Luke Laney, 6, and injuring their 14-month-old brother, Aaron. Aaron remained in critical condition early Monday at a Dallas Hospital.
In a call to emergency workers early Saturday, Ms. Laney reported that she had just "bashed their heads in with a rock," Sheriff J.B. Smith said. Read More ..
---

Newborn boy dies after being abandoned on trail near home
Saskatoon StarPhoenix, SK, Heather Polischuk and Jason Warick, Senior Reporter, May 25, 2002
PRINCE ALBERT -- A 14-year-old girl pleaded guilty Friday to infanticide for abandoning her newborn baby along a seldom-used trail behind her home.
The teenager, who cannot be named under the Young Offenders Act, was also charged with first-degree murder, but that was dropped in exchange for her guilty plea to the lesser charge.
The girl walked into a bush on Oct. 2, 2001, near the home on the Whitefish reserve that she shared with several relatives and gave birth to the baby. She had hidden the pregnancy from her family, court heard.
The girl wrapped the baby boy in a blanket, placed him along the infrequently used trail and walked away.
The baby's body was discovered along the path two days later. Read More ..