The Selling / Murdering of Canadian Children
ButterBox Babies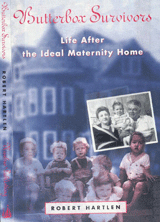 Butterbox Survivors! Life After The Ideal Maternity Home
Since the 1992 publication of Butterbox Babies, the Ideal Maternity Home in Chester, Nova Scotia, has become synonymous with illegal adoptions and suspicious baby deaths. Much attention has been given to the neglect of infants at the Home, the exorbitant fees paid by adoptive parents, and the secretive nature of the transactions.
But what became of the children who were adopted? What effect did their shaky beginnings have on their later lives? Were they loved and cherished, or mistreated and ignored? Did they feel like "family"? Did they always wonder who they were?
In this comprehensive book, author and Survivor Robert Hartlen has compiled the personal stories of thirty six of the adult adoptees who survived the Ideal Maternity Home. Here we share in their most private memories and experiences; the painful struggles to come to terms with being adopted, the epic searches to find birth families, and the heartening sense of a surrogate family many adoptees found in fellow Survivors.
Also included are stories of some of the birth mothers who gave up their children, and of some of the adopted mothers who claimed the babies as their own. Underlying all the stories is the terrifying realization that except for an act of fate, or of grace, these Survivors might have shared an unmarked grave with their innocent fellow infants known and remembered as the "Butterbox Babies."
At once uplifting and disquieting, these stories not only force us to confront a painful chapter in Nova Scotia's history, but also challenge us to reconsider the whole notion of "family."
This is an uplifting story of human triumph; it is about overcoming adversity and discovering the truth about your life.
Written by a survivor of the Ideal Maternity Home of Chester, this personal story of the Butterbox Babies, is made more poignant by the author's search for his beginnings and his subsequent finding of others like himself.
The Ideal Maternity Home was opened by Lila and William Young along Nova Scotia's south shore in February, 1928 as a health sanatorium; but it quickly became a specialized maternity service for unwed mothers. Delivering babies became their business and with privacy and discretion guaranteed.
Butterbox Survivors is more importantly the story of the Survivors of the Young's sanatorium, including author Bob Hartlen. Bob Hartlen is one of many who share for the first time their struggle with their unknown or unknowable past.
Published by Nimbus Publishing, $17.95, 6x9, 192 pp, paperback, b&w photos ISBN 1-55109-290-5 April 15, 1999
For those who wish to order directly from the author, please email bhartlen@ns.sympatico.ca.
Make cheques or money orders made payable to BOB HARTLEN.
Mail your order and your payment to:
Bob Hartlen
294 Radcliffe Drive, Suite 415,
Halifax, Nova Scotia, CANADA B3S 1E8
The Ideal Maternity Home is infamous for the Butterbox Babies.
The Ideal Maternity Home operated in East Chester, Nova Scotia, Canada from the late 1920s through at least the late 1940s. William and Lila Young operated it. William was a chiropractor and Lila was a midwife, although she advertised herself as an obstetrician.
While they were tried for various crimes involving the home, including manslaughter, the entire truth of the horrors perpetrated there was not widely known until much later.