Virtual Library of Newspaper Articles - 1999

The National Post, Saturday, November 20, 1999
Yesterday, children across Canada were asked to select their most cherished UN right in a national "election" for the Rights of Youth, held to coincide with the 10th anniversary of the United Nations Declaration on the Rights of the Child. Despite a strong early showing, the "right to rest and play" placed fifth -- behind the rights to family, food and shelter, health, and education.
Things ran smoothly despite a write-in campaign from the "right to play hookey" crowd, which was strongly rumoured to be staging an upset.
"This historic experience will be a valuable lesson in democracy for the young Canadians who participate," said Jean Pierre Kingsley, Canada' s Chief Election Officer. UNICEF posted up-to-the-minute reports on a Web site -- itsyourvoice.com -- a clever, if grammatically flawed, gimmick. Read More ..
---

Canada's largest national newspaper
Globe and Mail, by Andre Picard, Public Health Reporter, Thursday, November 18, 1999
Canada is systematically violating seven articles of the United Nations Convention on the Rights of the Child, with the most glaring failure its treatment of disabled children, according to a report being released today.
The report says children in Canada with disabilities are not guaranteed basic educational and social services. Canada also violates the human rights of refugee claimants and immigrants by rejecting those with disabilities...Read More ..
---

Calgary Herald, Charles W. Moore July 29, 1999
Charles W. Moore goes after quack psychologists busy "deconstructing" fatherhood
I am beginning to wonder if being a card-carrying lunatic facilitates getting published in journals of the American Psychological Association (APA)
A report, recently published in the APA's Psychological Bulletin, by Bruce Rind, Philip Tromovitch and Robert Bauserman, asserted that the "negative potential" of child sexual abuse has "been overstated." The authors rationalized that while "child sexual abuse is harmful," supposedly consensual "child -adult sex" is not necessarily harmful and may, in some cases, even be "beneficial." Read More ..
---
Teen killer and sexual mutilator. Her very last day in jail will be July 5, 2005. She' ll be 35 years old then. And she badly, badly wants to be a mother.
The Globe and Mail, MARGARET WENTES, November 6, 1999
---

Canada's largest national newspaper
Not allowing move to halfway house "perverse," suit says
National Post, Wednesday, November 3, 1999, Janice Tibbetts,
OTTAWA - Karla Homolka, convicted in the killing of two teenage girls, claims in a lawsuit that the federal government has violated her constitutional rights by refusing to transfer her to a Montreal halfway house.
Homolka argues in a lawsuit filed in the Federal Court of Canada that it is time to begin her reintegration into society. In particular, she would like to become acquainted with Montreal, a city she plans to call home when she is eventually released.
"I do not think it is in my best interests, or anybody else's, for me to be released ... after eight years incarceration without any type of gradual release to a place where I have never been and do not know anyone," Homolka wrote in her application to be moved.
Homolka was sentenced to a 12-year term in 1993 for the killings of Kristen French and Leslie Mahaffy. Read More ..
---


Canada's largest daily newspaper
Letters to the Editor
The Toronto Star, May 20, 1999, page A25, by Grant Wilson, President, Canadian Children's Rights Council
Overall, your Hard Times series on welfare recipients is well-written and long overdue. Much of the public have misconceptions about the lives of men, women and children on welfare.
I must, however, take exception to a reference to child financial support in your May 8 article, The children are the invisible poor, where you state "Only about 15 perecent of single welfare mothers get any support from the fathers. When they do, that amount is automatically deducted from their welfare cheque."
That incorrectly gives the impression that only 15 per cent of fathers of children on welfare pay child support. You did correctly state that all the child financial support is effectively supposed to go to the government and not directly to the mother to help the children. Read More ..
---

By Kathleen Parker, Published in The Orlando Sentinel, USA, on July 18, 1999
Now is the time for all good fathers to come to the aid of the family.
But you'd better hurry; your days are numbered. In fact, if you happen to be a heterosexual male (further doomed by Caucasian pigmentation), your days are already over, according to a cover article in the June issue of American Psychologist, published by the American Psychological Association.
In their article, "Deconstructing the Essential Father," researchers Louise B. Silverstein and Carl F. Auerbach challenge one of the core institutions of our culture -- fatherhood. Read More .. less, fathers, as we've known and loved them, are obsolete.
The article makes numerous breathtaking assertions, but basically the researchers state that:
Fathers aren't essential to the well-being of children. Read More ..
---
Alberta Report
Alberta Report (Alberta Report was a magazine publication providing news and analysis of political analysis, It is no longer published), by Marnie Ko, May 3, 1999
Nurses At Foothills Hospital Rebel Over The Horrifying Results Of Late- Term ' Genetic Terminations'
At Calgary' s Foothills Hospital some premature infants are born alive, then routinely allowed to die. For instance, last August a doctor told a mother-to- be that her baby suffered from lethal genetic defects. The mother was persuaded to undergo a "genetic termination," and a regularly used procedure called an induction abortion was performed only five weeks before the baby was due. Chemically induced labour was followed by a live birth. But because the mother had decided her child should not live, nurses were forbidden to provide even such basics as food and fluids. "For 12 hours we took turns rocking and holding the baby until it finally died," says foothills nurse "Catherine," whose real name, along with the baby' s sex, have been withheld to protect her job. The mother believed her child was subnormal, but Catherine could see only a baby. "I was sick for weeks," she says. Read More ..
---
Pittsburgh Post-Gazette, By Jon Delano Tuesday, March 16, 1999
It was a tough week for American boys.
First, the Academy of Pediatrics issued its latest circumcision policy statement, advising, too late for most of us, that there is no real medical evidence to justify tampering with male genitals in the United States.
Then, contrary to the old saw that infants don't feel pain, the baby docs declared that when it comes to this little surgery, yikes, it hurts. The Academy says that hospital circumcision accompanied by tears and increased rates of heartbeat, blood pressure and oxygen levels should now include local anesthesia to reduce some of the surgical stress on a day-old boy.
Finally, the Pittsburgh Post-Gazette reported that a Boston bio-engineering company is "harvesting" foreskins to make a quasi-synthetic skin for burn victims and folks with skin disorders. While this may be a medical advancement, the notion of people walking around with someone else's foreskin is a bit bizarre, especially if it wasn't necessary to remove it from the kid in the first place! Read More ..
---
The United States is the only country that routinely circumcises baby boys for non-religious reasons
CNN, U.S.A., March 1, 1999, From Parenting Correspondent Pat Etheridge
ATLANTA (CNN) -- American pediatricians are turning away from the practice of routine circumcision, concluding that doctors have no good medical reason to perform the procedure.
The United States is the only country in the world that routinely removes the foreskins of infant boys. Critics of circumcision got additional ammunition Monday from the American Academy of Pediatrics, a leading medical organization.
The academy concluded the benefits "are not compelling enough" for circumcision to be routinely administered. And if doctors do go ahead with the practice, the pediatricians' group recommended the use of pain relief for the child afterward -- the first time it has made that recommendation. Read More .. ..
---

The National Post, The Gazette, Montreal, Lynn Moore, Monday, February 15, 1999
---

There are more than 400 government-supported transition houses for women. The only shelter in Canada dedicated to men healing from marital breakups is about to close
The National Post, by Donna Laframboise, January 27, 1999
Springtime's first blooms have burst forth in the yard and a cheerful fire is warming the living room, but the Elk Lake Lodge -- Canada's only shelter for men battered and bruised in marital meltdowns -- is gasping its last breaths.
At the end of this week the curtains will be drawn over the large, airy windows, the cloth covering the dining room table will be folded away, the homey bedrooms will be vacated, and the lodge's residents will be cast out into the West Coast rain.
There are 87 government-funded transition houses (otherwise known as battered women's shelters) in British Columbia to which a woman can turn when going through a difficult separation or divorce. A woman need only pick up the phone and one of these facilities will refer her to sympathetic legal services and therapists, advise her of her rights and options, and provide her with emotional support. In many cases, a woman need not have been physically abused but has only to claim to be the victim of verbal or emotional abuse to qualify for admittance to one of these facilities.
A particular group of these shelters, known as second-stage transition houses, will provide her with an apartment for between three and 12 months. Governments pour tens of millions of dollars into such services for women every year.
---

Boys have been painted as the bad guys in the push to encourage girls to succeed, leaving many young men feeling confused and alienated, wondering what they did wrong
National Post, By Donna Laframboise, January 5th,1999

The Guardian, UK
August 16, 2005
A married primary schoolteacher was jailed for 15 months yesterday after admitting having sex with an underage teenage boy.
Hannah Grice, 32, pleaded guilty at an earlier hearing to two counts of indecent assault on the boy, who was aged 14 and 15 at the time of the offences.
Sentencing her at Stafford crown court, Judge John Shand told Grice, from Cannock, Staffordshire, she had abused her position of trust.
"Cases such as this are, of course, made worse by the fact that you were a member of the teaching profession," he told her. "You should have been very sensitive indeed to child welfare issues." Grice was also ordered to register as a sex offender for 10 years. Read More ..
Dr. Sandford L. Braver and Diane O'Connell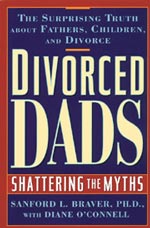 This is the result of the largest federally funded 8 year study of the issues confronting parents and their children in the United States.
Shattering the Myths. The surprising truth about fathers, children and divorce. Read More ..
Teacher "We are not going to put up with it."
Boy only 3 years old!! Read More ..
A Quote Worth Remembering
About The truth
"All truth passes through three stages. First it is ridiculed, Second it is violently opposed. Third it is accepted as self-evident."
Arthur Schopenhauer
(1788-1860)