Special Joint Committee on Custody and Access
The report of the The Special Joint Committee on Custody and Access - December 1998
The Special Joint Committee's report, "For the Sake of the Children", was presented to the Parliament of Canada in December 1998. The entire report is on this website in xhtml webpages and in a pdf
English HTML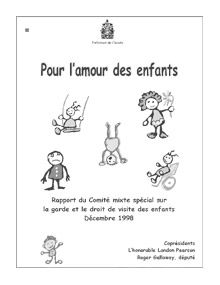 Rapport du Comité mixte spécial sur la garde et le droit de visite des enfants - Décembre 1998
"Pour l'amour des enfants" français html
---
Members of the Special Joint Committee on Custody and Access
Joint Chairmen
Roger Gallaway MP Senator Landon Pearson
Members
Eleni Bakopanos MP

(Liberal)

Carolyn Bennett MP

(Liberal)

Robert Bertrand MP

(Liberal)

Senator Erminie J. Cohen

(Conservative)

Senator Joan Cook

(Liberal)

Senator Anne C. Cools

(Liberal)

Madeleine Dalphond-Guiral MP

(Bloc Québécois)

Senator Mabel M. De Ware

(Conservative)

Sheila Finestone MP

(Liberal)

Paul Forseth MP

(Conservative)

John Harvard MP

(Liberal)

Nancy Karetak-Lindell MP

(Liberal)

Senator Marjory LeBreton

(Conservative)

Judi Longfield MP

(Liberal)

Eric Lowther MP

( Canadian Alliance)

Senator Marian Maloney

(Liberal)

Peter Mancini MP

(New Democrat Party)

Philip Mayfield MP

(Conservative)

Denis Paradis MP

(Liberal)

Caroline St-Hilaire MP

(Bloc Québécois)

Diane St-Jacques MP

(Liberal)
---
List of Witnesses
Media coverage across Canada about
The Special Joint Committee on Custody and Access

CUSTODY PENALTIES RIPPED
Toronto Sun: Top Stories, By PHILIP LEE-SHANOK, March 31, 1998
Moms who deny their ex-spouses legal access to their children should be jailed, a joint Senate-House of Commons committee on child custody and access heard yesterday.
Groups representing men who have been denied visitation rights complained there was a bias in the family law system favouring women as custodial parents after a divorce.
Stacy Robb, president of the advocacy group Dads and Divorce Strategies (DADS Canada), said there should be increasingly tougher penalties, including jail time. More..
---

Anne Cools' absence of malice Outspoken senator says she doesn't take sides on the family
National Post, Linda Frum, Saturday, December 19, 1998
Inside her Senate office, Anne Cools sits in a standard-issue, red leather chair, talking on the telephone. "Just one question, my dear," she says to a friend on the phone. "When I do that breathing exercise you taught me, do I say, 'Aah,' or do I say, 'Ooh?' "
Turning her attention to me, Ms. Cools explains: "It's just that I need to reduce my stress. It's these feminists. I don't understand them."
And Senator Cools believes that they don't understand her. She was one of 23 committee members to produce November's highly controversial For the Sake of the Children, a report on child custody and access, but it is she who has become most prominently identified with the report and its recommendation to end the tradition of awarding sole custody of children to mothers after a divorce. And it is she who has become the lightning rod for feminist rage. More..
---

When a lobby group is divorced from reality
The Halifax Herald Limited, By Diane LeBlanc, Wednesday, December 16, 1998
MEN'S GROUPS that petitioned government for changes in the laws affecting divorce are "whining, snivelling deflectors," who cannot stand it when women are given even a modicum of control over their lives.
So concluded Patricia Gallagher-Jette of the New Brunswick Advisory Council on the Status of Women last week in Halifax at a news conference, the gist of which, as near as I can figure, is that only women can be victims of injustice. More..