Parental Alienation
Under Construction - Completion Date in May /June 2020
DO NOT CONSIDER THIS LEGAL ADVICE - GO OVER THE SITUATION WITH A LAWYER AND GET LEGAL ADVICE
Audio Record Entire Parenting Time With Child
In Canada, anyone that is a party to the conversation can audio record the conversation legally without informing anyone else of the fact that they are audio recording. See the Criminal Code of Canada section 183.1
In many, but not all, USA states, you can legally audio records a conversation without notifying another party to the conversation that you are doing so but that varies and even if it is phone conversation, there may be other laws.
The evidence used in court proceeding is a quote in an affidavit of what was said on an a specific date and time by the child, normally by audio recording. Have a transcription of the recording to back up the affidavit. Make the recording the entire time you spend with your child. We can't stress this enough, that out of the blue children say things you wish you had recorded.
Don't use your phone to audio record. Use a small concealable audio recorder such as the Sony ICD-PX-370 with high quality rechargeable Panasonic Eneloop AAA batteries ( don't self discharge like cheap batteries, white models with 2100 recharges, not black with 500) and matching charger.
This recorder will run for 20 hours straight. Turn off the red LED light on it,. Put it on the most sensitive settings for lecture mode. set on maximum quality 192kbps, LEARN to use the hold button right afetr pushing the "record" buttom so it won't stop recording and start playing.
In the Carline Vandenelson case, she was so toxic that the father recorded her on the phone with the young children to prove child abuse. He was not a party to the conversation. The court sided with the father doing the recording and allowed it as important evidence.
The judge stated that it was necessary for the parent to protect the children from the toxic mother. In other words, if you have probable and reasonable grounds for beliveing that your children are being called by someone abusing them, you record the phone calls, even if you aren't a party to that phone call. Contact a lawyer for more info.
The reason for recording all the parenting times is that if it comes right down to absolute proof, you can show that this wasn't a one off setup audio recording to manipulate the child.
---
A Mother's Heartbreaking Story of Parental Alienation Syndrome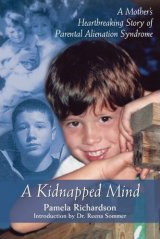 What does Parental Alienation Syndrome mean? In my case, it meant losing a child. When Dash was 4 1/2 years old his father and I broke up. I dealt with the death of our marriage and moved on but Peter stayed angry, eventually turning it toward his own house, teaching our son, day by day, bit by bit, to reject me. Parental Alienation Syndrome typically means one parent's pathological hatred, the other's passivity and a child used as a weapon of war. When Dash's wonderful raw materials were taken and shaken and melted down, he was recast as a foot soldier in a war against me. Read More ..