Virtual Library of Newspaper Articles

Quebec's parents have lost the freedom to choose religious education
OPINION SECTION, by JOHN CARPAY, The Globe and Mail, Canada's largest national daily newspaper, May 11, 2009
At a trial that starts today in Drummondville, Quebec's Superior Court will be asked to decide who has ultimate authority over the education of children: their parents or the state.
Last September, Quebec's new "Ethics and Religious Culture" (ERC) course became mandatory for all elementary and secondary schools in the province, including private Catholic, Jewish and Evangelical schools.
The provincial Education Ministry has steadfastly insisted that no child or school may be exempted from the new course, even if a school offers to teach the same contents as the ERC course but present the contents in a different manner.
Before the ERC course became mandatory, Quebec's parents could choose to enroll their children in Catholic, Protestant, or non-religious moral instruction. In spite of record-low church attendance in Quebec, most parents chose Catholic or Protestant religious instruction for their children, with only a minority opting for non-religious moral education.
Having lost their freedom of choice, parents are now going to court to assert their freedom of religion and conscience, protected by both the Canadian and Quebec charters. Parents also point to Article 26 of the Universal Declaration of Human Rights, which affirms the prior right of parents to choose the kind of education that shall be given to their children. These parents object to a course which, in their view, denigrates and trivializes religions by portraying all of them as mere folklore.
Parents challenging the ERC course also disagree with the very young age at which students are introduced to a multitude of faiths; they want their children to learn about other religions after they have acquired a deep and comprehensive knowledge of their own. Read More ..
---

Quebec's creepy new curriculum
The National Post ( Canada's 2nd largest national daily newspaper), By Barbara Kay, December 17, 2008
An often-quoted Jesuit maxim boasts, "Give me a child until he is seven and I will give you the man."
Only seven? Amateurs! Since September all Quebec students from primary school entry to high school graduation, whether enrolled in public or non-funded private schools, must attend Quebec's new Ethics and Religious Culture course (ERC). And teachers, regardless of their beliefs, must teach it.
Jonathan Gagne, a courageous teenager at the Joseph-Hermas-Leclerc secondary school in Granby, Que., has just been suspended, and will likely be expelled, for boycotting ERC. He is a hero to thousands of angry, mainly Catholic, Quebecers who consider compulsory submission to ERC a violation of their human rights.
The ERC curricula are mandated to introduce students to Quebec's rich diversity of religious tenets and "facilitate the spiritual development of students so as to promote self-fulfillment." Since when does the state "facilitate" spiritual self-fulfillment? To parents who take religion seriously, this is a chilling intrusion into what all democratically inspired charters of rights designate as a parental realm of authority. Read More ..
---

Unfair punishment for dropouts
CAROL GOAR, Aug. 23, 2006
One of the threads Liberal leadership contender Gerard Kennedy left dangling when he stepped down as Ontario education minister was a bill depriving anyone who quits school before 18 of the right to hold a driver's licence.
It would have been best to let it drop. The measure is clumsy, coercive and unduly harsh on rural teens.
But Kennedy's replacement, Sandra Pupatello, is determined to tie up loose ends. After four days' debate this spring, she whisked the bill off to a legislative committee for line-by-line scrutiny. "We are hoping to see it approved as soon as possible," said a ministerial aide. "This is a priority for this government."
The committee, chaired by government backbencher Bob Delaney of Mississauga West, isn't likely to provide much resistance. Eight of its 11 members are Liberals. Only two (both Conservatives) represent rural ridings.
There is still one chance albeit a slim one to halt this rush to punish. Read More ..
---

A study in First Nations 101
With as many as 10,000 native kids in Toronto, the public board is boosting heritage awareness
The push brings fresh insight into a group seen as the `invisible' visible minority, Louise Brown writes
The Toronto Star, by LOUISE BROWN, EDUCATION REPORTER, June 20, 2006 page A3
The Grade 2 children at Humewood Community School are thrilled to be smoking in class.
Not puffing on cigarettes, but breathing wafts of burning sage in an aboriginal ceremony the school is holding to help students better understand their native classmates.
As Humewood mother Joanne Vautour, who is part Ojibwa and part French, circles the room with the small dish of sage for this traditional "smudge" ceremony designed to clear away negative thoughts, child after child reaches into the smoke and waves it over their face and body. [full story]
---
Standardized education tests get a star
Prof touts their precise analysis of student needs
Parents, educators urged to get over score phobia
LOUISE BROWN, EDUCATION REPORTER, Oct. 19, 2005
They've been blasted by teachers, boycotted by kids and brandished by real estate agents trying to rank neighbourhoods by school.
But eight years after standardized tests hit Ontario, there is mounting proof the scores including the latest batch due today are providing schools with a power tool to pinpoint how to help children learn, says Premier Dalton McGuinty's special adviser on education. Read More ..
---
As a Quebec town tries to rein in its restless youth with a controversial curfew, Christian broadcaster LORNA DUECK sees a lesson for all Canadian parents
The Globe and Mail, By LORNA DUECK, Thursday, August 5, 2004 - Page A15
Start of School Very Different for Parents of Boys, Parents of Girls
By Glenn Sacks. This column appeared in the Washington Times (9/12/04), the Albuquerque Journal (9/10/04), and the Omaha World-Herald (9/4/04).
We received the notices for my son's and daughter's school in the mail yesterday. My soon-to-be-first grade daughter jumped up and down, wanting to know who her new teacher will be, what room she will be in, and "when do we get to start?" My middle school son examined his letter, and optimistically noted, "the first week is mostly minimum days, except for a Friday, but that's almost the weekend, when there's no school. So the week will go by quickly."
Parents lobby for public school with feminist slant
'Go grrrl curriculum': Emphasis would be on studies, not boys, at all-girls' school
NATIONAL POST, By Heather Sokoloff, February 12, 2002
Boys have been painted as the bad guys in the push to encourage girls to succeed, leaving many young men feeling confused and alienated, wondering what they did wrong
National Post, By Donna Laframboise, January 5th,1999
---
Ontario to revise Grade 9 math curriculum
Nearly three-quarters of students failed to meet provincial standards; minister blames 'system' for poor results
FROM Canadian Press, Toronto Star and various other newspapers, November 25, 2004
Ontario is revising its Grade 9 applied math curriculum after nearly three-quarters of students failed to meet provincial standards, the education minister said today as he blamed the system for dismal results.
Gerard Kennedy said theres no justification for about 37,000 applied math students to fail and said the program will change by the next school year.
This is not a true reflection of the potential that these students have, Kennedy said of the roughly 50,000 teens in the stream. Read More ..

The Globe and Mail
February 1, 2003
Academically, boys across the country are lagging behind the girls, but a Montreal public school has seen dramatic improvement by separating the sexes in classes. It allows teachers to tailor curriculum and style to suit each sex. The result? The number going on to college has nearly doubled. INGRID PERITZ reports
MONTREAL -- The teenage girls at James Lyng High School like to flirt with boys. They like to tease them, joke with them, even date them sometimes. But attend class with them? As the giggling girls in one math class this week might say, "Gross."
Luckily, they don't have to. Coed James Lyng splits boys and girls up at the classroom door. The division of the sexes is credited with helping turn a faltering inner-city high school into an education success story.

Boys have been painted as the bad guys in the push to encourage girls to succeed, leaving many young men feeling confused and alienated, wondering what they did wrong
The Associated Press
January 5, 1999
According to psychologist and author William Pollack, 'sports are the one arena in which many of society's traditional strictures about masculinity are often loosened, allowing boys to experience parts of themselves they rarely experience elsewhere.'
When Harvard Medical School psychologist William Pollack administered a test to a group of 150 teenaged boys a few years ago, the results were shocking. Read More ..

More and More teens are becoming depressed. The numbers of young people suffering from depression in the last 10 years has risen worryingly, an expert says.
BBC, UK, August 3, 2004
Government statistics suggest one in eight adolescents now has depression.
Unless doctors recognise the problem, Read More ..uld slip through the net, says Professor Tim Kendall of the National Collaborating Centre for Mental Health.
Guidelines on treating childhood depression will be published next year. Professor Kendall says a lot Read More ..eds to be done to treat the illness.

FOX News, U.S.A., By Catherine Donaldson-Evans, February 12, 2005
Female teachers accused of sex crimes against underage male students have been grabbing headlines lately. Many of them are young and beautiful, their stories sordid and intriguing.
But to law enforcement, they're something else criminals who have committed statutory rape against a minor.
This week alone, two cases have hit the news: Cops say one Texas teacher, Kathy Denise White had sex with a 17-year-old, and Tennessee teacher Pamela Rogers Turner had sex with a 13-year-old boy.
They join at least three other recent cases: Florida teacher Debra LaFave (search), 24, is expected to plead insanity to charges she had sex with a 14-year-old student, according to her lawyer; California teacher Sarah Bench-Salorio, 28, allegedly molested two boys when they were 12 and 14; and 33-year-old California teacher Rebecca Boicelli was arrested last month on statutory rape and related charges after DNA tests confirmed that a former student fathered her 2-year-old baby when he was 16. Read More ..

Teachers are the key to keeping our country's history alive, but at least one noted historian questions their ability to handle the responsibility. "It's a bleak picture . . . I wish they were up for the job," says Jack Granatstein, chairperson of the Council for Canadian Security in the 21st Century. "Many teachers think war is something that should be taught as a bad thing, which neglects the heroism."
Schools teach children their rights in Canada, but not the responsibilities that come with citizenship, he says. We don't even know what opinions teachers are giving children, he adds, and whether they're sound.
"History is very important in a country that is as multi-cultural as we are. It's very important to understand the price we pay for that. "We teach a kind of human security, peacekeeping history, which strikes me as nuts, given all the violence. You need soldiers who can fight a war when you need to." Read More ..
Ontario's Lieutenant Governor
The Honourable
James K . Bartleman
The Lieutenant Governor's Literacy Initiatives
December, 2005
To open new opportunities for aboriginal youth, the Hon. James K. Bartleman has launched four innovative programs that promote literacy, drawing upon widespread support from individuals and organizations throughout the province of Ontario, Canada's most populous province.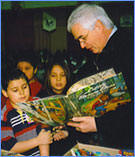 When the Hon. James K. Bartleman began visiting First Nations in Northern Ontario in 2002, he noticed that the schools had many bookshelves, but few books. At the start of 2004 he launched a province-wide appeal for donations of good used books to send to
these northern schools. Priority was given to 33 fly-in communities in the Far North, served only by winter roads. Ontario Provincial Police detachments across Ontario served as depots for collecting books, and dedicated volunteers sorted and packed
many thousands of books at OPP Headquarters in Orillia and at an aircraft hangar at Downsview in Toronto. By the end of February, 1.2 million books had been donated by generous Ontarians. After sorting, 850,000 good quality books were provided to First Nations and Native Friendship Centres across Ontario. Shipments were made possible thanks to the OPP, Department of National Defence, the Canadian Rangers, the Nishnawbe Aski Nation, the South Asian professional association EIPROC, Wasaya Airways, corporate donors, trucking companies and numerous volunteers. A resounding success, the Book Program ended in 2004.