Teaching Democracy
From Elections Canada
Federal Vote January 23, 2006
General Resources
Resources For Students
The right to vote doesn't apply only to federal politics, once you turn 18. You'll often be asked to cast a ballot during your career as a student. Why not take the lead? Below you'll find information and resources for organizing school elections.
Resources for Teachers
As teachers, you will often be called upon to explain Canada's electoral system to your students. The links below will help you find materials to make the job a little easier.
Choosing Our Mascot
For younger students, from kindergarten through Grade 4, try the Choosing Our Mascot election simulation!
Canada at the Polls!
The School Elections Officer Guide gives step-by-step instructions for student council elections and it's adaptable for Grades 5 to 12.
The Election Simulation helps you organize your own election simulation in your classroom and it's adaptable for Grades 5 to 12.
You'll find useful election supplies like tally sheets, sample ballot papers, and Read More ..
Resources and Links
---
Elections Canada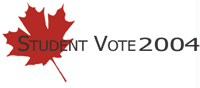 The Student Vote 2004 program was a joint initiative between Student Vote and Elections Canada
Student Vote 2004 is the future of Canadian democracy
The Federal election on June 28th, 2004 presented an opportunity for students in all provinces and territories to unite in an empowering educational exercise - engaging student opinions, voices and votes!
Student Vote 2004 was a non-partisan, non-profit initiative providing an important learning experience to intermediate and high school students in every riding throughout Canada.
Student Vote 2004 captured the spirit of democracy within our schools and communities.
---
Elections BC
Elections BC administers the most comprehensive range of electoral legislation in Canada, with the Recall and Initiative Act being unique in the Commonwealth.
The Recall and Initiative Act allows voters in British Columbia to petition for the removal of a Member of the Legislative Assembly (MLA) between elections, or petition for the introduction of proposed new laws.
A summary of the act can be read at Elections BC webpage on this subject .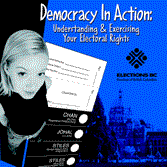 In November 2003, Elections BC developed a Grade 11 education kit entitled "Democracy in Action: Understanding and Exercising Your Electoral Rights " (nearly 1 MB download in pdf format)
Also available in hard copy from Elections BC. If you would like copies sent to your school, please call toll-free 1-800-661-8683 or email
In March 2001, Elections BC developed a Grade 5 education kit entitled "The Election Tool Kit" (500 kb download in pdf format)
The purpose of these education kits is to introduce youth to the basic principles of a provincial election. The main message to youth is that voting is important.
Elections BC is very proud of these education kits as it teaches the future voters in British Columbia about their democratic right to vote. It also teaches students about their responsibility to learn about the election issues and their responsibility, when they become adults, to vote.
---

Infantile leftism
The National Post, Saturday, November 20, 1999
Yesterday, children across Canada were asked to select their most cherished UN right in a national "election" for the Rights of Youth, held to coincide with the 10th anniversary of the United Nations Declaration on the Rights of the Child. Despite a strong early showing, the "right to rest and play" placed fifth -- behind the rights to family, food and shelter, health, and education.
Things ran smoothly despite a write-in campaign from the "right to play hookey" crowd, which was strongly rumoured to be staging an upset.
"This historic experience will be a valuable lesson in democracy for the young Canadians who participate," said Jean Pierre Kingsley, Canada's Chief Election Officer. UNICEF posted up-to-the-minute reports on a Web site -- itsyourvoice.com -- a clever, if grammatically flawed, gimmick. Read More ..
---
Elections Links
Elections Canada Provincial / Territorial
Elections Newfoundland
Elections PEI
Elections Yukon
Directeur g??n??ral des ??lections du Qu??bec (DGE)

The Legislative Assembly of the Northwest Territories supports the right and responsibility of our youth to be involved in our democracy.
A great example for all provincial, territorial legislative assemblies and the Parliament of Canada
Canadian Children's Rights Book
(Published May 2005)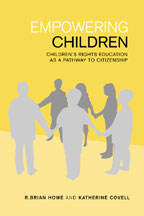 Empowering Children:
Children's Rights Education as a Pathway to Citizenship
University of Toronto Press
Authored by Canadians, Dr. Brian Howe and Dr. Katherine Covell, Directors of the CBU Children's Rights Centre, Cape Breton University (CBU)