Virtual Library of Newspaper Articles - 2001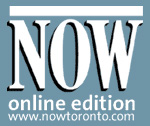 TORIES TURN TRICK
NOW, a Toronto, Ontario newspaper owned by the Toronto Star, BY LEAH RUMACK, December 13, 2001
Tough love for troubled teens, Tory-style. That's what young prostitutes in Ontario narrowly escaped this week when a legislative loophole held up passage of Bill 86. But the scary Big Brother legislation will likely hit the street as early as next spring. First tabled last summer, Bill 86, the "Rescuing Children From Sexual Exploitation Act," gives authorities the power to seize, without a warrant, anyone under 18 who they suspect is involved in sex work. Even if no charges are laid, youths can be held for up to 30 days in a "safe facility" where they can be forced to undergo medical treatment, among other things. They don't like it? Too bad.
The bill was in committee and headed for a third reading when NDP justice critic Peter Kormos scuttled it on a point of order Tuesday (December 11).
"I am adamantly opposed to this bill," says Kormos, who originally was "cautiously supportive." More ..
---
The Globe and Mail. By DAWN WALTON
Thursday, November 29, 2001 Print Edition, Page A10
---
Radio Telefs ireann (RT) is the Irish Public Service Broadcasting Organisation, November 22, 2001
---

New book on misandry : "Spreading Misandry"
National Post, Graeme Hamilton, November 14, 2001
---


Canada's largest daily newspaper
Family's lawyer asking minister to intervene
Toronto Star, November 13, 2001, Kate Harries - Ontario Reporter
---

London Free Press, By SHARON OSVALD, November 6, 2001
For all the times I stood up and shouted "unfair, unfair," on behalf on my own gender, it's now time for me to defend the other half of the room. Men are getting a bad deal.
It was while helping a friend edit an independent study for her social work degree this first came to my attention. I smiled politely when she first told me she was writing about male partner abuse. (It was sure to be a short report, I thought). Thus began my first introduction to the notion that real sexual prejudice and gender profiling exists for men, just as it does for women. More ..
---

The Associated Press, published in various newspapers including The Daily Texan, August 27, 2001, More ..
---

Associated Press, various newspapers in Canada and the U.S.A., By LINDSEY TANNER. July 20, 2001
CHICAGO -- A mother of quadruplets flees home and drowns herself in Lake Michigan less than a week after their births.
Another new mother disappears from her house several months after her baby is born and jumps to her death from a 12th-story hotel window.
Aracely Erives, whose body was found in the lake on Wednesday, and Melanie Stokes, who died June 11, were among four new mothers to commit suicide in Chicago over the past two months, authorities say.
The women could have met pushing strollers in the park, sharing stories of sleepless nights, first smiles and favorite lullabies. Instead, at a time that is supposed to bring wondrous joy, they were all struck by postpartum depression. More ..
---


Canada's largest daily newspaper
Hidden and Unreported: Sexual Abuse of Students
We admit that it goes on, but we're not stopping it
The Toronto Star, Kerry Gillespie, Staff Reporter, June 3, 2001
School Predators
Everybody says this doesn't happen any more:
For 21 years, Kenneth DeLuca, a teacher in Sault Ste. Marie, sexually abused female students in his elementary and high school classes. He coerced them into sexual situations that ranged from kissing to intercourse.
Sometimes he promised better grades; other times he threatened punishment if they didn't co-operate.
As far back as 1973, students were complaining about him to other teachers, principals and school board officials. But the board simply moved DeLuca to a new school or a new grade.
---
Reuters, June 7, 2001. More ..
---
by Rev. Robert A. Sirico, Acton President, May 23, 2001, - Acton Commentary More ..
---
Reader's Digest Canada, April, 2001, by Gladys Pollack More ..
---
By CHLOE SALTAU, The Age (Melbourne, Australia), Tuesday April 3, 2001
Boys are disadvantaged without the emotional presence of a man in their lives, according to a social researcher who is interviewing men about relationships with their fathers.
Patra Antonis, a psychologist, counsellor and Swinburne University masters student, says men should "be around the herd" and bond with their sons in an inherently male, "rough-and-tumble" way. Her theory is likely to reignite the debate about the impact of absent fathers on the development of their sons.
Ms Antonis is undertaking the research at a time when she says increases in the divorce rate and the rise of out-of-wedlock childbearing have changed families and the role of parents within them. More ..
---

CBC News, Mar 13, 2001
VICTORIA B.C.'s watchdog for children's rights is accusing the provincial government of undermining the needs of thousands of children and their families. In the final report of her six-year term, Child, Youth and Family Advocate Joyce Preston says leadership and staffing problems, combined with a lack of research and planning, have led to the situation. Preston says that, as a result, NDP government services for young people have been all talk and no action. More..
---
SUSAN NELLES CASE - Nurse falsely accused of murdering babies
David Allan Harris B.A., LL.B., Published in the Burlington Post on March 7, 2001
As I reported in my last column, the Ontario Criminal Lawyers Association recently honoured Austin Cooper, presenting him with the G. Arthur Martin Criminal Justice Award. This award was given in recognition of Cooper's many years of service, both to his clients and to the public.
Susan Nelles was one of those clients. She was charged with four counts of first degree murder in connection with the death of four babies who were patients under her care on the cardiac ward at the Hospital for Sick Children and who died from poisoning alleged to have been caused by the deliberate administration of massive overdoses of the drug digoxin. More ..
---
Townhall.com, by Kathleen Parker, February 24, 2001
You can't blame Carnell Smith for being a little ticked off. He was a good father, paid his child support on time, loved and cared for his little girl. That is, until he found out through DNA testing
You can't blame Carnell Smith for being a little ticked off. He was a good father, paid his child support on time, loved and cared for his little girl. That is, until he found out through DNA testing that he wasn't "Daddy." In the two years since he was tested, Smith has become a one-man army trying to advance a relatively new legal term - "paternity fraud." More ..
---
Montreal, Quebec, by David MacRae Feb. 3, 2001
Women who kill their children are given sympathy and sentenced to "treatment" while men who do the same thing are charged with murder and sentenced to life.
Perhaps it is not a coincidence that women are many times more likely to murder their offspring than men. More..
---
On Feb. 2, the American Academy of Pediatrics announced that it was endorsing homosexual adoption. The response from the pro-family community was woefully inadequate. It consisted of bellyaching about the flawed or biased nature of available studies, hand wringing about the lack of empirical evidence or the simple assertion that children of two-parent, married heterosexual couples do best.
The report made by the AAP's Committee on Psychosocial Aspects of Child and Family Health says that there is "no existing data to support the widely held belief that there are negative outcomes" for children raised by homosexual parents. Furthermore, the committee asserts, "No data have pointed to any risk to children as a result of growing up with one or more gay parents." More ..
---

A review of Winnipeg's Child and Family Services after untrue allegations of sexual molestation were facilitated by a social worker resulted in wholesale changes in the way child-abuse cases are investigated
National Post, by Donna Laframboise, January 31, 2001 More ..
---
Massachusetts News, Inc., January, 2001
It is becoming increasingly clear that women are just as violent as men.
For example, in 1999 a Justice Department report supported data from 1980 which showed that wives hit their husbands at least as often as husbands hit their wives.
The liberal Mother Jones magazine reported the story this way: A surprising fact has turned up in the grimly familiar world of domestic violence: Women report using violence in their relationships more often than men. This is not a crack by some anti-feminist cad; the information will soon be published by the Justice Department
The study was by Terrie Moffitt, a University of Wisconsin psychology professor. When it was first released, it was so controversial that some of the researchers received death threats. More ..

Pediatricians turn away from circumcision
The United States is the only country that routinely circumcises baby boys for non-religious reasons
CNN, U.S.A.
March 1, 1999
ATLANTA (CNN) -- American pediatricians are turning away from the practice of routine circumcision, concluding that doctors have no good medical reason to perform the procedure.
The United States is the only country in the world that routinely removes the foreskins of infant boys. Critics of circumcision got additional ammunition Monday from the American Academy of Pediatrics, a leading medical organization.
The academy concluded the benefits "are not compelling enough" for circumcision to be routinely administered.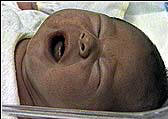 A newborn winces in pain after a circumcision
Monday's statement, published in the March edition of the journal Pediatrics, was the academy's first in 10 years on the practice. But in recent years, medical societies in Canada, Britain and Australia have come out in opposition to routine circumcision.
Critics have long contended that removing the foreskin from the penis is traumatic, medically unnecessary and may reduce sexual pleasure later in life. As one critic, Dr. George Denniston, put it: "Who are we to question mother nature?"
Canadian researchers, whose study was published in this week's Journal of the American Medical Association, studied the heart rates and crying patterns of babies during different stages of circumcision.
In fact, in the study they found the babies suffered so much trauma that they stopped the study part way through.
The results were so compelling that they took the unusual step of stopping the study before it was scheduled to end rather than subjecting any more babies to circumcision.
One baby stopped breathing for 25 seconds from the trauma of having part of his foreskin severed. More..

CYF project halves child suicide rate
The New Zealand Herald, BY LEAH HAINES, October 10, 2004
A three-year project by welfare and health agencies has halved the rate of suicide among some of the country's most at-risk children.
Researchers say the project has the potential to put a massive dent in New Zealand's youth suicide rate - currently the highest in the developed world.
The results of the Towards Well Being suicide monitoring project were due to be presented to an international conference on youth suicide this weekend and are expected to gain global attention. More..