Parental Alienation Books
This section on Parental Alienation Books is being updated and revised in August-September 2020

NEWSWEEK, U.S.A.
May 7, 2007
Many celebrities would shrink from view after a PR nightmare like Alec Baldwin's leaked voice mail in which he calls his 11-year-old daughter, Ireland, a "rude, thoughtless little pig." But Baldwin wants to use the media scrutiny to give exposure to parental alienation, the controversial "syndrome" caused by one parent's systematically damaging a child's relationship with the other parent.
A Mother's Heartbreaking Story of Parental Alienation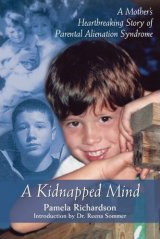 What does Parental Alienation Syndrome mean? In my case, it meant losing a child. When Dash was 4 1/2 years old his father and I broke up. I dealt with the death of our marriage and moved on but Peter stayed angry, eventually turning it toward his own house, teaching our son, day by day, bit by bit, to reject me. Parental Alienation Syndrome typically means one parent's pathological hatred, the other's passivity and a child used as a weapon of war. When Dash's wonderful raw materials were taken and shaken and melted down, he was recast as a foot soldier in a war against me.