Our Most Popular Web Page
Female Sex Offenders
Female Sexual Predators
Hundreds of them.... female teachers who sexually assaulted 12 year old boys. Read about a lesbian tennis coach who sexually assaulted her 13 year old female student.
Read how a 40 year old female sexual predator blamed a 7 year old boy whom she claimed was " coming on to me" and whom she "hoped to marry someday." More..
Domestic Violence- Woman Kills Husband and Eats Him

Husband cooker loses plea
Australian Associated Press, ( Sydney Herald and other Australian newspapers ) September 11, 2006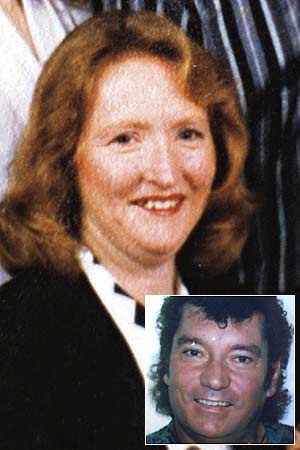 First woman in Australia to be sentenced to life in prison ... Katherine Knight and, inset, John Price
A woman jailed for life for stabbing her de facto husband 37 times, skinning him and cooking his body parts as a meal for his children has lost an appeal against the severity of her sentence.
The NSW Court of Criminal Appeal today dismissed an appeal by former abattoir worker Katherine Knight against her life sentence for the February 2000 murder of her partner John Price.
The NSW Supreme Court in 2001 sentenced Knight to life in jail after she pleaded guilty to murdering Mr Price at the home they shared at Aberdeen in the NSW Hunter Valley.
Knight, 50, is the first woman in Australia's history to be sentenced to life in prison.
She had appealed against the sentence claiming the killing was not in the worst category of murder.
Knight stabbed 44-year-old Mr Price 37 times with a butcher's knife before skinning him and hanging his hide from a meat hook in their lounge room on February 29, 2000.
She then decapitated him and put his head in a pot on the stove, baked flesh from his buttocks and cooked vegetables and gravy as side dishes to serve to Mr Price's children.
Police found the macabre dinner before the adult children arrived home.
AAP