Baby Abandonment Newspaper Articles - Canada
---

CBC, Friday, May 8, 2009
A Regina woman who left her baby in a stroller in the bitter cold has changed for the better, according to presentations made during a sentencing hearing on Friday.
Natacha Araya, 22, should not be behind bars according to submissions from both the Crown prosecutor and defence lawyer on the case.
Araya had already pleaded guilty to failing to provide the necessities of life after leaving her six-month-old son inside a baby stroller on a Regina sidewalk on a winter night.
It was 1:10 in the morning of Feb. 28, 2008, with a temperature of -20 C, according to information provided to the court on Friday.
Court was told how Araya was seen struggling to make her way as she pulled a stroller along a snow-clogged street, at one point dragging the baby carrier behind her like a sled.
Eventually the woman gave up and walked away, leaving the stroller - with her child inside - behind.
A man driving in a truck saw what happened and thought he should check because he was not sure there was a child inside the stroller. When he discovered the boy, he took the child into his truck and called police.
---

Father admits to leaving infant in stairwell when temperature was -14 C
CBC News, Apr 17, 2009
The father who abandoned his infant daughter in the freezing stairwell of a parking garage last year has been set free by a Toronto court after it was ruled he has already served his sentence awaiting trial.
The parents who abandoned the little girl, who became known as baby Angelica Leslie, in a parking garage stairwell at Leslie Street and Finch Avenue in January 2008 when she was about 11 months old were both sentenced on Thursday.
According to court documents, the father pleaded guilty to leaving his daughter in –14 C degree weather. He was charged with abandoning a child under the age of 10 and thereby endangering its life. He was also charged with failing to provide the necessities of life to his other three children.
The couple had previously denied that the baby was theirs despite DNA evidence. But the father told the court on Thursday that the baby was his and that he took the baby to the parking stairwell.
The judge sentenced him to 22 months in jail, but he had already served 11 months awaiting trial and was given two-for-one credit and allowed to go free having served his sentence. He will be on probation for two years.
---

"A passerby, who attempted to stop the female, was threatened," police said.
National Post, by Chris Doucette, Dec 29, 2021
A woman is accused of dumping a baby girl in the cold outside of a Kitchener home two days after Christmas.
Waterloo Regional Police say officers responded to multiple calls regarding a woman abandoning an infant in a stroller at the side of the road by a residence in the area of Dixon and Eckert Sts. shortly after 11 a.m. Monday.
"The female then attempted to flee the area," police said in a news release.
The temperature would have been about 1C at the time.
"Through the investigation, police also learned that a passerby, who attempted to stop the female, was threatened," police said. "Several other individuals assisted police in locating the female."
A 32-year-old Kitchener woman was arrested and charged with child abandonment, uttering death threats and breach of a probation order.
She is scheduled to appear in court on Feb. 7, 2022.
---

The Toronto Star, PETER EDWARDS AND TANYA TALAGA, STAFF REPORTERS, Tuesday, January 28, 2003
A 41-year-old homeless woman is to appear in College Park court this morning, charged with abandoning a newborn girl on a freezing cold night last week at Nathan Phillips Square.
She faces charges of failure to provide the necessaries of life and child abandonment after a baby, who was just minutes old, was found naked under a blanket on a cement stairwell outside city hall Friday.
Meanwhile, the Children's Aid Society of Toronto will officially seek custody of the infant tomorrow or Thursday. And the case has prompted a call from child and mental health advocates for more community supports.
The baby, who has been named Mira for "Miracle" by aid workers, is in serious but stable condition at the Hospital for Sick Children.
She is making a "remarkable" recovery, said Dr. Andrew James, a neonatologist at the Hospital for Sick Children.
"The feeling of everyone, especially with the nurses, is of such joy because she is doing remarkably well," James said.
"Everyone is delighted."
Mira, who is about a month premature, has gained a couple of ounces since being born at 4 pounds, 9 ounces, said Bruce Rivers, executive director of the Toronto children's aid, yesterday. She's breathing on her own and has been "active, alert, moving, responding and behaving normally," James said, crediting the nurses for their care.
---

Vancouver Sun, Tiffany Crawford, April 24, 2020
Vancouver police are investigating after a dead baby was found in a portable toilet in the Downtown Eastside on Wednesday night.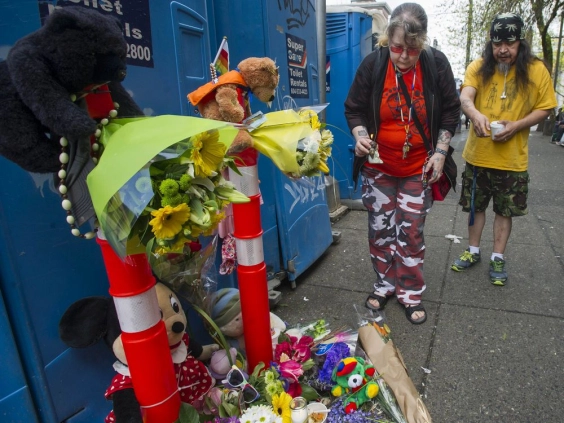 "This is, without a doubt, an extremely tragic incident," said Vancouver police Const. Tania Visintin in a statement Thursday.
Vancouver police investigating after dead baby found in Downtown Eastside on Wednesday night.
"This is, without a doubt, an extremely tragic incident," said Vancouver police Const. Tania Visintin in a statement Thursday.
---
Baby abandonment laws in various countries are commonly referred to as "safe haven laws", " baby Moses laws" or in Europe, "hatchery laws".
---

The Canadian Press, Montreal, Laval, Friday, April 26, 2019
Laval police say a newborn baby left in a shoebox earlier this week was in stable condition Friday and her mother could face charges stemming from the discovery.
They received a 911 call around noon Wednesday from a woman who said someone left the baby girl in a box on her balcony.
Const. Stephanie Beshara says not long after, an area hospital informed them of an 18-year-old who was seeking treatment following childbirth but had no baby with her.
Police allege the woman gave birth alone in an apartment and left it on her neighbour's balcony in the city's Chomedey district.
They estimate the baby spent between 90 minutes and two hours outside while temperatures hovered around seven degrees.
Beshara says the woman has been placed under arrest, but investigators haven't spoken to her because she has been receiving medical treatment.
---
A newborn oriental baby girl was found abandoned in a Toronto church parking lot on May 21, 2005. The baby was taken to the hospital and found to be in good health.
The police, with the authority of the Attorney General of Ontario, announced that the mother would not be charged with abandoning the child if she came forth to give information about the child.
Women are the gatekeepers of human identity. Men are at a biological disadvantage and may not even know that they are a father. This makes it harder to keep the baby healthy, as there may be medical information about the baby that only the mother and father can provide.
---

Canadian Press, various news media throughout Canada, February 4, 2007
SASKATOON (CP) - Police issued a plea Sunday for a mother to turn herself in after abandoning a newborn on the back step of a home in -29 C temperatures.
A spokesman for Saskatoon police said they are concerned about the mother's health and want to know the circumstances that led her to drop the baby girl off at the northwest Saskatoon home Saturday morning.
"We're waiting for the mom to come forward," said Acting Staff Sgt. Lyle Schmidt.
---

Canadian Press, February 6, 2007
SASKATOON An 18-year-old student living alone didn't know where to turn when she gave birth to a baby girl she left on a neighbourhood doorstep hours later.
The young woman came forward late Monday evening more than 48 hours after the newborn was found by the owners of the Saskatoon home.
---

Lena Sin, The Province, Vancouver BC, Sunday, December 19, 2004
A last-ditch plea is being made today for the parents of Baby Jane Doe, abandoned at a Vancouver bus stop, to contact the Ministry of Children and Family Development.
A legal ad has been taken out in today's Province to give the parents of Baby Jane notice that the ministry will be making an application for permanent custody of the baby.
But Deputy Minister Alison MacPhail is urging the mother or father to come forward before the Jan. 13 Vancouver court date so they can be given help.
---

CBC TV, December 19, 2004, Written by CBC News Online staff
VANCOUVER - The B.C. government placed a newspaper ad Sunday requesting the parents of an abandoned newborn baby girl come forward and claim her.
If they fail to do so, Baby Jane Doe who was found abandoned at a city bus stop three weeks ago, can be put up for adoption.
"We give them [the parents] notice and that way they can come to court and argue, or tell the court why we shouldn't have custody of the child," said Deputy Minister Alison MacPhail.
---