Child Rights Book
Empowering Children: Children's Rights Education as a Pathway to Citizenship ( May 2005 )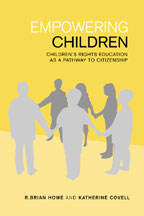 By R. Brian Howe and Katherine Covell
University of Toronto Press Inc. 2005
Cloth: May 29 2005 Active/Available
World Rights 260pp / $45.00 CDN
ISBN: 0802038573
---
Approved by the General Assembly of the United Nations in 1989, the United Nations Convention on the Rights of the Child affirms that children in all countries have fundamental rights, including rights to education. To date, 192 states are signatories to or have in some form ratified the accord. Children are still imperilled in many countries, however, and are often not made aware of their guaranteed rights.
In Empowering Children, R. Brian Howe and Katherine Covell assert that educating children about their basic rights is a necessary means not only of fulfilling a country's legal obligations, but also of advancing education about democratic principles and the practice of citizenship. The authors contend that children's rights education empowers children as persons and as rights-respecting citizens in democratic societies. Such education has a contagion effect that brings about a general social knowledge on human rights and social responsibility.
Although there remain obstacles to the implementation of children's rights in many countries, Howe and Covell argue that reforming schools and enhancing teacher education are absolutely essential to the creation of a new culture of respect toward children as citizens. Their thorough and passionate work marks a significant advance in the field.
R. Brian Howe is a professor in the Department of Political Science and co-director of the Children's Rights Centre at Cape Breton University (CBU).
Katherine Covell is a professor in the Department of Psychology and co-director of the Cape Breton University (CBU)Childrens Rights Centre.
Endorsements/Review Excerpts
With Empowering Children, R. Brian Howe and Katherine Covell have provided a valuable contribution to an emerging field. They make a powerful and persuasive case that provokes and evokes a response. The most striking feature of the book is its encyclopaedic character: it demonstrates an authoritative grasp of a wide range of issues. Particularly important is the capacity of the authors to draw on scholarship and research from around the world not just North America and Europe, but also Asia, Africa, South America, and Australia.
-Andrew Hughes, Faculty of Education, University of New Brunswick-
Empowering Children makes a passionate and well-presented case for children's rights education. It is very well written and argued, and engages nicely with the relevant literature (both historical and current), making insightful connections between children's rights education theory, research, and practice. R. Brian Howe and Katherine Covell's work represents a major advance in the field.
-Daniel Schugurensky, Ontario Institute for Studies in Education, University of Toronto-
---
Ordering information:
University of Toronto Press Inc.
Scholarly Publishing
10 St Mary Street, Suite 700,
Toronto, ON M4Y 2W8
CANADA
For ordering only telephone:
Phone: (416) 667-7791 or toll-free 1-800-565-9523 in North America
Fax: (416) 667-7832 or toll-free 1-800-221-9985 in North America
General telephone:
Phone (416) 978-2239. Fax: (416) 978-4738
Office Hours:
Monday to Friday, 8:45 am to 5:00 pm EST
Summer (July-August): Monday to Friday, 8:45 am to 4:30 pm EST
Brainwashing Children - Divorce - Family Law

TV Show about Parental Alienation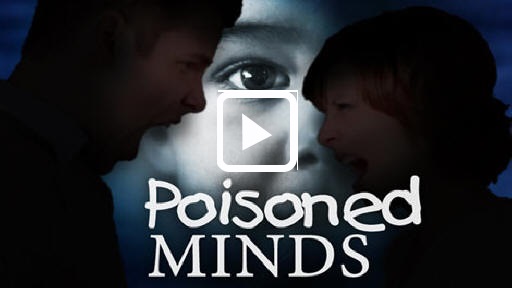 November 7, 2009
The world of divorce is scary for any child. But when a divorce becomes especially toxic, children can become the target of an unrelenting crusade by one parent to destroy the child's relationship with the other. Experts call it parental alienation.
Mothers Who Kill Their Own Children

Days after buying another woman Valentine's Day flowers, a Sydney father came home to find a trail of blood leading him to the bodies of his two young children lying next to their mother, a court has been told.
Australian Associated Press
Aug 24 2009
The woman had given the couple's three-year-old daughter and four-year-old son rat poison and an unidentified pink liquid before smothering them and killing them, court papers said.
She then tried to take her own life, the NSW Supreme Court was told.
Doctors agree the mother, from Canley Heights in Sydney's west, was suffering from "major depression" when she poisoned her children on February 19 last year.
She has pleaded not guilty to the two murders by reason of mental illness.
As her judge-alone trial began, the mother's lawyer told Justice Clifton Hoeben his client didn't think life was worth living after learning about her husband's affair.
American Psychological Association
Nearly one in 10 girls and one in 20 boys say they have been raped or experienced some other form of abusive violence on a date, according to a study released Sunday at the annual meeting of the American Psychological Association.

More and More teens are becoming depressed. The numbers of young people suffering from depression in the last 10 years has risen worryingly, an expert says.
BBC, UK, August 3, 2004
Government statistics suggest one in eight adolescents now has depression.
Unless doctors recognise the problem, Read More ..uld slip through the net, says Professor Tim Kendall of the National Collaborating Centre for Mental Health.
Guidelines on treating childhood depression will be published next year. Professor Kendall says a lot Read More ..eds to be done to treat the illness.

Woman convicted of killing 3 kids after custody battle
THE ASSOCIATED PRESS, USA, August 26, 2008
HELSINKI, Finland - A court in Finland has convicted a woman of murdering her three young children and has given her a life sentence.
The Espoo District Court says Thai-born Yu-Hsiu Fu was found guilty of strangling her 8-year-old twin daughters and 1-year-old son in her home.
She tried to kill herself afterward.
The verdict on Tuesday says the 41-year-old woman was found to be of sound mind at the time of the murders.
Court papers show the murders were preceded by a bitter custody battle with her Finnish husband who was living separately from her at the time of the murders.
A life sentence in Finland mean convicts usually serve at least 11 years in prison.