Human Trafficking of Children - Sex Trade - Ontario, Canada

Woman, 22, charged after girl, 15, rescued from sex trade at Burlington, Ont., hotel
Canadian Press, January 24, 2014
BURLINGTON, Ont. - An investigation into sex trade workers operating from hotels led police to a teenage girl they allege was forced into prostitution in Burlington, Ont.
Halton regional police say they rescued the 15-year-old victim and laid human trafficking charges against a 22-year-old woman.
Police say they were taking part in a national human trafficking awareness initiative this week when they identified and met with more than 20 sex workers operating in hotels in Halton Region, west of Toronto.
During one of those meetings, police say investigators found the teen, who they allege was being exploited and forced to work in the sex industry at the Burlington hotel.
Amie McIntyre of Angus, Ont., is charged with trafficking a person under 18, procuring a person to become a prostitute, controlling a person to engage in prostitution and living off the avails of a person under 18.
McIntyre has been remanded into custody until a court appearance scheduled for Jan. 27.
Brainwashing Children - Divorce - Family Law

TV Show about Parental Alienation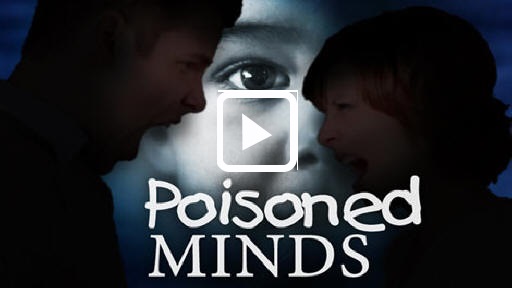 November 7, 2009
The world of divorce is scary for any child. But when a divorce becomes especially toxic, children can become the target of an unrelenting crusade by one parent to destroy the child's relationship with the other. Experts call it parental alienation.
Mothers Who Kill Their Own Children

Days after buying another woman Valentine's Day flowers, a Sydney father came home to find a trail of blood leading him to the bodies of his two young children lying next to their mother, a court has been told.
Australian Associated Press
Aug 24 2009
The woman had given the couple's three-year-old daughter and four-year-old son rat poison and an unidentified pink liquid before smothering them and killing them, court papers said.
She then tried to take her own life, the NSW Supreme Court was told.
Doctors agree the mother, from Canley Heights in Sydney's west, was suffering from "major depression" when she poisoned her children on February 19 last year.
She has pleaded not guilty to the two murders by reason of mental illness.
As her judge-alone trial began, the mother's lawyer told Justice Clifton Hoeben his client didn't think life was worth living after learning about her husband's affair.
American Psychological Association
Nearly one in 10 girls and one in 20 boys say they have been raped or experienced some other form of abusive violence on a date, according to a study released Sunday at the annual meeting of the American Psychological Association.

More and More teens are becoming depressed. The numbers of young people suffering from depression in the last 10 years has risen worryingly, an expert says.
BBC, UK, August 3, 2004
Government statistics suggest one in eight adolescents now has depression.
Unless doctors recognise the problem, Read More ..uld slip through the net, says Professor Tim Kendall of the National Collaborating Centre for Mental Health.
Guidelines on treating childhood depression will be published next year. Professor Kendall says a lot Read More ..eds to be done to treat the illness.

Woman convicted of killing 3 kids after custody battle
THE ASSOCIATED PRESS, USA, August 26, 2008
HELSINKI, Finland - A court in Finland has convicted a woman of murdering her three young children and has given her a life sentence.
The Espoo District Court says Thai-born Yu-Hsiu Fu was found guilty of strangling her 8-year-old twin daughters and 1-year-old son in her home.
She tried to kill herself afterward.
The verdict on Tuesday says the 41-year-old woman was found to be of sound mind at the time of the murders.
Court papers show the murders were preceded by a bitter custody battle with her Finnish husband who was living separately from her at the time of the murders.
A life sentence in Finland mean convicts usually serve at least 11 years in prison.