Vancouver police investigating after dead baby found in Downtown Eastside
Vancouver Sun, Tiffany Crawford, April 24, 2020
Vancouver police are investigating after a dead baby was found in a portable toilet in the Downtown Eastside on Wednesday night.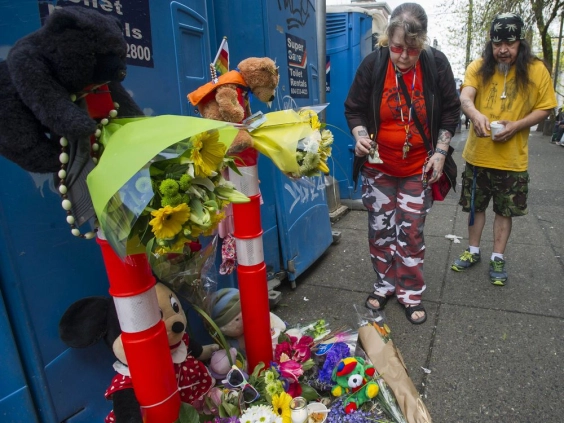 "This is, without a doubt, an extremely tragic incident," said Vancouver police Const. Tania Visintin in a statement Thursday.
Vancouver police investigating after dead baby found in Downtown Eastside on Wednesday night.
"This is, without a doubt, an extremely tragic incident," said Vancouver police Const. Tania Visintin in a statement Thursday.
"We need to speak with any witnesses and the mother of this baby as we are deeply concerned for her mental and physical well-being," she said, adding that it was a tough night for the community and the police department.
Shortly before 6 p.m. police were called to the area of Main and Hastings streets for reports of a newborn baby inside a portable washroom. Visintin said it was obvious to responding officers that the baby was dead.
She said police haven't yet determined the age of the infant. It's unknown whether the mother gave birth in the restroom.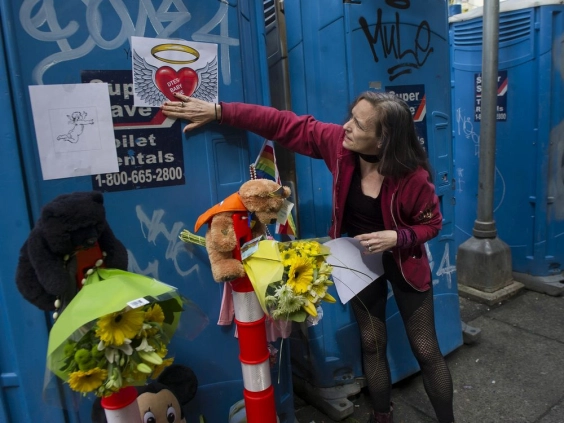 "All I do know is that it was a newborn baby," she said. "As for days, weeks or hours (old), I don't know have that information."
Jeff Caldwell, a DTES resident whose apartment overlooks the scene, said he first noticed the heavy police presence Wednesday afternoon and instinctively knew a tragedy had occurred in his neighbourhood.
"I was praying for the person, whoever they were. I was praying that their family would be notified and I was just praying for them," said Caldwell.
He watched through his window for hours as the police and the B.C. Coroners Service carried out their investigations but didn't realize until Thursday morning that a baby's body had been carried away from the scene. "It's a tragic situation, but those kind of things happen down here," said Caldwell.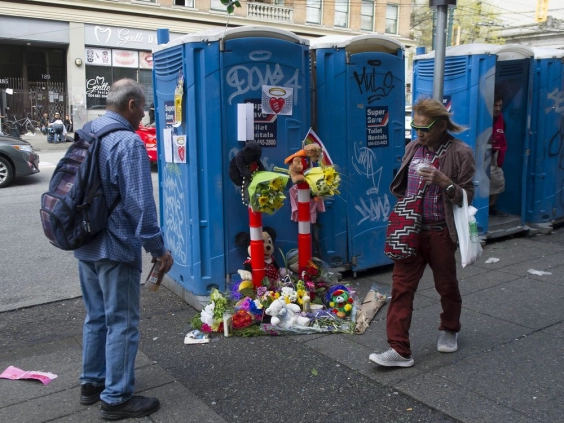 Vancouver city Coun. Christine Boyle called the news "indescribably heartbreaking."
"We are, collectively, failing those who need support the most. Don't tell me it's not our jurisdiction. We all need to do everything we can," she said on Twitter.
Police are urging anyone with information to call the Major Crime Section at 604-717-2500 or Crime Stoppers at 1-800-222-8477.
Janet Weinreich-Keall, who was abandoned as a baby more than 40 years ago and left outside a Prince Rupert hospital, said she was saddened to hear the news and urged people to have empathy and compassion for the mom.
She spent many years searching for her biological parents and in doing so has kept a database of all the stories she hears from abandonment survivors and their parents.
What she has found in her research is that in many of these cases the mother suffers from either mental illness, poverty, abuse or substance abuse, and the most common factor is that the biological mother is isolated from family and friends.
In almost all cases she said the biological fathers don't know about the conception, birth or abandonment.
She added the most common abandonment sites are wooded areas, dumpsters, garbage areas and public bathrooms.
"Great physical lengths are successfully achieved by the postpartum mother in order to dispose of the infant in safe or risky areas due to elevated adrenalin as a flight response is activated," said Weinreich-Keall.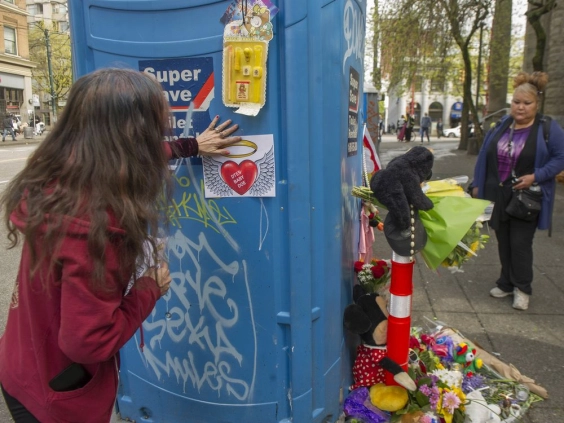 Weinreich-Keall said until all women have a close and trusted relationship with a health provider, easy access to family planning and unusual behaviour is examined, child abandonment will continue.
"This is a complex, individualistic issue — the human spirit is strong, but can be greatly damaged and, as a result, misguided. I am hopeful due to the exponential growth of commercial DNA databases, women who consider abandonment know they will be discovered through genetic matching. Perhaps the fear of this will cease future abandonments. Time will tell," she said.
ticraword@postmedia.com
With files from Scott Brown
---