The Butterbox Babies - Horrific Canadian Child Rights Story
Survivors of dark episode in Canada's history trace their past
By SUSAN K. LIVIO, STATEHOUSE BUREAU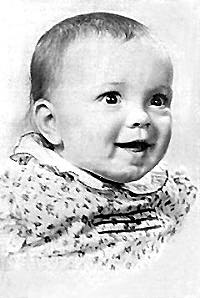 Ilene Seifer Steinhauer as an infant at The Ideal Maternity Home and as an adult today (right below).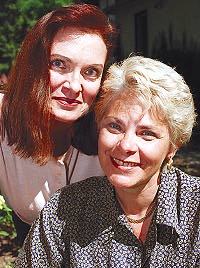 Unlike hundreds of babies, Steinhauer ( left) and Riva Barnett Saia (right) lived through their experience at the home.
WHEN RIVA Barnett Saia was old enough to read, her parents gave her a copy of the "The Chosen Baby," a book that explained why her olive-skinned family didn't share her blue eyes and blond hair.
Saia was adopted. The book was her parents' way of telling her she should feel special because she was chosen. But Saia, now a 52-year-old social worker from Union Township, said she has always felt incomplete without knowing who she was and where she came from.
Now, Saia and as many as 40 other adoptees living in Monmouth, Ocean, Middlesex, Camden and Union counties are discovering their identities within the pages of a paperback book, linking them to a dark chapter in Canada's history.
The adoptees came from the Ideal Maternity Home, an illegally run home for unwed mothers in the rural east Canadian province of Nova Scotia, where many babies were sold on the black market to desperate couples from New York and New Jersey in the 1930s and '40s.
For sums as steep as $10,000, couples chose their infant from the rows of bassinets, arranged like produce bins at a supermarket. Twins were separated, or arbitrarily "matched," depending on what the unwitting customers wanted.
Those were the lucky ones.
Between 400 to 600 of others were deliberately killed by starvation, or were deliberately refused medical care because the children appeared "unmarketable," according to witnesses.
Infants who were sick, deformed or disabled, or of mixed race were fed molasses and water until they starved to death. A caretaker years later admitted to Canadian journalist Bette Cahill that he was paid to bury the babies in open graves, or in butter boxes from the local LaHave Dairy.
Cahill's 1992 book called them the "Butterbox Babies," a name with which adoptee Ilene Seifer Steinhauer, 52, of Shrewsbury readily identifies.
"I am a Butterbox Baby," said Steinhauer, who learned of her past through immigration records that contained details about her adoption. "I feel very drawn to it. Before this, I felt like I didn't have any history."
A bygone era's dark legacy
The history of the Ideal Maternity Home is the story of a religious but ambitious couple, Lila Coolen Young and her husband William Young.
In 1928, Lila Young, 29, a recent graduate of the National School of Obstetrics and Midwifery, and her husband, 30, an unordained Seventh Day Adventist minister and missionary, opened the "Life and Health Sanitarium." They barely had the money to supply enough cots for their patients in the small cottage in East Chester, Nova Scotia.
Within a year, Lila had parlayed her training as a midwife into a maternity practice, and the Youngs were well on their way to becoming known as "the Baby Barons of East Chester." Within 15 years, they had expanded a four-bedroom operation to 54 bedrooms, with 70 babies in the nursery.
The Youngs knew far more about babies than just how to deliver them.
Karen Balcom, a doctoral candidate at the History Department of Rutgers University studying the baby selling trade between the United States and Canada, said the Youngs operated for years unimpeded by laws governing adoptions because there weren't any at the time.
"This institution is able to establish itself in a vacuum," Balcom said.
The Youngs also benefited from being at the right place at the right time. The Nova Scotia coast drew vacationers from New York and New Jersey, many of whom were childless Jewish couples frustrated by the long waits for Jewish infant adoptions back home.
The Youngs were willing to disregard the "unbreakable" rule of that era followed by American and Canadian adoption agencies: that children must be placed with a family of the same religious background, Balcom said.
"The evidence I have seen is that Jewish parents were told there were Jewish babies (at the home), and that was extremely unlikely to have been the case. Other families knew they were getting non-Jewish babies but were either comfortable enough or desperate enough to take them," Balcom said. "Quite consciously, the Youngs realized they had a specific market to serve."
The Youngs also met a demand for Canadian women, for whom both abortion and birth control were illegal.
"For those women who decided to bear and keep their babies, there was little community sympathy," Cahill wrote in her book, describing how families would disown their pregnant daughters. "It would be another 20 years before the Nova Scotia government recognized the need for social programs for unmarried mothers."
Understanding the moral tenor of the times, the Youngs sold what all unwed mothers wanted: secrecy.
According to a Canadian television documentary, a newspaper advertisement Young composed to lure women to the home read: "Dame gossip has sent many young lives to perdition after ruining them socially, that might have been BRIGHT STARS in society and a POWER in the world of usefulness HAD THEY BEEN SHIELDED from gossip when they made a mistake."
That shame kept pregnant women quiet when they witnessed the infant neglect, or the unsanitary conditions of the delivery rooms.
By 1933, the Youngs' lucrative business had attracted the attention of the Nova Scotia child welfare director and health minister, who forced them to to hire a registered nurse -- the home's first.
Health officials intervened in 1945-46 and won convictions against the Youngs for violating new adoption licensing laws. But the Youngs' downfall came in 1947, after they filed a libel suit against the Montreal Standard Publishing Company for its coverage of the home, according to the Cahill book.
By insisting that their good names had been besmirched, the Youngs succeeded in reliving the newspaper's coverage of the home.
Pediatricians who had inspected the Home testified to its "striking overcrowding" its 'fly-filled nurseries," and the "malnourished children." The mothers called as defense witnesses also revealed wrongdoing: one told how her baby died after receiving no medical attention, and was buried in a butter box. The same mother also said the Youngs told her to pose as a nurse during a health department inspection. Another witness admitted to lying in adoption records when she said her child was Jewish.
A jury dismissed the Youngs' libel suit. The Youngs tried to continue their business, but the trial "really shredded any remaining reputation they had," Balcom said. They both died in the 1960s.
Child welfare authorities in Canada and America were so concerned with what the Youngs had done, they developed new laws to protect adopted children.
"This case says something about what can happen when you back women in trouble into a corner, the danger of punitive attitudes toward women, and the danger of controlling their reproductive options," Balcom said.
Miracles out of the horror
Ideal Maternity Home survivors, once confused and saddened by the choices their mothers made, have a newfound sympathy for their sacrifice.
"Our mothers still can't deal with the shame," said Steinhauer, a recently laid-off manager for Weight Watchers in North Jersey. She went hunting for her birth family in Nova Scotia and found receptive relatives, but her mother told a cousin that she wanted to remain in hiding.
"I wish my biological mother would have come running with open arms, 'Oh darling, I've been looking my whole life,' instead of a 'Dear John' letter," she said.
"But it's a miracle we are all alive."
Steinhauer, Saia, and a growing number of New Jersey butter box baby survivors -- some of whom have just learned of their ties to the maternity home -- will arrive in Nova Scotia Labor Day weekend. They will attend a memorial service and a monument dedication ceremony in honor of the infants who died at the home.
If the money can be raised, survivors from Nova Scotia intend to come to Rutgers University to present a play, "Aftermath," depicting the events at the Home, said Robert Hartlen, spokesman Survivors and Friends of the Ideal Maternity Home.
Although horrified by the truth, the adoptees say knowing their origins helps them appreciate their adoption in a way they never imagined.
Steinhauer said she feels inextricably tied to other "survivors" of the maternity home, many of whom were adopted in the summer of 1945. "We feel related. It's somebody who has lived your whole story," Steinhauer said.
They also realize their adoptive parents may have saved their lives, bringing new meaning to the words they were told as children: "you were chosen."
Freehold Township resident Sandy Tuckerton said her mother chose her because she was the only baby in the ward that day with dark hair, like her own. A pediatrician diagnosed Sandy with pneumonia -- a fact that must have escaped the Maternity Home's proprietors.
"If I had stayed there, I probably wouldn't have made it," Tuckerton said. "The sick babies weren't marketable. I feel very lucky that I was adopted."
Saia was also fortunate that her mother was drawn to a wet and sickly looking child in a corner of the room. A pediatrician in town who examined Saia urged her mother to "get the child out of there as quickly as possible," Saia said.
"I realize I could have been bound for a butter box," Saia said, "and I'm here to tell the story."
The Story of the Killing of Innocent Canadian Children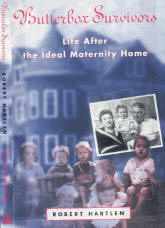 Since the 1992 publication of Butterbox Babies, the Ideal Maternity Home in Chester, Nova Scotia, has become synonymous with illegal adoptions and suspicious baby deaths. Much attention has been given to the neglect of infants at the Home, the exorbitant fees paid by adoptive parents, and the secretive nature of the transactions.
But what became of the children who were adopted? What effect did their shaky beginnings have on their later lives? Were they loved and cherished, or mistreated and ignored? Did they feel like "family"? Did they always wonder who they were? In this comprehensive book, author and Survivor Robert Hartlen has compiled the personal stories of thirty six of the adult adoptees who survived the Ideal Maternity Home.