Evelyn Doyle: A True Story - The Book and The Movie
Desmond Doyle - The Book "Evelyn" and the Movie
---
"Evelyn" - The Movie
Canadian Children's Rights Council's "Movie of the year" 2004
A Great Movie
Starring Pierce Brosnan,
The true story of a father who fought the Irish government for the right to raise his own children and won in the Supreme Court of Ireland
Desmond Doyle and his family
In 1953, Desmond Doyle was a decorator living with his six children in the grim Fatima Mansions estate of Dublin when his wife left him. Against his better judgment, he decided to place his children in the care of the state industrial schools until he returned from working in England. But Doyle was horrified to discover on his return that his children had been consigned to state care until their teenage years. The bruising battle that Doyle and his solicitors undertook against the Irish legal system gained wide publicity and resulted in massive legal change: the Children Act of 1941 was broken, and Doyle was reunited with his family. Evelyn Doyle was nine years old at the time, and the story, as seen from her point of view, is both heartbreaking and suspenseful. In the battle against an entrenched and intransigent legal system, the human elements are never submerged, and Evelyn: A True Story is a deeply affecting and poignant real-life story about a fathers love for his children and how he had to fight to the Supreme Court of Ireland to get his "god-given Constitutional rights".
EVELYN Extended Trailer
---
Evelyn Doyle: A True Story - The Book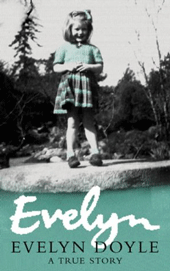 Orion
Rating:

Published March 2003
Evelyn Doyle's Evelyn: A True Story takes us into a little known arena of the fight against a repressive state. And the result is a concise memoir that delivers a considerable emotional punch in its measured tones. James Joyce famously railed against the Read More ..pressive aspects of his native country, and for all its considerable beauty, the iniquities of the Establishment (both Church and State) in Ireland are well known.
In 1953, Desmond Doyle was a decorator living with his six children in the grim Fatima Mansions estate of Dublin when his wife left him. Against his better judgment, he decided to place his children in the care of the state industrial schools until he returned from working in England. But Doyle was horrified to discover on his return that his children had been consigned to state care until their teenage years. The bruising battle that Doyle and his solicitors undertook against the Irish legal system gained wide publicity and resulted in massive legal change: the Children Act of 1941 was broken, and Doyle was reunited with his family. Evelyn Doyle was nine years old at the time, and the story, as seen from her point of view, is both heartbreaking and suspenseful. In the battle against an entrenched and intransigent legal system, the human elements are never submerged, and Evelyn: A True Story is a deeply affecting and poignant real-life story that engages the reader quite as comprehensively as any novel by William Trevor or Edna O'Brien. --Barry Forshaw