Teacher - Female Sex Offender - Predator

Polk female teacher faces 20 additional charges of sex with student
Female teacher accused of having sex with 17-year-old faces more unlawful sex charges stemming from a relationship with another boy.
Orlando Sentinel, Orlando, Florida, U.S.A. by Erica Rodriguez, April 23, 2014
A Polk County teacher already jailed for supposedly carrying on a love affair with a 17-year-old student now faces 20 additional counts of unlawful sex with another student, the Polk County Sheriff's Office announced Wednesday.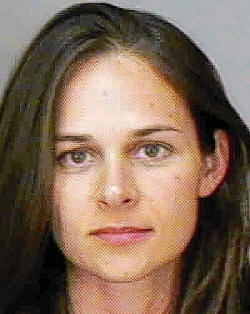 Jennifer Fichter, 29, was jailed last week after her alleged four-month sexual relationship with a 17-year-old boy at Central Florida Aerospace Academy in Lakeland came to light. Polk County sheriff's investigators this week say the English teacher had consensual sex with another one of her students over a seven-month period beginning in October 2011.
The 17-year-old boy was a junior in Fichter's English class at the time, and the two communicated with a texting application which the boy downloaded to his iPod since he did not have a cell phone, according to an arrest report. The boy told investigators at first he and Fichter two would spend time in the teacher's apartment watching TV and cuddling on the couch in September 2011. The relationship then became sexual the following month. Some of the sexual encounters happened in the boy's bedroom while his mother was away, according to an arrest report.
Fichter also faces three unlawful sex charges in Hillsborough County stemming from sexual encounters she had in a parking lot near Plant City during her four-month relationship with her other student. Fichter met that boy as many as 30 times for sex and claims she became pregnant with the boy's child but had an abortion.
Authorities have not named either of the boys because of their age.
Copyright © 2014, Orlando Sentinel