Mothers Who Murder

Mother sentenced to more than two years jail time in connection to death of infant son
The Toronto Star, by Jennifer Pagliaro, News reporter, Published on Wed Apr 03 2013
A woman has been sentenced to 27 months in prison in connection to the death of her nine-week-old son in a bizarre case where the infant boy's body has yet to be recovered.
Both parents Ricky Ray Doodhnaught, 32, and Nadia Ayyad, 24, have been implicated in the case that dates back to November 2011 when Children's Aid workers along with York Regional Police attempted to seize two children under a court order from a Vaughan home.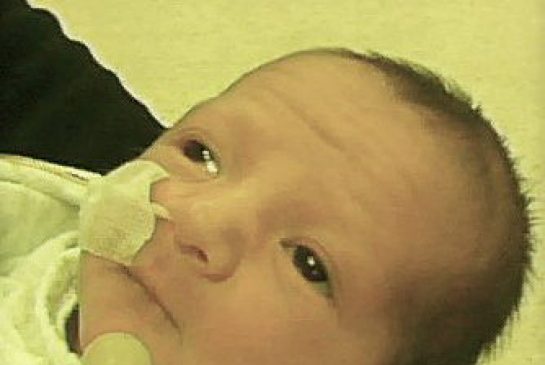 The infant George Doodhnaught, whose body has never been found.
Doodhnaught fled from police and CAS workers at that time. Only one child was located and removed from the home. Police believed Doodhnaught had taken their son George with him.
After Doodhnaught was arrested several weeks later on Dec. 6 and the boy was not located, he told police his son, who was born prematurely, had died on or around Nov. 1. The homicide unit was called in to investigate.
The boy's mother, Ayyad, was arrested on Dec. 21 and charged with indignity to a dead body, failing to provide the necessities of life and obstructing police.
She plead guilty to those charges on Feb. 7 and was sentenced on Wednesday. She will spend four months in prison in addition to time already served since her arrest.
Last summer, Doodhnaught pleaded guilty to indignity to a body and failing to stop for police in a separate incident in Toronto. He was previously charged with failing to provide the necessities of life and abduction in contravention of a custody order.
Doodhnaught was sentenced to 33 months in prison and has a remaining 23 months left to serve, police said. Ayyad will also be on probation for three years after she leaves prison.
Despite not having recovered the boy's body, police said there was adequate evidence to lay the rare indignity to a body charge.
"The charge was laid based on evidence that came to light as part of the investigation," said Const. Andy Pattenden. "They had reasonable belief that indignity to the body had occurred even though the body had not been recovered."
Earlier in the investigation, police had said Doodhnaught was not co-operating in attempts to find the boy. Police said again Wednesday his remains have yet to be located.
---