Mothers Who Murder

Mother sentenced to more than two years jail time in connection to death of infant son
The Toronto Star, by Jennifer Pagliaro, News reporter, Published on Wed Apr 03 2013
A woman has been sentenced to 27 months in prison in connection to the death of her nine-week-old son in a bizarre case where the infant boy's body has yet to be recovered.
Both parents Ricky Ray Doodhnaught, 32, and Nadia Ayyad, 24, have been implicated in the case that dates back to November 2011 when Children's Aid workers along with York Regional Police attempted to seize two children under a court order from a Vaughan home.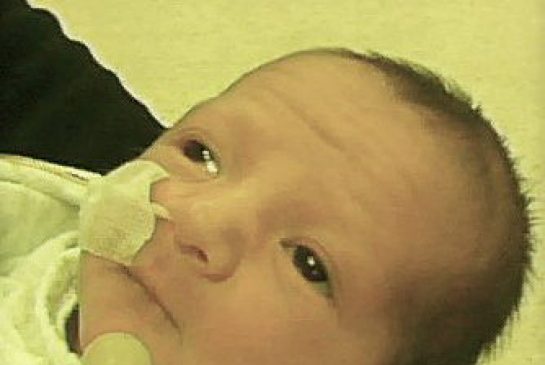 The infant George Doodhnaught, whose body has never been found.
Doodhnaught fled from police and CAS workers at that time. Only one child was located and removed from the home. Police believed Doodhnaught had taken their son George with him.
After Doodhnaught was arrested several weeks later on Dec. 6 and the boy was not located, he told police his son, who was born prematurely, had died on or around Nov. 1. The homicide unit was called in to investigate.
The boy's mother, Ayyad, was arrested on Dec. 21 and charged with indignity to a dead body, failing to provide the necessities of life and obstructing police.
She plead guilty to those charges on Feb. 7 and was sentenced on Wednesday. She will spend four months in prison in addition to time already served since her arrest.
Last summer, Doodhnaught pleaded guilty to indignity to a body and failing to stop for police in a separate incident in Toronto. He was previously charged with failing to provide the necessities of life and abduction in contravention of a custody order.
Doodhnaught was sentenced to 33 months in prison and has a remaining 23 months left to serve, police said. Ayyad will also be on probation for three years after she leaves prison.
Despite not having recovered the boy's body, police said there was adequate evidence to lay the rare indignity to a body charge.
"The charge was laid based on evidence that came to light as part of the investigation," said Const. Andy Pattenden. "They had reasonable belief that indignity to the body had occurred even though the body had not been recovered."
Earlier in the investigation, police had said Doodhnaught was not co-operating in attempts to find the boy. Police said again Wednesday his remains have yet to be located.
Mother in custody battle burns 6 year old son to death and herself and home


Associated Press, USA, published in Toronto Star, Oct. 24, 2019
LAS VEGAS USA- A Las Vegas woman who waged a court custody battle for her 6-year-old son set the boy afire earlier this month, igniting a house fire that killed them both, police and arson investigators found. Gasoline was detected on first-grader Gavin Palmer's clothing, and the deaths of the boy and his mother, Renai Palmer, were investigated as a rare arson murder-suicide, Las Vegas police homicide Lt. Ray Spencer told the Las Vegas Review-Journal for a Wednesday report. The Clark County coroner's office said Thursday the cause and manner of the two deaths remained under investigation.
Mother Charged with Killing Her Baby
Fire Officials Claim Fire Intentionally Set
NBC4-TV, Los Angeles, California, U.S.A.
LOS ANGELES, USA -- Murder charges are expected to be filed against a woman whose infant son's body was found in a washing machine after firefighters doused what they say was an intentionally set fire, authorities said Tuesday.
Latunga Starks, 32, was taken into custody last night, according to the Sheriff's Department Web site.
Los Angeles Police Department Lt. Dennis Shirey identified the mother and her nearly 3-month-old son, Michael Kelvin Thompson.

ST. STEPHEN, N.B. - A New Brunswick judge says a woman who burned and dismembered her newborn son is criminally responsible for her actions.
Becky Sue Morrow earlier pleaded guilty to offering an indignity to a dead body and disposing of a newborn with the intent of concealing a delivery.
Judge David Walker ruled Friday that the 27-year-old woman may have been suffering from a mental disorder when she delivered the baby but that that was not the case when the baby's body was burned and its remains hidden.
It is not known if the baby was alive at the time of birth.
At a hearing last month, the court heard contrasting reports from the two psychiatrists. One said Ms. Morrow was in a "disassociated" mental state when the crime occurred. The other said she clearly planned her actions and understood the consequences.
Mothers Who Kill Their Own Children

Days after buying another woman Valentine's Day flowers, a Sydney father came home to find a trail of blood leading him to the bodies of his two young children lying next to their mother, a court has been told.
Australian Associated Press
Aug 24 2009
The woman had given the couple's three-year-old daughter and four-year-old son rat poison and an unidentified pink liquid before smothering them and killing them, court papers said.
She then tried to take her own life, the NSW Supreme Court was told.
Doctors agree the mother, from Canley Heights in Sydney's west, was suffering from "major depression" when she poisoned her children on February 19 last year.
She has pleaded not guilty to the two murders by reason of mental illness.
As her judge-alone trial began, the mother's lawyer told Justice Clifton Hoeben his client didn't think life was worth living after learning about her husband's affair.
American Psychological Association
Nearly one in 10 girls and one in 20 boys say they have been raped or experienced some other form of abusive violence on a date, according to a study released Sunday at the annual meeting of the American Psychological Association.

Woman convicted of killing 3 kids after custody battle
THE ASSOCIATED PRESS, USA, August 26, 2008
HELSINKI, Finland - A court in Finland has convicted a woman of murdering her three young children and has given her a life sentence.
The Espoo District Court says Thai-born Yu-Hsiu Fu was found guilty of strangling her 8-year-old twin daughters and 1-year-old son in her home.
She tried to kill herself afterward.
The verdict on Tuesday says the 41-year-old woman was found to be of sound mind at the time of the murders.
Court papers show the murders were preceded by a bitter custody battle with her Finnish husband who was living separately from her at the time of the murders.
A life sentence in Finland mean convicts usually serve at least 11 years in prison.