Paternity Fraud - Child Identity Rights
Australian Associated Press
One in 25 raise another' s child: claim
AAP, Australia, Aug 11 2005
One in 25 fathers could unknowingly be raising another man' s child, British scientists say.
Researchers at Liverpool' s John Moores University examined the findings of dozens of studies, published over the past 54 years, on cases of paternal discrepancy - where a man is proved not to be the biological father of his child.
The studies, most of them peer reviewed, came from countries as varied as the United States, Finland, New Zealand, South Africa and Mexico.
The findings of the studies varied dramatically - some concluded that only one man in 100 is not the father of his child while others put the figure as high as 30 per cent.
The Liverpool researchers calculated the median figure at around 4 per cent, suggesting that as many as one in 25 men worldwide is not the biological father of a child he believes to be his.
"The importance lies not so much in the figure itself but in the implications, given that as a society we are increasingly making our decisions on the basis of genetics," said one of the researchers, Professor Mark Bellis.
"If, for example, someone knows that their father had a history of hereditary heart disease, they might be tempted to alter their own diet," he said.
"Obviously they need to be making that decision on the basis of accurate information about who their father really is."
Bellis said that while mix-ups of semen during artificial insemination accounted for some cases of paternal discrepancy, the majority were due to a woman having sexual relationships outside marriage.
He said in Britain, 20 per cent of women in marriages or long-term relationships have had affairs, adding that the figures for other developed countries was similar.
Around a third of pregnancies in Britain are unplanned, increasing the risk of paternal discrepancy.
Writing in the British Medical Association' s Journal of Epidemiology and Community Health, the scientists called for further research in the area.
"(We) cannot simply ignore this difficult issue," they said.
AAP 2005

Health Canada
This overview paper summarizes recent research on girls who exhibit aggressive and violent behaviours. It defines relevant terms, outlines factors which may contribute to girls' aggression and violence, and presents ideas for preventing these behaviours. A list of resources is also included. 2002, 13p. Read More ..

Boys have been painted as the bad guys in the push to encourage girls to succeed, leaving many young men feeling confused and alienated, wondering what they did wrong
The Associated Press
January 5, 1999
According to psychologist and author William Pollack, 'sports are the one arena in which many of society's traditional strictures about masculinity are often loosened, allowing boys to experience parts of themselves they rarely experience elsewhere.'
When Harvard Medical School psychologist William Pollack administered a test to a group of 150 teenaged boys a few years ago, the results were shocking. Read More ..

The Toronto Star
Aug. 20, 2006
Smokers need not apply," ran a classified ad for a job in Ireland this past May.
"Why not?" asked Catherine Stihler, a British Labour party MEP, who posed the question on behalf of one of her constituents. Should women not apply, either? Or homosexuals? Muslims? What about high-functioning alcoholics, or fat people?
The answer, from the European Commission that oversees anti-discrimination legislation in the EU, came back to Stihler this month: Smokers are fair game for discrimination. Read More ..
A Quote Worth Remembering
About The truth
"All truth passes through three stages. First it is ridiculed, Second it is violently opposed. Third it is accepted as self-evident."
Arthur Schopenhauer
(1788-1860)
Investigation into the Death of Zachary Andrew Turner (18 July 2002 to 18 August 2003)
Zachary Turner, a 13 months old baby, died at the hands of his fugitive mother, Dr. Shirley Turner, who killed him and then committed suicide on August 18, 2003.
Turner was facing extradition to the United States to stand trial for the 2001 murder of Dr. Andrew Bagby, Zachary's father.
28-year-old Dr. Andrew Bagby was found shot to death in Keystone State Park, 55 kilometres northeast of Pittsburgh, PA, U.S.A.
Turner fled to Newfoundland, Canada where Zachary was born. She was out on bail against the wishes of U.S. authorities at the time of Zachary's death. Read More ..
A Mother's Heartbreaking Story of Parental Alienation Syndrome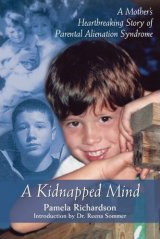 What does Parental Alienation Syndrome mean? In my case, it meant losing a child. When Dash was 4 1/2 years old his father and I broke up. I dealt with the death of our marriage and moved on but Peter stayed angry, eventually turning it toward his own house, teaching our son, day by day, bit by bit, to reject me. Parental Alienation Syndrome typically means one parent's pathological hatred, the other's passivity and a child used as a weapon of war. When Dash's wonderful raw materials were taken and shaken and melted down, he was recast as a foot soldier in a war against me. Read More ..
A Quote Worth Remembering
"We must vigilantly stand on guard within our own borders for human rights and fundamental freedoms which are our proud heritage......we cannot take for granted the continuance and maintenance of those rights and freedoms."
John Diefenbaker
(1895-1979)

Female Sexual Predators / Female Sex Offenders

VANCOUVER - Canada's largest study into the sexual exploitation of street kids and runaways has shattered some myths about who the abusers might be - with the most surprising finding being that many are women seeking sex with young males.
"Some youth in each gender were exploited by women with more than three out of four (79 per cent) sexually exploited males reporting exchanging sex for money or goods with a female," said Elizabeth Saewyc, associate professor of nursing at the University of British Columbia and principal investigator for the study conducted by Vancouver's McCreary Centre Society.
"I must admit it wasn't something we were expecting."