Virtual Library of Newspaper Articles

"10-year-old Texas boy fatally shoots his father at start of weekend visit"
ASSOCIATED PRESS, various newspapers in U.S.A. and Canada, August 28, 2004
HOUSTON (AP) - A 10-year-old boy fatally shot his physician father after the man arrived to pick him up for a weekend visit, authorities said.
Rick James Lohstroh, 41, was struck several times Friday as he sat in his sport utility vehicle, said Sgt. B. E. Williams of the Harris County Sheriff's Department. The boy, using his mother's gun, fired through the back seat before getting out of the vehicle and continuing to shoot, Williams said. Lohstroh, a doctor at the University of Texas Medical Branch, died on the way to a hospital.
The shooting happened outside the home where the boy lived with his mother and seven-year-old brother, who were inside at the time, Williams said. Lohstroh and the boy's mother shared custody of the children.
Deputy Jeff Dixie would not discuss the boy's whereabouts or charges.
Authorities said they had been called to the home before in an ongoing family dispute.
A Mother's Heartbreaking Story of Parental Alienation Syndrome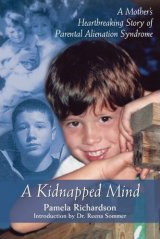 What does Parental Alienation Syndrome mean? In my case, it meant losing a child. When Dash was 4 1/2 years old his father and I broke up. I dealt with the death of our marriage and moved on but Peter stayed angry, eventually turning it toward his own house, teaching our son, day by day, bit by bit, to reject me. Parental Alienation Syndrome typically means one parent's pathological hatred, the other's passivity and a child used as a weapon of war. When Dash's wonderful raw materials were taken and shaken and melted down, he was recast as a foot soldier in a war against me. Read More ..