Virtual Library of Newspaper Articles

Letourneau released from prison
Notorious teacher seduced preteen student
Associated Press, CNN various newspapers, U.S.A., Wednesday, August 4, 2004
SEATTLE, Washington (AP) -- The teacher whose notorious seduction of a sixth-grader dominated headlines in the late 1990s has been released from prison.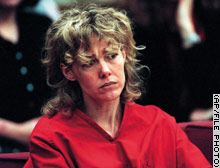 Mary Kay Letourneau
Mary Kay Letourneau, 42, was freed early Wednesday from a women's state prison near Gig Harbor after serving a seven-year sentence for child rape.
Letourneau was keeping mum about whether she will reunite with Vili Fualaau, now 21, with whom she has two children.
"I'm not allowing myself to think about being with him," Letourneau told Seattle's KOMO-TV. "We had a beautiful relationship, and I value it for what it was."
Letourneau was a 34-year-old elementary school teacher in suburban Des Moines, Washington, and a married mother of four in 1996 when her friendship with the then-12-year-old Fualaau became sexual.
"We had sex in the gym, we had sex in the girl's bathroom and we had sex in her classroom," Fualaau testified in a 2002 civil trial.
When Letourneau was arrested in 1997, she was already pregnant with Fualaau's daughter. A judge sentenced her to six months for second-degree child rape, and ordered her to stay away from Fualaau.
A month after her release, however, Letourneau was caught having sex with Fualaau in her car. She was sent to prison for 71/2 years, and gave birth to Fualaau's second daughter behind bars.
"Nothing could have kept the two of them apart," Seattle attorney Anne Bremner told The Associated Press. Bremner struck up a friendship with Letourneau in 2002, while defending police against a civil lawsuit filed by Fualaau and his mother, alleging the police and school district failed to protect him. A jury rejected their claims.
Letourneau, who sang in the choir and recorded books-on-tape for the blind while in prison, wants to try to build a normal life, Bremner said. "She wants to be a mother, she wants to be a responsible member of society," she said.
Attempts by the AP to contact attorneys for Letourneau and Fualaau were unsuccessful. Fualaau's number is unlisted.
As a condition of her release, Letourneau cannot contact Fualaau.
Fualaau told People magazine recently he would like to reunite with Letourneau but wants to take things slowly. He is unemployed and told the magazine he is working on his GED. His mother is raising their children.
Bremner said Letourneau still feels for Fualaau. "She's always said this love is eternal and endless, and I think she stands by that," Bremner said.
Letourneau's two daughters with Fualaau are now 6 and 7. They visited her in prison about twice a month. Her four older children live in Alaska with her ex-husband and visited a few times a year.
"There's enormous pain" with her four older children, Bremner said.
As a sex offender, Letourneau will have to register with the state and receive court-ordered treatment. Authorities will notify her new neighbors -- although the TV trucks will probably tip them off first. Seven years in prison has done little to dim Letourneau's notoriety.
"People are fascinated by scandal," Bremner said. "Love somehow made her do things that led to complete catastrophe. Then there's the side of watching a train wreck -- you can't look away even if you want to."
Copyright 2004 The Associated Press.