Virtual Library of Newspaper Articles

Mother will not stand trial for drowning death of children
Associate Press, U.S.A.., ABC affiliate 9NEWS KUSA-TV, January 3, 2005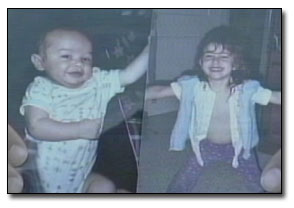 ---
Rebekah Amaya allegedly confessed to drowning her two children, 5-month-old Gabriel Amaya and 4-year-old Grace Headlee.
LAMAR - The Lamar woman charged with first-degree murder for the drowning deaths of her two children will not stand trial.
Rebekah Amaya's 4-year-old daughter, Grace Headlee, and 5-month-old son, Gabriel Amaya, were drowned in the bathtub of the family's home in October 2003. Amaya, 34, was found the same day with her wrists slashed in an apparent suicide attempt.
Prosecutors told a Prowers County judge Monday morning they didn't think they would be able to prove she was sane at the time of the children's deaths.
Amaya pleaded innocent by reason of insanity last March to drowning the children.
A court official said the trial was to be dropped in exchange for Amaya admitting guilt.
She will be sentenced on Jan. 31.