Virtual Library of Newspaper Articles

Child poverty activists tell PM to put words into action
Canadian Broadcasting Company, Mon, May 6, 2002
TORONTO - A child poverty activist group plans to embarrass the federal government. Campaign 2000 says it will run ads in newspapers that compare what the prime minister says and what the government has done about child poverty.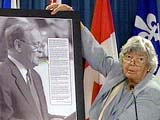 June Callwood
"There have been so many words and so little action," said author June Callwood at a news conference held by Campaign 2000 on Monday. "Empty promises make for empty stomachs."
Campaign 2000 is taking out full-page ads in Tuesday's Toronto Star that graphically depict the disconnect between what Prime Minister Jean Chretien has said about child poverty and what his government has done.
"The federal government is either comatose, or morally bankrupt around the lives of children," Callwood said.
The ad will hit the streets the day before the United Nations holds a special three-day session on child poverty.
Chretien isn't going to the meetings.
The UN summit comes a dozen years after Canada led the way at a previous UN summit on the issue, vowing to eliminate child poverty by the year 2000.
Laurel Rothman
That promise was made by prime minister Brian Mulroney. Since then, a new report by Campaign 2000 says the number of Canadian children living in poverty has grown, from one in seven a decade ago to one in five today.
The group's Laurel Rothman told the news conference the government should start to take action on the problem. Recommendations from the group include:
cutting the child poverty rate in half within five years
making universal child care and early childhood education available
instituting a federal affordable housing program
Rothman acknowledged the government has made some policy changes to support children but called them "gestures, not substantial, sustained initiatives."
The government has focused on debt and deficit reduction in the past decade at the expense of the family, the group says.
The UN currently ranks Canada 17th out of 23 industrialized countries – seventh from the bottom – when it comes to child poverty
---