Virtual Library of Newspaper Articles

Person of interest indentified in discovery of dead baby
CBC News, Friday, April 18, 2008
Police have identified a "person of interest" in the discovery of the body of a baby boy dumped outside Edmonton, RCMP said Friday.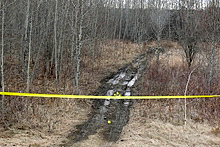 A man walking his dog west of Edmonton discovered the body of a dead baby in this wooded area Wednesday morning. (RCMP)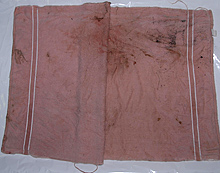 Police released a photo of the pink towel in which the infant was wrapped, in hopes someone will recognize it.(RCMP)
The newborn was wrapped in a pink towel and placed in a wooded part of the Silver Sands subdivision near Stony Plain, about 40 kilometres west of Edmonton, where he was found by a man walking his dog Wednesday morning.
Investigators have not yet established what role, if any, the person of interest identified - a woman - played in the discovery, RCMP Cpl. Wayne Oakes said.
An autopsy Thursday showed the baby was close to full term and showed no obvious signs of trauma.
The medical examiner has not yet determined the baby's race or cause of death, said police.
Police are asking the public for help in determining what occurred and who may have been involved, Oakes added.