Supreme Court upholds spanking law
Canadian Broadcasting Corporation (CBC), January 30, 2004
OTTAWA - Canada's top court has upheld a law allowing parents to spank their children and set guidelines outlining "reasonable limits" in a case led by a Saskatoon social work professor.
In a 6-3 decision, the Supreme Court of Canada refused to repeal Section 43 of the Criminal Code that allows parents and school teachers to physically discipline children in their care by using "reasonable" force.
Ailsa Watkinson is the Saskatoon social work professor who took the issue to Canada's top court nearly a decade ago, and eventually partnered with Canadian Foundation for Children, Youth and the Law, an Ontario organization that took up the cause.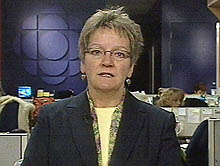 Alisa Watkinson is disappointed with the judgement
Watkinson was hoping the Supreme Court would strike down the law and give children the same rights as everyone else by protecting them from physical assault.
She was disappointed with the decision to uphold the law saying that it's misguided for the court to put all these qualification of what is acceptable and what isn't.
"I find them so strange," she said, "that we sit there and dissect it to whether or not we hit a child on the head...don't use belts, you don't use instruments...it really misses the point, which is children's rights."
But the president of the Saskatchewan chapter of REAL women sees things differently. Cecilia Forsyth says most parents know the difference between abuse and gentle physical punishment. "Section 43 of the CC has permitted parents to teach their children to learn right from wrong for over a century," she said, "and parents have the primary duty and responsibility for the upbringing the discipline of their children. And this law strikes a good balance between protecting children and supporting parental authority.
In its decision, the court ruled that reasonable corrective force can be used against children between the ages of two and 12 years old.
The court said it was unacceptable to hit a child with an object, like a belt or paddle. Blows and slaps to the child's head would also be unacceptable.
For corporal punishment to be legally acceptable, it must involve only "minor corrective force of a transitory and trifling nature," the court ruled.
Lawyers for the Canadian Foundation for Children, Youth and the Law argued that the Criminal Code provision is a violation of the Charter of Rights and Freedom, and makes children "second class citizens."
"This case is about the right of children not to be hit, a right that in a modern, 21st Century democracy should be unquestioned," said lawyer Paul Schabas when he argued the case before the Supreme Court.
But the federal government argued Section 43 should stay in place, saying the law strikes a balance between the needs of parents and the rights of children.
The Justice Department says it does not advocate spanking, but that repealing the law could make parents liable to criminal charges each time they spank their children.
Many teachers and education officials have defended keeping Section 43 as it is.
Terry Price of the Canadian Teachers Federation, a group that had intervenor status in the case, worried that repealing Section 43 could result in teachers being charged with assault for breaking up a schoolyard fight.
"And I as a parent would certainly want to know that someone is going to intervene if my child was involved in an altercation," said Price.
Section 43 of the Criminal Code was passed in 1892 and has been amended several times.
The Ontario Court of Appeal upheld Section 43 in January 2002. The court ruled that parents and teachers are free to spank children for disciplinary purposes if they limit themselves to "reasonable force."