Virtual Library of Newspaper Articles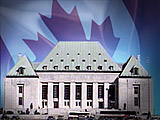 Supreme Court to hear case on 'no fault' divorce
Canadian Press, September 28th, 2004, VANCOUVER
A man who the B.C. Court of Appeal found was "carrying on behind his wife's back'' and must continue spousal support payments will contest the ruling in the country's highest court because it contravenes the Divorce Act and could have national importance, his lawyer said Monday.
Lawyer Lorne MacLean said his client, Gary Leskun, has given him permission to ask the Supreme Court of Canada to overturn a recent ruling by B.C.'s highest court that ruled Leskun must continue to pay $2,250 monthly support to his 57-year-old ex-wife Sherry Leskun.
MacLean suggested the highest court would likely hear the appeal and either uphold the ruling or reinforce the Divorce Act, which has contained a no-fault provision since 1968.
The act states that "the court shall not take into consideration any misconduct of a spouse in relation to the marriage.''
MacLean suggested the ruling, which is applicable in B.C. and could affect other provincial courts' rulings, could mean a step back from the no-fault provision of the Divorce Act.
"People will now be able to use this case, if it's not overturned, to argue that they should have custody based on spousal misconduct and that divorce should not go through on a no-fault, one-year separation basis,'' he said.
But family lawyer Debra van Ginkel disagreed.
"The case is very much in line with all of the other spousal support cases that have provided ongoing spousal support to a woman, particularly in these types of circumstances where she's got health issues and a lack of skills to access to go back to workforce,'' said van Ginkel.
In writing the unanimous decision, Justice Mary Southin alluded to the no-fault section.
But she goes on to say that "Parliament, in its wisdom or lack thereof, has said the court must give no weight to what the husband here did -- that is, carrying on behind his wife's back and, when it suited him, walking out on his wife of 20 years who had borne him a child and contributed substantially to his financial well-being.''
Southin seemed to acknowledge the section by continuing: "Not without hesitation, I have concluded that (the no-fault section) does not prevent us from considering... a failure resulting at least in part from the emotional devastation of misconduct by the other spouse.''
Van Ginkel said the court might be disagreeing with the conduct section but that the judgment "doesn't turn on that issue.''
"(Southin) is basically saying that this woman has been devastated by the breakdown of marriage and in addition she has other factors that prevent her from avoiding spousal support.''
MacLean said he's not sure of the judge's reasoning but that Southin "just feels that the section is broad enough to consider the impact of conduct on a spouse who refuses to get back into the workforce because they're bitter.''
Southin also conceded that the wife is "bitter to the point of obsession with his misconduct and in consequence has been unable to make a new life. Her life is this litigation.''
The pair separated six years ago.
Sherry Leskun represented herself at the Appeal Court and was not available for comment.
The ex-wife worked for many years for a bank and earned $45,000 the year she quit in 1998. She applied unsuccessfully for long-term disability benefits due to a back problem.
She was later offered another job at the bank that required retraining but opted to take an $88,000 severance package.
Her ex-husband now is remarried and living in Chicago, where he met his current wife and where he was once an executive earning as much as $200,000 Cdn a year.
He has not made any payments since he became unemployed but MacLean said the court has ordered him to make support payments out of existing capital that is in the $300,000 to $400,000 range.
B.C.'s family maintenance enforcement project "will chase my client'' and so the application to the Supreme Court will also ask that all arrears be cancelled as well as the $2,250 monthly obligation.
MacLean conceded that the court did not focus solely on conduct by the ex-husband.
The court, he said, looked at the age of the ex-wife and her lower back pain.
But since she was offered retraining at the bank but chose a severance package, "you can't refuse to take it and then claim support. That was one of our big arguments.''
MacLean's argument is that the court can examine conduct in regards to refusing to take a job.
"But if you've committed adultery, that's the type of conduct that's not supposed to be relied on. You can look at conduct as it relates to a party's ability to be self-sufficient or not, not adultery or affairs.''
Van Ginkel said the act's section means the court can't penalize someone for their misconduct but that's not what this ruling is about.
"What's happened here is that the spouse has a variety of factors that prevent her from being able to be self-sufficient, one of which here is emotional condition.''