Virtual Library of Newspaper Articles

Windsor man becomes latest to reject Order of Canada
Canadian Press, July 10th, 2008 various newspapers across Canada
WINDSOR-A Windsor man honoured two decades ago for helping orphaned girls worldwide said today that he doesn't want to be painted with the same brush as Dr. Henry Morgentaler and will return his Order of Canada in protest.
"I've got nothing against the man," Frank Chauvin said. "He does what he thinks is right, but I think it's wrong."
The retired police detective, who has been applauded for creating an orphanage for abandoned girls in Port-au-Prince, Haiti, said he's not opposed to women's rights.
"My job has been for many years feeding children," said Chauvin, who also said he provides food and money to girls in Egypt, Kenya, India and Ethiopia.
"I've got over 200 girls I take care of in Third World countries, so I'm not opposed to women's rights or I wouldn't be helping these girls."
The 74-year old said he has mixed emotions about giving up the cherished honour, which means he also has to give up the privilege of swearing in new Canadians. He added that his personal feelings outweighed a fear of letting those down who voted for him to be named to the honour.
Chauvin said he is still baffled that Morgentaler received the distinction despite widespread protest.
"It's supposed to be a unanimous decision and it wasn't," said Chauvin.
Yesterday, former New Brunswick lieutenant-governor Gilbert Finn said he'd return his Order of Canada in protest. The 87-year-old said the award's value has decreased.
Members of the Madonna House, a Catholic organization, returned the medal given to the group's late founder on Tuesday and, last week, British Columbia priest Rev. Lucien Larre also returned his award.
A Mother's Heartbreaking Story of Parental Alienation Syndrome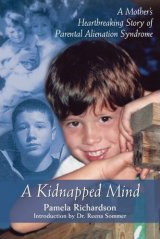 What does Parental Alienation Syndrome mean? In my case, it meant losing a child. When Dash was 4 1/2 years old his father and I broke up. I dealt with the death of our marriage and moved on but Peter stayed angry, eventually turning it toward his own house, teaching our son, day by day, bit by bit, to reject me. Parental Alienation Syndrome typically means one parent's pathological hatred, the other's passivity and a child used as a weapon of war. When Dash's wonderful raw materials were taken and shaken and melted down, he was recast as a foot soldier in a war against me. Read More ..