Virtual Library of Newspaper Articles

Canada not meeting obligations to children: UNICEF
CTV.ca News Staff, Nov. 20 2007
CanadianCRC editor's note:
Read the UNICEF 45 page report. The link is at the very bottom of this web page.
Canada is failing its children under the United Nations Convention on the Rights of the Child as poverty, obesity and mental illness rates rise, a new UNICEF report said Tuesday.
The report, released to coincide with National Child Day, says a great number of Canadian children live below the international standards adopted by 192 countries 18 years ago, creating an urgent need for a national action plan.
UNICEF Canada President Nigel Fisher, who spent most of his life working in developing countries, told Canada AM on Tuesday that Canada's lack of progress over the past 18 years is troubling.
"To come home to Canada and see with all our wealth and resources that we can't do better for our kids, and especially those that are most vulnerable, that is a real shame," he said.
Key recommendations of the report include creating a national children's commissioner and making the convention enforceable in the Canadian court system.
"A country that signs on to the convention has to make sure that the convention become part of national law," Fisher said.
The report concludes that uneven child-rights legislation across Canada has hindered efforts to live up to the agreement.
"Canada's consideration of the best interests of the child, and institutionalization of the rights of children to have a say about medical, judicial and other issues affecting them according to their evolving capacities, are uneven in both federal and provincial legislation," the report states.
"Children's evolving capacity for decision making is very rarely recognized and it remains a rarity for children and young people to be consulted on issues affecting them."
Fisher said that aboriginal families, single-parent homes and children of poor immigrant parents are the most at risk.
"There is no national focus on the child in Canada," Fisher said. "We have so many jurisdictions between provincial and federal and in fact there is no focal point for monitoring what is happening to kids in Canada."
The report's findings, many of which are based on data from Statistics Canada, include:
About one in six Canadian children live in poverty;

Canada has one of the highest rates of obesity among children in developed countries at 26 per cent;

Canada's infant mortality rates have remained unchanged for the past five years while rates in other developed countries continue to fall. Canada's infant mortality rate remains at five deaths per 1,000 births;

Canada has one of the highest rates of children in state care and in youth detention centres compared with other industrialized nations;

Twenty per cent of children are currently being treated for mental illness in Canada;

Poverty rates among aboriginal children are almost three times higher than for other Canadian children;

Remote communities across the country were found to lack adequate housing, clean water and quality education.
Canada ratified the international agreement, which works to protect the universal rights of children, in December 1991.
The Convention on the Rights of the Child was the first legally binding international set of standards aimed at protecting human rights for children under 18.
Grant Wilson, president of the Canadian Children's Rights Council, agreed with the recommendations of the report, saying that appointing a national children's commissioner is an essential step in helping Canada's children.
"We have to get responsible people in a position of authority in both the provinces and territories, as well as, federally," Wilson told CTV Newsnet on Thursday.
"We need a national commissioner for children to analyze all these issues."
The report praised Canada's efforts in a number of areas, including access to health care, immunization rates and educational achievement. The country was also praised for a notable increase in the number of women attaining post-secondary education.
"In terms of our overall education system and the quality of health care, they are good compared to many other countries and there have been improvements in child protection," Fisher said.
"But it doesn't hide the fact that so many children are falling through the cracks."
Canada ranked 12th among 21 industrialized countries, falling behind the Netherlands, Sweden, Denmark, Finland, Spain, Switzerland and Norway. The United Kingdom and the United States ranked 20th and 21st respectively.
---
Read the UNICEF Report - A portrait of Canada's first generation growing up under the UN Convention on the Rights of the Child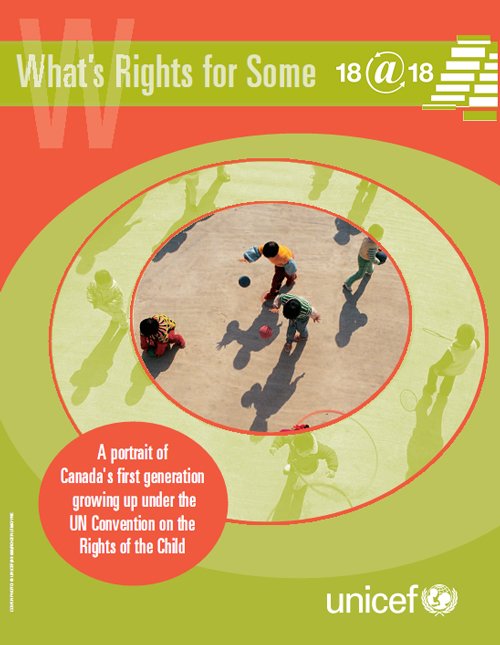 45 pages.....GREAT READING