Virtual Library of Newspaper Articles

Toronto mother abandoned toddler to go dancing
CTV.ca, News Staff, Wed. Sep. 29 2004
A single mother in Toronto who danced the night away while her two-year-old daughter was dying of dehydration in a sweltering apartment has pleaded guilty to manslaughter.
Clara DaSilva, 24, admitted Tuesday she left her toddler, Adrianna Maria, at home for at least 33 hours while she went out on the town in September, 2002. When she returned, the temperature in the bedroom had reached 35 Celsius and the child was dead.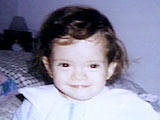 Adrianna Maria DaSilva
DaSilva pleaded guilty to manslaughter Wednesday and will be sentenced in January. She faces a sentence of imprisonment for life, but sentences for such convictions are typically less.
Crown attorney David Wright says DaSilva was an irresponsible young mother who chose to go salsa dancing instead of tending to her responsibilities to her child.
An autopsy revealed Adrianna had died of dehydration. The toddler's empty bottle was found on the floor near the crib. The child also had diaper rash so severe, it was akin to second-degree burns, the court heard.
Adrianna's father, Mark Yetman, 27, wept as prosecutors read the details in court.
Yetman said he and DaSilva had not planned on a baby. But after Adrianna was born in July, 2000, Yetman, said he fell "in love" with his daughter. When the couple split up a year later, DaSilva took custody of their child.
"I thought she was an excellent mom, but I guess that was all a lie. She killed our baby,'' Yetman told reporters.
"I hope all these horrible memories will haunt for the rest of her life."
The court heard that Adrianna Maria was left unattended for hours at a time in the three days leading up to her death. Her mother left for Read More ..5 hours on Friday and 4.5 hours on Saturday On Sunday, her mom left for work at 8:30 a.m. and didn't return until 33 hours later.
The court heard that DaSilva owed her landlord and babysitter money and was being pursued by collection agencies. But she still found enough money to spend the last three nights of her child's life dancing, paying cover charges at dance clubs, and taking $20-$25 taxi rides home.
Copyright 2004 Bell Globemedia Inc.