Virtual Library of Newspaper Articles

On Handcuffed and Felonious Children
FOX News, Florida, U.S.A., Thursday, February 10, 2005, By Wendy McElroy
What should have been a minor incident at an Ocala, Fla., elementary school has attracted national attention because of the school's response.
Two boys, aged 9 and 10, were charged with second-degree felonies and taken away in handcuffs by the police because they drew stick figures depicting violence against a third student.
There was no act of violence, no weaponry. According to news reports, the arrested children had no prior history of threatening the student depicted in the drawing. The parents were not advised or consulted. The school's immediate response was to call the police and level charges "of making a written threat to kill or harm another person."
The incident was not an aberration but one of three similar occurrences in the Florida school system during the same week. In another case, a 6-year-old was led away in handcuffs by police. And those three incidents are only the ones that managed to attract media attention.
Another indication that the incident is not an aberration: The police have adamantly and repeatedly defended the slapping of cuffs and felony charges onto the 9 and 10-year-olds.
Arresting young children for a crayon drawing, not unlike the games of hangman we once all played, is the ultimate meaning and logic of Zero Tolerance.
Zero tolerance involves the application of law in an extreme and uncompromising manner to any activity violent or not that is deemed to be anti-social.
It applies to everyone, regardless of circumstances such as age, intent or prior history.
Zero tolerance has spread through society largely due to the reasonable fear with which people have responded to the school shootings at Columbine (search) and the still-stunning tragedy of Sept. 11. The fear is reasonable. But the ongoing response is not.
No one not the police, not the government, no school official has the right to brutalize a child for using crayons. And the people who reasonably supported zero tolerance as a way to make schools safer never envisioned a police state in which 6-year-olds are handcuffed.
Parents are finally saying "NO!"
The battle against zero tolerance is being waged on the local and state level. One such local battlefield is in Katy, Texas. One such parent is Derek Hoggett. His 13-year-old daughter Gabrielle was suspended from school due to a butter knife packed in her lunch. Because of braces, Gabrielle needed the knife a legal item to cut an apple. No violence nor threat occurred.
Hoggett explained, "She was given the harshest punishment for a first offense even though school officials admitted in a letter that she was a student with exemplary behavior and high academic standing."
Gabrielle's school district has reportedly investigated "2,149 criminal incidents, issued 779 citations and made 108 arrests" in the past several months.
Because of the avalanche of investigations, Fred Hink a spokesman for the


Health Canada Publication
"... the existence of a double standard in the care and treatment of male victims, and the invisibility and normalization of violence and abuse toward boys and young men in our society.
Despite the fact that over 300 books and articles on male victims have been published in the last 25 to 30 years, boys and teen males remain on the periphery of the discourse on child abuse.
Few workshops about males can be found at most child abuse conferences and there are no specialized training programs for clinicians. Male-centred assessment is all but non-existent and treatment programs are rare. If we are talking about adult males, the problem is even greater. A sad example of this was witnessed recently in Toronto. After a broadcast of The Boys of St. Vincent, a film about the abuse of boys in a church-run orphanage, the Kids' Help Phone received over 1,000 calls from distraught adult male survivors of childhood sexual abuse. It is tragic in a way no words can capture that these men had no place to turn to other than a children's crisis line." Read More ..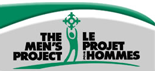 The Men's Project
"Men of Courage"

1st Ontario Provincial Conference on Male Sexual Victimizations.
It was held March 17-18, 2008
Sheraton Centre Hotel
Toronto, Ontario, Canada
The Men's Project, an Ottawa / Cornwall registered charitable service provider with the assistance of a grant from the Ministry of the Attorney General, hosted this conference.
About The Men's Project
From what was initially a volunteer run initiative, The Men's Project has grown to become one of Canada's leading counselling and educational agencies for men and their families, and in particular for all male survivors of sexual abuse committed by males and females.
The Men's Project has witnessed incredible expansion of their funded services, their fee-for-service programs, and their training and consultation services.
Their mandate is "helping men and their families build better lives". Read More ..