Virtual Library of Newspaper Articles

Angry scenes as nursery worker appears in court on sexual assault charges
Vanessa George remanded in custody after crowds jeer from public gallery and throw missiles outside court
The Guardian, UK, by Steven Morris, June 11, 2009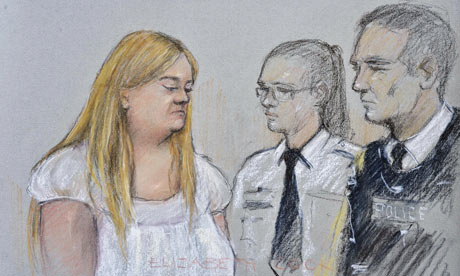 A nursery school worker was jeered and spat at when she appeared in court today, charged with sexual assault and making and distributing child abuse images.
Vanessa George, 39, who worked at the Little Ted's nursery in Plymouth, was remanded in custody amid angry scenes in and outside the city's magistrates court.
George, of Plymouth, faces three counts of sexual assault on girls and one on a boy. She is also accused of making, possessing and distributing indecent images of children.
The charges relate to offences alleged to have taken place between 1 January 2007 and June this year.
The first charge relates to an assault in Plymouth of a girl aged around one. In the second, she is alleged to have touched an "infant girl". The third is a serious sexual assault on an "infant boy". Another involved an alleged serious sexual assault on an "infant girl".
The other three charges were that she took, possessed and distributed indecent images of children.
Before George appeared, the magistrate, Hilary Anderson, warned parents in court not to disrupt the hearing.
"This case is of a very sensitive nature and I would like to remind those in the public gallery that they should remain silent during proceedings," she said.
"Anyone causing disruption will be removed from the court and if necessary the court would be cleared."
George, wearing a white T-shirt and black trousers, spoke only to confirm her name and address. She entered no pleas.
She was jeered and hissed by people in the public gallery as she emerged from the steps below the dock.
As details of the charges were read, parents cried and yelled, with one man running from the court in tears. When George was led away, a man leaped from the public gallery and spat at her.
Outside court, there were more angry scenes as people shouted at the police van carrying George away. Some chased the vehicle, hurling bottles of water and a substance that looked like flour. Two men were removed by police after blocking the path of the van.
Prosecutor Michael French applied for the case to be sent immediately to the crown court. No application for bail was made and George was remanded in custody. She is due to next appear at Plymouth crown court on 21 September.