Virtual Library of Newspaper Articles

Fashion guru to pay record child support
$15,091 per month: Canadian Nygard argues amount is 'inappropriate'
National Post, Southam News, by Cristin SchmitzTuesday, October 15, 2002
A Canadian fashion magnate whose spectacular Bahamas residence dwarfs the famed abode of Bill Gates has been ordered to pay record child support to a former lover.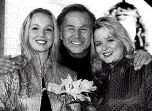 Fashion magnate Peter Nygard, seen here with daughters Alia, left, and Bianca, has been ordered to pay a record $15,091 per month in child support to the Oakville mother of his teen son Mika.
Peter Nygard, chairman of Nygard International, who built a small Winnipeg company into a $300-million women's clothing empire, was ordered by a Toronto judge to pay $15,091 per month on an interim basis to Kaarina Pakka of Oakville until their dispute goes to trial, likely in 2003.
Ms. Pakka, 52, had been receiving $3,000 per month for Mika, her 15-year-old son with Mr. Nygard, 61, who has fathered seven children by four women.
The pair has been in and out of court since 1988, when Mr. Nygard lost his constitutional bid to strike down a law authorizing paternity testing. more than a decade ago, Mr. Nygard was also taken to court by another woman over child support.
Reported in the current edition of The Lawyers Weekly, Ontario Superior Court Justice Frances Kiteley's monthly award totals $181,092 a year.
"It's the largest child support order for one child in Canada," confirmed Ms. Pakka's lawyer, Harold Niman. The previous record payment was $11,173 per month for a four-year-old Ontario boy. An award of $19,833 per month for each of three B.C. children was quickly slashed on appeal to $6,666.
Such large awards, which fathers argue exceed children's reasonable needs and are disguised wealth transfers to mothers, are prompting calls for U.S.-style, legislated upper limits or "caps" on what the wealthy must pay to support their offspring.
Judge Kiteley, who found Mr. Nygard's annual income to be $2.2-million for child support purposes, rejected his argument that $15,091 was too high and "inappropriate," since his son's basic needs were budgeted at $6,454 per month.
Noting Mr. Nygard's "extravagant standard of living" in a 150,000-square-foot "tree house" that was featured on television's Lifestyles of the Rich and Famous, she ruled that "the son of an extremely wealthy man ... ought not to be required to live at a standard of living far lower than the ability of his father to provide."
The Supreme Court of Canada has stated the "sheer size" of a child support award does not necessarily make it inappropriate.
"Child expenses which may well be reasonable for the wealthy may too quickly be deemed unreasonable by the courts," the high court ruled.
Federal child support guidelines, slated for reform over the next year, require judges to award support to custodial parents based on a fixed percentage of the paying parent's income, not on the proven needs of children. In cases involving non-custodial parents with incomes of more than $150,000, the law permits courts to deviate from the formula only if the high-income parent proves the formula award is inappropriate.
"For the defendant to support his son to the tune of less than 12% of his disclosed expenses or to the tune of about 8% of his income does not seem unreasonable," Judge Kiteley said.
She also dismissed Mr. Nygard's argument that the award was inappropriate given his personal policy of treating all his children similarly by paying their mothers $3,000 per month, in U.S. or Canadian dollars, depending on where the particular child lives. He said he paid $216,000 in 2000 to support six of his children, four of whom are under 18.
Ms. Pakka, who earns $52,000 a year, is seeking final child support of about $41,820 per month, including $30,488 to enable her to buy a suitable residence for herself and Mika, $4,000 for future savings and $3,025 for a car.
Her proposed standard of living pales next to Mr. Nygard's, who the judge said spends "more" than the $130,000 per month he estimated he expends on his lavish lifestyle.
The jet-setting entrepreneur spent millions building Nygard Cay Resort, where flamingos and peacocks wander among Polynesian-style huts and towering man-made cliffs on five beach-front acres. "Amenities, if that is the word, include a lagoon running through the house and a 40-foot-long dining table that descends to become ... a disco floor," Town and Country reports in Houses of Girth.
Canadian Business magazine ranked Mr. Nygard No. 55 of the 100 richest Canadians in 2001, with an estimated fortune of $490-million.
Rarely publicity shy, Mr. Nygard recently failed to convince a court to shield his identity in his latest child support battle with Ms. Pakka.
Judge Kiteley's interim April 30 child support order became publicly available only last week, after the time for appeal ran out on her September ruling denying Mr. Nygard's request for a confidentiality order.
There is a "general public interest" in how the child support guidelines are interpreted, she ruled. "Whether the payer is wealthy ... or the payer is of lesser means, the rules with respect to openness ought to be the same."
Mr. Nygard has been condemned by several judges involved in the case for "abusive" litigation tactics that included fighting the legally required disclosure of his finances. It took Ms. Pakka two years to get a child support order that normally would be issued within months.
"This appears to be one Read More ..tempt by the father to evade his responsibility to the court through delays, lawyer-switching, strategic non-participation, and peek-a-boo, 'now you see me, now you don't' litigation tactics," remarked one judge, who dismissed Mr. Nygard's belated request to raise a constitutional issue in the case.
Judge Kiteley predicted "it is probable that the war will continue to be waged at great cost to both parties."
After a previous child support tussle with Mr. Nygard in 1993, Ms. Pakka founded the child support group Mothers against Fathers in Arrears (MAFIA), whose members picketed Mr. Nygard's Toronto office.
His company responded with a libel suit.
Copyright 2002 National Post Online