Parental Alienation in the News

Parental Alienation - Parenting: Baldwin Speaks Up
NEWSWEEK, U.S.A., May 7, 2007 issue, by Joshua Alston
Many celebrities would shrink from view after a PR nightmare like Alec Baldwin's leaked voice mail in which he calls his 11-year-old daughter, Ireland, a "rude, thoughtless little pig." But Baldwin wants to use the media scrutiny to give exposure to parental alienation, the controversial "syndrome" caused by one parent's systematically damaging a child's relationship with the other parent. Appearing on ABC's "The View," Baldwin said he wants to dedicate the next few years to speaking out on and writing a book about parental alienation (which he said caused the angry outburst at his daughter).
Fathers' rights activists disagree whether their new de facto celebrity spokesman helps or hurts their cause. Efrain Rodriguez, president of the Fathers' Rights Association of New York, says he's getting more calls to his hot line since the Baldwin voice mail became public. "I've had so many fathers call and say they're going through the same thing," says Rodriguez. "People who know about this syndrome and what it does to fathers completely understand that voice-mail message." But other men's rights activists are more skeptical. "I don't know if he's a good spokesperson," says Dan Hogan, executive director of Fathers & Families. "I think he's certainly intent in making this issue more well known, and I hope it helps, but he didn't help us or help himself with what he did."
Advocates for women have their own concerns. The syndrome is not officially recognized by the American Psychological Association, and the endorsement of a celebrity could lend it credence. "I despise what he's doing," says Mo Therese Hannah, chair of the Battered Mothers Custody Conference. "It lends legitimacy to a syndrome that has none."
It's not clear how active Baldwin will actually be or for how long. He wants to be released from his contract on NBC's "30 Rock" to pursue the cause, but NBC issued a statement indicating that it doesn't plan to honor that request. Still, his ongoing battle with ex-wife Kim Basinger is likely to keep him and the issue in the spotlight. "I think in the long run this will do more good than harm," says Glenn Sacks, a men's rights columnist. "I think it'll give a lot of men in the same position the courage to fight back."
© 2007 Newsweek, Inc.
---
A Mother's Heartbreaking Story of Parental Alienation Syndrome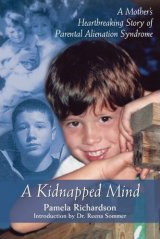 What does Parental Alienation Syndrome mean? In my case, it meant losing a child. When Dash was 4 1/2 years old his father and I broke up. I dealt with the death of our marriage and moved on but Peter stayed angry, eventually turning it toward his own house, teaching our son, day by day, bit by bit, to reject me. Parental Alienation Syndrome typically means one parent's pathological hatred, the other's passivity and a child used as a weapon of war. When Dash's wonderful raw materials were taken and shaken and melted down, he was recast as a foot soldier in a war against me. Read More ..