Virtual Library of Newspaper Articles

The Philadelphia Inquirer
Heir pushes for DNA use in his paternity suit
A scion of the Johnson & Johnson fortune wants a new law so he can limit a daughter's inheritance.
The Philadelphia Inquirer, by Robert Moran, Trenton Bureau, Dec. 28, 2003
TRENTON - J. Seward Johnson Jr. has a problem with the New Jersey Supreme Court: It won't let him prove whether a certain woman is his biological daughter.
For most ordinary folks, that's the end of the road. The state's highest court has spoken.
But Johnson, 73, is no ordinary person. He is a world-renowned sculptor. More important, his grandfather was a cofounder of Johnson & Johnson, the company that gave us the Band-Aid.
So Johnson - made wealthy in part from the sale of many Band-Aids - decided that he would try to get around the Supreme Court by asking state lawmakers to rewrite the law to expand the use of DNA in paternity cases.
The change could deny Jenia "Cookie" Johnson, who was born 42 years ago to Seward's then-wife, a slice of a Johnson family trust fund worth an estimated $350 million.
Since 2001, when the Supreme Court slammed the door on Seward Johnson and other relatives challenging Cookie's paternity, he has pushed to get favorable legislation to undo the high-court ruling.
Despite showering lawmakers and their party backers with $250,000 in campaign contributions, Johnson has been unsuccessful.
But he has not given up.
"I want that bill and I want it to help me, if it can," Johnson said in a recent telephone interview.
He also says that he is trying to help other victims of "paternity fraud" - mainly men forced to pay child support for children fathered by other men.
So Johnson's personal case has become intertwined with a growing movement that has, in fact, led to legislative changes in other states allowing the expanded use of DNA testing in paternity cases.
While the broader issue enjoys a fair amount of sympathy in the Statehouse - possibly enough to get a bill passed - it also has raised concerns.
Critics say that the various versions of the bill do not provide adequate safeguards to protect children in paternity disputes.
There also is debate about whether the legislation threatens millions of dollars in federal funding for New Jersey by making the law inconsistent with some federal requirements.
The overall issue is complex, and some wonder whether the Johnson case is unnecessarily complicating the matter.
The issue of paternity fraud is "being lost" in the Johnson controversy, said Assemblyman Neil M. Cohen (D., Union), sponsor of a paternity bill that could help Johnson.
Johnson says his fight is not about money. He said he has offered "millions" in settlement - if Cookie takes a DNA test. Johnson says she has refused.
He wants the legislation passed, he said, because "it would stop me from feeling buried alive."
Jenia Anne Josephine Johnson was born on Jan. 11, 1961, to Barbara E. Johnson, then Johnson's wife. Johnson says he soon suspected that another man was the child's father.
The marriage was troubled, to say the least.
In one notorious incident, detectives hired by Johnson one night sneaked into her house to catch her in a compromising position. His startled wife responded by shooting one of the detectives.
The Johnsons' divorce was finalized in 1965, decades before DNA testing was developed.
Johnson had questioned Cookie's paternity during the proceedings. Yet as part of the final settlement, he signed a formal acknowledgment of paternity. Without elaborating, he now says he was forced to make the acknowledgment to settle the divorce.
In the meantime, Johnson's father had created a charitable trust that would eventually benefit his four children and their families.
In 2001, the state Supreme Court ruled that Seward Johnson or his relatives could not challenge his previous acknowledgment of paternity to exclude Cookie from the trust. The high court said the original acknowledgment was final and that third parties - in this case, the relatives - could not challenge paternity.
Johnson today argues that the law is unfair and needs to be revised, specifically with a change that would allow DNA testing in any dispute over parentage with no time limit for when the challenge occurs.
After the Supreme Court ruling, Johnson hired a lobbyist and began pleading his case with state legislators.
Next came a barrage of campaign contributions.
In a nine-day stretch in the fall of 2001, Johnson gave a total of $70,000 to leadership committees representing Democrats and Republicans in both the Senate and the General Assembly.
On the ninth day, a bill narrowly tailored to help Johnson was introduced. But controversy soon erupted over the bill, and it died.
Other bills, however, have since sprouted. Supporters say they address the larger issues of paternity fraud.
One of those advocates is Patrick McCarthy, 42, a delivery truck driver from Hillsborough, Somerset County, who said he sought legislative change after he was forced to continue paying support for a child even after he discovered that she was fathered by another man.
He began his efforts before Johnson emerged in the debate, but the two have since formed an alliance. Johnson has donated money to McCarthy's nonprofit New Jersey Citizens Against Paternity Fraud. Both Johnson and McCarthy said they were not sure whether the pending legislation would even help Johnson anyRead More ..Critics do not buy it.
The legislation is "specifically designed to screw one person, who is a constituent of mine," said Assemblyman Reed Gusciora (D., Mercer), Johnson's chief opponent in the legislature.
Gusciora said he has known Jenia's mother, who now goes by Kristina, since they worked together in 1989 in a political campaign. "She contacted me [for help in the paternity dispute] and I said, 'No problem,' " Gusciora recalled.
Kristina Johnson, who lives in Princeton, declined to comment. Her daughter, who Gusciora said lives on a farm outside Princeton, did not respond to a request for comment.
Kristina has contributed $800 to Gusciora's campaign fund. Cookie's lawyer, former state Attorney General Robert Del Tufo, has given $1,000 to Gusciora and several thousands more to other lawmakers.
Those amounts pale in comparison with the $250,000 contributed to state politicians by Johnson and his current wife, Joyce.
Johnson said the contributions were not meant to buy votes, but to get lawmakers to "educate themselves" about the legislation.
There are only a few days remaining in the current legislative session. There had been some talk that a bill might move during the remaining lame-duck period, which ends in mid-January, but that appears unlikely. The legislation is expected to re-emerge next year.
Meanwhile, representatives for Johnson sent to legislators a copy of a book that accompanies a major exhibition of his sculptures at the Corcoran Gallery of Art in Washington. Each one is signed by Johnson.
In Gusciora's copy, Johnson wrote: "I wish you, despite all, a wonderful holiday season and best wishes for the new year."
---
A Mother's Heartbreaking Story of Parental Alienation Syndrome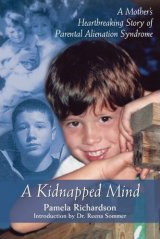 What does Parental Alienation Syndrome mean? In my case, it meant losing a child. When Dash was 4 1/2 years old his father and I broke up. I dealt with the death of our marriage and moved on but Peter stayed angry, eventually turning it toward his own house, teaching our son, day by day, bit by bit, to reject me. Parental Alienation Syndrome typically means one parent's pathological hatred, the other's passivity and a child used as a weapon of war. When Dash's wonderful raw materials were taken and shaken and melted down, he was recast as a foot soldier in a war against me. Read More ..