Virtual Library of Newspaper Articles

'Dear Zachary' hits chord with viewers
Director says he's been inundated with support, e-mails
The Telegram, St. John's NF, by TARA MULLOWNEY, December 11, 2008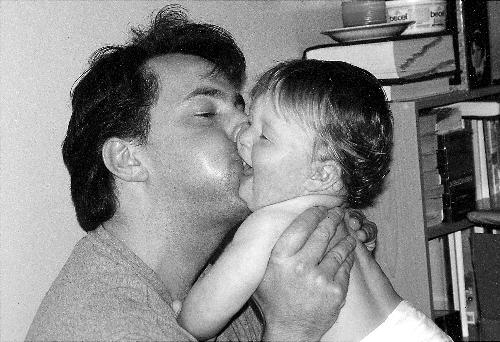 Filmmaker Kurt Kuenne gives one-year-old Zachary Turner a kiss upon meeting him July 2003. Kuenne's film about the murders of Zachary and his father, Andrew Bagby, has generated considerable positive reader feedback. - Submitted photo by David Bagby
Since it aired on television across North America last weekend, a documentary about the lives and murders of Dr. Andrew Bagby and his son, Zachary Turner, has inspired people to write the filmmaker, telling him how it has changed their lives.
Kurt Kuenne, a close friend of Bagby, told The Telegram he has received hundreds of e-mails since his film "Dear Zachary: A Letter to a Son About his Father" aired on MSNBC Sunday, both from people who say they have written Parliament and the attorney general to lobby for justice system changes, and from those who say the film touched them like no other.
"So many have written to me, saying that the film has changed their life, made them appreciate their loved ones more and given them a new perspective," Kuenne said.
"(One couple) said they'd been having trouble raising their child, and were sitting down to read a book on parenting, then "Dear Zachary" came on TV, and (Andrew's parents) Kate and David taught them more about parenting in 90 minutes than the book could ever do.
"At least three people have written to me now who said they had been clinically depressed and considering suicide, but after seeing the difference Andrew was able to make in so many lives, it snapped them out of it, made them want to live and be like him. I made this film to hopefully save lives by changing bail law; I never dreamed that it might also do it in other ways."
Kuenne started making the film after Bagby was murdered in a Pennsylvania park in November 2001. Newfoundland native Dr. Shirley Turner, Bagby's former girlfriend, was accused of his murder.
She returned to Newfoundland and was fighting to stay in Canada when she gave birth to Zachary.
Bagby's parents moved to St. John's to be near the baby and had hoped to gain full custody of him. However, in August 2003, Turner - who was out on bail - drugged Zachary and jumped off a wharf in Conception Bay South with him, drowning them both.
The Turner Review and Investigation, commissioned by the province after the deaths, concluded Zachary would likely still be alive if Turner hadn't been granted bail.
Kuenne has turned his film into a tribute to Bagby's parents as well as a plea to the Canadian government for changes to the justice system so accused murderers won't be given bail.
After a screening in St. John's a week ago, the National Board of Review has named "Dear Zachary" one of the top five documentaries of the year.
"It's a tremendous honour, as they see pretty much every film released during the year and have a lot of options for their year-end accolades," Kuenne told The Telegram. "I've seen all but one of the other films on that list, and they're all fantastic movies, so it's humbling to be named in that company."
While Kuenne said he's thrilled so many people - including a provincial court judge, Crown prosecutors, and Darlene Neville, the province's child and youth advocate - attended the local screening, he's disappointed and concerned that Premier Danny Williams, Justice Minister Tom Marshall and Finance Minister Jerome Kennedy did not.
"Once they change the law to deny bail to people accused of murder while awaiting trial, they'll stop hearing from me, but in the meantime, we're still wide open for a repeat performance," Kuenne said, adding he's organizing a screening in Ottawa in the coming months and is hoping federal politicians will attend.
The proceeds from the film are going to scholarships in Bagby's and Zachary's names at MUN and in Latrobe, Pa.; the first round expected to be delivered this week. It's an exciting feeling to be able to contribute to the scholarships in a significant way, Kuenne said.
"Andrew invested in my first feature film more than 10 years ago, and he was killed before I ever got to pay him back, so this feels like I'm finally getting to pay him back, with interest."
Due to the high ratings of last week's TV showing, "Dear Zachary" will air on MSNBC again this Sunday at 5:30 p.m. local time and again in early January. The DVD will be released Feb. 24, 2009.

TORONTO SUN, May 23, 2003
It seemed a tragic coincidence - at first.
Craig and Kathleen Folbigg's first son died in his sleep at 19 days old. Their next child, Patrick, died two years later at nine months.
Still, it was after their fourth baby died before Australian police suspected something was terribly wrong.
In Sydney's New South Wales State Supreme Court this week, Kathleen Folbigg, 35, was found guilty of killing all four of her babies.
The jury's work would have been made much easier if they had been allowed to read Folbigg's entire secret diary. In it, she practically confesses to following in her dad's deadly footsteps.
"Obviously I am my father's daughter," the Australian woman wrote in her diary Oct. 14, 1996, having already killed three of her four children.
"But I think losing my temper and being frustrated and everything has passed. I now just let things happen and go with the flow. An attitude I should of had with all my children, if given the chance, I'll have it with the next one."
Folbigg was pregnant at the time with her fourth child. She would go on to kill her as well.
Investigation into the Death of Zachary Andrew Turner (18 July 2002 to 18 August 2003)
Zachary Turner, a 13 months old baby, died at the hands of his fugitive mother, Dr. Shirley Turner, who killed him and then committed suicide on August 18, 2003.
Turner was facing extradition to the United States to stand trial for the 2001 murder of Dr. Andrew Bagby, Zachary's father.
28-year-old Dr. Andrew Bagby was found shot to death in Keystone State Park, 55 kilometres northeast of Pittsburgh, PA, U.S.A.
Turner fled to Newfoundland, Canada where Zachary was born. She was out on bail against the wishes of U.S. authorities at the time of Zachary's death. Read More ..