Virtual Library of Newspaper Articles

Looking for a safe place to call home
Mother afraid child faces female circumcision in Nigeria
Government reviewing application on humanitarian grounds
The Toronto Star, Maureen Murray, Staff Reporter, March 16, 2004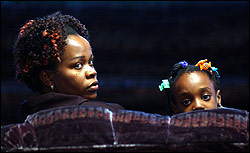 Nigerian-born Joy Bernard is fighting deportation after her refugee claim was denied. She fears her Canadian-born daughter, Jennifer, 7, would be at risk back home but doesn't want to leave her behind.

Joy Bernard has no memory of when she was circumcised by a village elder in her native Nigeria.

But she dreads the same fate befalling her 7-year-old Canadian-born daughter if they return to Bernard's homeland.

"It happened to me. Definitely it is going to happen to her, too, if I go back there," she said. "The environment is not going to be good for her."

Bernard, 30, is a failed refugee claimant who has an immigration removal order hanging over her head. She is the sole emotional and financial support for her daughter in Canada, and she can't bear the thought of simply leaving Jennifer in the hands of child-welfare officials.

"Who am I going to leave her with? A stranger? How could I leave my child with a stranger?" a tearful Bernard asked.

Her removal order has been temporarily stayed while immigration officials consider her humanitarian and compassionate application. It asks that she be allowed to remain in the country on the grounds that she and her daughter would be at undue risk back in Nigeria.

But so far things have not gone Bernard's way. Last month an immigration risk-assessment officer noted in his report that Edo State, where Bernard hails from in Nigeria, banned female genital mutilation in October, 2000. "The applicant has provided insufficient evidence that she would be unable to approach the authorities in Edo State for assistance," if Bernard's father tried to force Jennifer to undergo the procedure.

Bernard argued that as a single mother, she would have no choice but to live with her elderly and traditional father if she returned to Nigeria. She said her father and community elders would demand that the little girl undergo the procedure, particularly since Jennifer was born out of wedlock.

In certain cultures, female circumcision is seen as a way to curb sexual promiscuity.

"In Edo State, most of the women have had it done. I don't know anyone who has not had it done," Bernard said. "Who am I going to report it to?" In the face of long-held tradition and custom, new laws on the books have done little to do away with the practice, she said.

A 2003 report by the World Health Organization estimated that about 60 per cent of Nigeria's female population has endured female genital mutilation. The report says that according to local experts, the "actual prevalence may be as high as 100 per cent in some ethnic enclaves in the south," which includes Edo State.

Bernard came to Canada in 1996, when she was about five months' pregnant. She told the Immigration and Refugee Board hearing that she fled Nigeria after she and her mother were arrested and physically brutalized for participating in a political demonstration. Her lawyer didn't raise the issue of female circumcision and the board rejected Bernard's story.

Dorothy Igharo, 33, was in the same position as Bernard two years ago, fighting to keep her then 2-year-old daughter in Canada out of fear she would be circumcised on their return to Nigeria. "I myself was a victim of (female genital mutilation)," Igharo said.

"These local women who perform this ritual, they don't know about sterilizing tools. You could be exposed to deadly diseases, even death." Igharo said she wanted to speak out on Bernard's behalf because she empathizes and understands how difficult it is for a young mother to stand up against this deeply rooted ritualistic practice.

"The only way you can stop it is to keep this child in Canada," she said.

Geraldine Sadoway, a staff lawyer at Parkdale Community Legal Services, which is acting on Bernard's behalf, said she's concerned that so far, immigration officials don't seem to have taken the best interest of a Canadian-born child into account.

"The risk to her daughter is really outrageous," Sadoway said. "We're dealing very clearly with a child, a Canadian-citizen child who is very, very vulnerable."

The option of separating mother and child is equally untenable, she said. "Depriving her of her mother, her only caregiver, is a complete violation of the rights of a child."

Sadoway pointed out that the new Immigration and Refugee Protection Act, which came into effect in June, 2002, now includes a clause directing department officials to consider the best interest of a child when making their decisions.

Sheilagh O'Connell took Bernard's case to family court last October to ask a judge to prohibit the removal of her child from Ontario. At the same time, O'Connell asked the judge to confirm Bernard as Jennifer's sole guardian. "The hope was that the (family court order) based on the best interest of the child would stay the enforcement of the removal order."

In Igharo's case, immigration officials eventually allowed her to stay after a family court judge awarded her legal custody of her daughter and passed an order that the child not be removed from Ontario.

In Bernard's situation, the court put the matter on hold, after immigration officials agreed to delay sending Bernard back to Nigeria until her case was considered one last time on the basis of humanitarian and compassionate grounds.

Tsering Nanglu, of Citizenship and Immigration Canada, said despite the finding that Bernard, a home-care worker, and her daughter will not face undue risk in Nigeria, "the (humanitarian and compassionate) officer is going to look at all the other issues. They'll definitely look at the best interest of the child and how well this person has established herself."

Isaac Acheampong, assistant pastor of the All Nations Full Gospel Church on Steeles Ave. W., said he has known Bernard for six years. "She's in the choir singing or taking care of children in the nursery. She's very close to her child. Wherever she goes, the child is with her," he said. "She has been able to lead a life that I admire."

p

Calgary Sun,
February 5, 2005
If men knew more about family law, they'd run screaming from single mothers prowling for relationships and father figures for their children.
Any lawyer will tell you that the nature of your relationship with a child - not biology - determines whether you're on the hook for child support.
Sperm has nothing to do with it, the Supreme Court of Canada ruled a few years ago. Read More ..