Virtual Library of Newspaper Articles
Mystery surrounds triple slaying
No outside suspects in family violence.
Husband, wife, child dead; one injured
The Toronto Star, by BETSY POWELL AND TRACY HUFFMAN, CRIME REPORTERS, Dec. 2, 2004
A neighbour and police officer at the scene react to the violence that befell a west-end family. Paramedics who dealt with it up close may find it traumatic for a long time.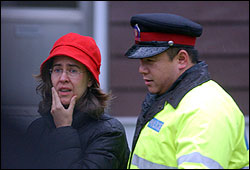 Twenty-four hours after the bloody death of a father, mother and one of their three young daughters, police, paramedics and neighbours are left with two questions.
What happened inside 516 Concord Ave.? And who carried out the attacks in the west-end home?
The only witnesses are now orphans: the wounded 2-year-old, Brigitte, who is recovering in hospital, and her 7-month-old sister, Margot, who appeared to be unharmed.
The violence inside the semi-detached brick house, on the quiet residential street near Dupont St. and Ossington Ave., left Brian Langer, 47, his spouse, Andre Labbe, 27, and their daughter Zo, 3, dead.
The early-morning 911 call came from a man in the house who reportedly said his wife had stabbed him in the stomach. Those who answered found a house of horror: Inside was man, fatally wounded, a woman lying dead, a dying 3-year-old, a wounded and blood-soaked 2-year-old and a wailing infant.
Police say it's unclear yet who was stabbed first, but they have ruled out any outside suspects. Investigators are waiting for autopsies to help determine the sequence of events.
"We have to reach out to neighbours and family and scene-investigation and pathology results to speak to us," homicide Detective Sergeant Chris Buck said outside the house.
"We have located certain items that we believe were weapons used. A post-mortem examination of the bodies will determine definitively if those items were used or not."
A friend described the couple as happy, loving parents who appeared to have a stable relationship.
"It seemed like there was so much love in that house. All that was missing was the white picket fence," the friend said.
A business associate who has known Langer three years spoke to him Monday.
"When I met him, it seemed he had been given a gift: He had a successful business and a beautiful wife. They wanted three children and had three children right away. He had RSPs for the girls.
"I remember saying to him, `Andre looks so beautiful.' He said, `Andre always looks beautiful.'"
A devoted stay-at-home mom, Labbe was described by neighbours as warm and nurturing. "Zo was already talking in full sentences and learning to speak French," her mother's first language, said the friend.
Just last week, the mother of three told a friend she was tired lately.
At about 7:30 a.m., police, firefighters and paramedics responded to the 911 call. The gruesome scene they found was among the most disturbing they've encountered.
"I can't think of a worse one than this; it was really awful," said Gerry Goldberg, the in-house psychologist for Toronto Emergency Medical Services. Goldberg spent the day counselling paramedics, 20 of whom had been at the house.
Although they're trained to set aside emotions as they tend to emergencies, such horrific scenes can overwhelm even the veterans.
"We're also human beings, and often after the incident is over ... they have the time to sit and reflect upon the horrors that they've just seen," Deputy Fire Chief Rick Simpson said as he left.
The horrifying aftermath was caught live by a television camera operator and broadcast last night with warnings about the disturbing content. One indelible image was that of tiny Brigitte wearing a diaper and a pink, blood-soaked T-shirt, a bandage wrapped around her throat. She was tiptoeing in her bare feet on the concrete front porch and reaching out with both arms to paramedics tending to her neck wound.
Brigitte underwent surgery yesterday afternoon and is recovering from her non-life-threatening injuries at the Hospital for Sick Children, a police spokesperson said. A hospital spokesperson said she could not comment on the girl's condition until consent was obtained from a guardian. The infant remained at Sick Kids yesterday under observation.
`They are beautiful children, sweet little girls. They were (Brian Langer's) angels'- Family friend
Paramedics rushed Zo, unconscious and not breathing, to the same hospital, where she was pronounced dead. Emergency personnel found Langer clinging to life, but he died at St. Michael's Hospital a short time later. Labbe died inside the house. Her body was removed last night.
Neighbours who gathered in yesterday morning's downpour were dazed.
Maria Costa, who lives next door, said in Portuguese that her husband had heard a fall and a scream but dismissed it as the sound of children playing, until the couple heard wailing sirens outside their door.
Across the street, Christopher Cobain called the family "amazing. The girls were beautiful, very easy to talk to ... and great with the dog."
Police brought the family German shepherd to Cobain just after 9 a.m. He said the animal appeared to be injured, and his wife had taken it to the vet.
Jennifer Alves, another neighbour, described Labbe as "really, really friendly, always talking, going to the park, walking the dog." She would often see Labbe taking the girls to nearby Essex Public School, where they attended a free parenting centre for pre-schoolers.
Outside the family's house, which the couple bought in 2001, a wreath was hanging above the street number.
Maria Inacio, who lives nearby, shook her head. "It's awful when kids are involved. Could it have been prevented? Things like this don't happen out of the blue — there had to be ongoing trouble."
But the family was the picture of happiness when they celebrated Mother's Day last year. Zo, wearing a bright yellow jacket, and Brigitte, in a striped hat, played together and posed for photos with their parents. The couple's youngest, Margot, was born this past spring.
Langer and Labbe also seemed happy that sunny afternoon to those who saw them, wrapping their arms around each other and smiling while having their picture taken.
Langer "was on top of his world" and very happy he had three little girls, said a family friend. "They are beautiful children, sweet little girls. They were his angels."
Shocked colleagues described Langer as a man of "immense" integrity who appeared utterly devoted to his wife and kids.
"He was one of the finest human beings on the face of the earth," said Tom Crooks, a sales manager with Langer's company.
Crooks said Langer, who was president of the direct-mail software firm Jet Letter Inc., often talked glowingly about his family. "They were the light of his life," said Crooks, who lives in Corona del Mar, Calif.
A biography posted on the Jet Letter website describes him as a former Canada Post worker who started at the crown corporation in 1979.
He later retrained as an electrical engineer and re-entered the mail business in 1995, as a "reseller" of computer support products to the Canadian and U.S. postal services.
He became the exclusive Canadian distributor of Jet Letter products in 1995 and took over its international distribution in 2001.
"His company was very reputable," said Jill Peden, of Indiana-based L&D Mail Masters, which uses the direct-mail software.
A 5-year-old boy and his mother placed a bouquet outside the home yesterday. Diane Laite said they lived on the street at the time her son was born.
"It's a very sad thing to see," she said. "I have three kids and I just couldn't believe it."
Laite said her son saw a television report and was asking questions. "It's hard to explain to a 5-year-old," she said. "You can't." But she suggested taking flowers to the home.
"At least he did his little part," she said. "He feels better."
With files from Joseph Hall, Elaine Carey and Louise Brown