Virtual Library of Newspaper Articles


Canada's largest newspaper
Student's vice-regal suspension lifted
Canadian Press, Toronto Star and various other media in Canada, LORRAYNE ANTHONY, Feb. 17, 2005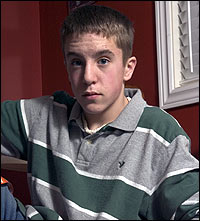 Jeremy Patfield, 15, of Whitby, says he was suspended after a tour of Rideau Hall in Ottawa.
A high school in Whitby has lifted its three-day suspension of a student whose question about Gov. Gen. Adrienne Clarkson's spending prompted a tour guide to abruptly end a school tour of Rideau Hall, the boy's dad said today.
"I had a meeting with the school — the superintendent, the principal and the vice-principal," said Dan Patfield, father of the 15-year-old high school student.
"After everything the media did ... the school has lifted the three-day suspension."
Jeremy Patfield was touring the Governor General's official residence with about 60 students on Tuesday when he spotted Clarkson and asked: "Is that the woman that spends the money on the Queen when she comes?"
The question was uttered within earshot of Clarkson. A tour guide who overheard the teen's comment immediately ended the tour.
"The Governor General's staff has apologized to the school and I guess we are expecting a call from the Governor General herself," said Patfield from his Whitby home where he, his wife and son were trying to get some rest after a couple of sleepless nights and a media storm.
"He was sorry for what he did say in the Governor General's home and he did say it to a second party and he said he would pick a different form if he had to do it all over again."
Clarkson defended the boy's — and anybody's — right to ask questions about how government money is spent.
"Had I heard the question, I would have answered it," the Governor General told CBC television this morning. "I believe that everybody — kids, adults, people coming from other countries — have the right to ask anything they want to when they come here."
"I'm sorry I didn't hear and I'm sorry about the reaction to it. Apparently the tour was cut somewhat short and I'm sorry that the boy felt that his innocent question about the expenses of the Queen when she comes to Canada were not answered because they very well can be."
She then went on to explain that the expenses of the queen are paid by the Department of Canadian Heritage when she comes to the country as she did in 2002 and as she will be doing in 2005 to celebrate the 100th anniversary of Saskatchewan and Alberta.
"It's a very simple answer."