Virtual Library of Newspaper Articles

Comment / Editorial
Some 'dads' don't deserve the title
Toronto Sun, June 21, 2010
Yesterday was Father's Day, a B-list occasion when compared to Mother's Day, or even Valentine's Day.
This is no secret.
Yes, we're a day late and a penny shy.
But so what?
Fathers will understand this, especially if yesterday passed with little or no fanfare -- with only a card, perhaps, or some cheap cologne.
The good fathers, at least, will understand.
The bad ones, however, deserve no consideration at all.
We have no issue with fathers who do not have formal custody of their children, as long as they are still there to provide the emotional and financial support so drastically lacking in too many homes.
But those fathers seem rare these say, especially in the helter-skelter of big cities where disappearing is often as simple as rounding the next corner and not looking back.
It's the sperm providers who trouble us; those so-called "men" who plant their seed and then fly away, leaving mother and child to fend for themselves in a world that often involves living on the edge of impoverishment.
These "men" are not "fathers."
These "men" are dead-beats.
According to the Canadian Children's Rights Council, with information from Statistics Canada, fatherlessness is one of the "greatest social problems in Canada."
This is not a dishonest statement.
Children from father-deprived homes are twice as likely to quit school and 70% more likely to be incarcerated.
They represent three out of every four teen suicides, and 90% of all runaways.
These are grim statistics.
It should be noted that not all dead-beat dads are wearing that label by choice.
Too many child advocate offices and provincial family responsibility offices have pushed many fathers over the brink by garnisheeing wages way beyond reasonableness, thereby forcing them into untenable positions.
These agencies must lighten up, and wake up to the reality that one cannot get financial blood from a stone once the stone has bled out.
Diminishing the role of fathers in the lives of their children through bureaucracy will only make matters worse.
Do yourself a favour if you are a non-believer.
Go sit in young offenders court, and then wander across the hall into family court.
It will be an eye opener.
Lesbian Pedophilia and the rape of girls
Don't attend performances.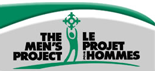 The Men's Project
"Men of Courage"

1st Ontario Provincial Conference on Male Sexual Victimizations.
It was held March 17-18, 2008
Sheraton Centre Hotel
Toronto, Ontario, Canada
The Men's Project, an Ottawa / Cornwall registered charitable service provider with the assistance of a grant from the Ministry of the Attorney General, hosted this conference.
About The Men's Project
From what was initially a volunteer run initiative, The Men's Project has grown to become one of Canada's leading counselling and educational agencies for men and their families, and in particular for all male survivors of sexual abuse committed by males and females.
The Men's Project has witnessed incredible expansion of their funded services, their fee-for-service programs, and their training and consultation services.
Their mandate is "helping men and their families build better lives". Read More ..