Virtual Library of Newspaper Articles

The Honourable Senator Landon Pearson received an honorary doctorate from the University of Ottawa
June 7, 2002
When she was sworn in as a senator in 1994, Landon Pearson had two goals: to advance children's interests through legislation and to open up the political process so that children could participate in the decisions that affect them.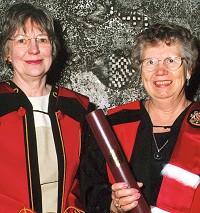 Health Sciences dean Denise Alcock with Landon Pearson
During the eight years Senator Landon Pearson has graced the upper chamber, she has fulfilled these commitments in many ways. In 1996, she was named the minister of foreign affairs' advisor on children's rights. In 1999, Prime Minister Jean Chrtien appointed the senator his personal representative to the United Nations' 2001 Special Session on Children.
Pearson has helped to empower children and young people by giving them a voice. She is genuinely interested and involved in their stories and their lives. And she makes certain, in the forums and conferences that she chairs, that children participate too.
With her husband, diplomat Geoffrey Pearson, she raised her five children in Canada, France, Mexico, India and the former Soviet Union. She was a school trustee in Canada and in India. In New Delhi and Bombay, she participated in Mobile Creches for Working Mothers' Children. As the author of Children of Glasnost, she illuminated the lives of children who grew up under a repressive regime. She is the co-founder of a mental health prevention program, Children Learning for Living, which operated for 23 years through the Ottawa Board of Education.
University of Ottawa