Virtual Library of Newspaper Articles
United Press International
Australia's High Court takes support case
United Press International (UPI), Australia, November 19, 2005
MELBOURNE, Nov. 19 (UPI) -- Australia's High Court has agreed to hear the case of a man trying to recoup tens of thousands in child support he paid for children he didn't father.
Liam Magill had been thwarted in his efforts for six years to get back the money after DNA tests proved two of three children he thought were his were actually someone else's, The Australian reported Saturday.
His former wife, Meredith Magill, successfully argued in lower courts that she did not deceive her former husband on purpose, so therefore, she should not have to return some $70,000 in child support payments.
Magill told The Australian he was thrilled with Friday's decision in Melbourne sending his case to the High Court in Canberra.
"It's a very important social issue that affects all the brothers, fathers, sons; all the male members of the Australian community," he said. "It's an issue that needs to be addressed at the highest level."
Magill said he would seek $300,000, the money he paid out plus damages for his former wife's deceit.
Copyright 2005 United Press International, Inc.
A Mother's Heartbreaking Story of Parental Alienation Syndrome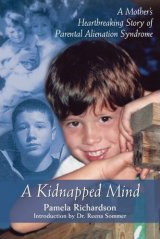 What does Parental Alienation Syndrome mean? In my case, it meant losing a child. When Dash was 4 1/2 years old his father and I broke up. I dealt with the death of our marriage and moved on but Peter stayed angry, eventually turning it toward his own house, teaching our son, day by day, bit by bit, to reject me. Parental Alienation Syndrome typically means one parent's pathological hatred, the other's passivity and a child used as a weapon of war. When Dash's wonderful raw materials were taken and shaken and melted down, he was recast as a foot soldier in a war against me. Read More ..