Virtual Library of Newspaper Articles
Teacher Accused of Sex Abuse
The Braxton County teacher admitted having sex with three middle school students, State Police said.
WBOY-TV, WTRF-TV, WOWK-TV, WVNS-TV, The State Journal
with reporting from Associated Press, by Christine D' Antonio, West Virginia, U.S.A., March 3, 2005
A Braxton County middle school teacher is in police custody after allegedly confessing to sexual misconduct with five of her students.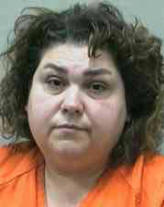 Toni Lynn Woods
Photo Credit: West Virginia Regional Jail
Toni Lynn Woods, 37, of Strange Creek was arrested Wednesday on eight counts of sexual assault.
State Police said several students reported they had been treated or touched inappropriately.
In the criminal compliant filed against Woods, she admitted she had sexual intercourse with three students a total of four times.
She also admitted to performing oral sex on two different juveniles a total of four times.
Braxton County Superintendent Carolyn Long wouldn't comment on the allegations, saying it's a personnel issue. But she said district officials take allegations of abuse seriously.
"This school system acts immediately," Long said, "and follows through any way they can to see that that risk is removed."
Woods was being held in the Central Regional Jail in Sutton on $100,000 bond.
Braxton County Prosecutor William C. Martin said the State Police investigation began when a family member of one of the children complained.
Martin said Woods resigned her job as a sixth grade teacher and permanently surrendered her teaching certificate.
Includes reporting by The Associated Press.
2005 West Virginia Media Holdings, LLC WBOY-TV I WTRF-TV I WOWK-TV I WVNS-TV I The State Journal