Sex Education Curriculum Ontario Schools Terrible

Four years of foreplay and afterthoughts on sex-ed: Cohn
Ontario's archaic sex-ed curriculum dates from the 1990s, long before Facebook, smart phones and same-sex marriage. Time to get with the times.
The Toronto Star, by Martin Regg Cohn, Provincial Politics, Published on website, Wed Jul 23 2014 and oin the newspaper July 24, 2014
A day after winning the premiership in early 2013, Kathleen Wynne promised to fix one of the lingering embarrassments of her predecessor's reign.
The incoming premier vowed to tackle Ontario's outdated educational curriculum - a product of the Mike Harris era - by modernizing its pre-Internet approach to sex-education and mental health topics.
That was 18 months ago. Now, a full four years after Dalton McGuinty first lost his nerve - and his judgment - when confronted by a rump group of religious and right-wing provocateurs, the Liberals are still no further ahead on the issue.
Facing a tough re-election campaign in 2011, McGuinty - the so-called education premier - opted, opportunistically, to keep delaying those educational consultations.
Facing a tough election battle of her own in 2014, Wynne did as McGuinty did - saying and doing as little as possible for as long as necessary.
McGuinty's diversions and Wynne's evasions have exasperated educators across the province. And short-changed Ontario's 2 million students.
At a time of rapidly changing discourse on intercourse and other touchy topics, students and parents are paying a price for delay: Cyberbullying, teen suicides, and sexting have pushed the envelope of relationships.
Some 9,000 pregnancies for young women and girls under age 20 were reported in 2010, with more than half of them aborted. There were 775 new cases of HIV in 2012.
The Liberal government's speech from the throne, setting out its legislative agenda, promised this month to govern from an "activist centre." It also pledged to "put evidence before ideology."
And the evidence - pedagogical, not ideological - is overwhelming.
Chris Markham, head of the Ontario Physical and Health Education Association (Ophea) remains exasperated by the disconnect between today's interconnected kids - always online and vulnerable to cyberbullying - and the way politicians are bullied by pressure groups opposed to sex education.
"Yes I'm frustrated," he told me. "No one thought it would take over four years to get that done."
An entire cohort of students has gone through high school exposed to online information and imagery - you can use your imagination - while their teachers' hands were tied by Canada's most outdated curriculum. Ontario's current sex-ed teaching guidelines date from the 1990s, long before Facebook, smart phones and same-sex marriage.
Why wait?
The Liberals were spooked by former Tory leader Tim Hudak, who stooped to a perverse alliance with Charles McVety - an obscure, politically motivated and sexually obsessed televangelist who raged against the reforms. McVety was elevated to the status of social prophet by Hudak's regressive Progressive Conservatives.
"We stand with moms and dads across the province of Ontario," Hudak railed at the time, accusing McGuinty of pushing "sex education classes with 6-year-olds who are just learning to tie their shoes."
Deputy PC leader Christine Elliott, now running to replace Hudak, claimed in 2010 that the Liberals "got caught flat out by us calling them out on it and by parents . . . who are really upset about this."
Now that Hudak is gone and his policies repudiated, will Elliott and her fellow Tories get in touch with parents' larger concerns?
Survey research by Ophea and a coalition of 50 organizations, conducted by Environics Research, shows nine in 10 parents want an updated sex-ed curriculum. Only 2 per cent (telephone operators are standing by now) believe it shouldn't be taught in schools.
Armed with that research, and empowered by a fresh majority mandate as premier, Wynne finally intends to finish what she started as education minister. Her education minister, Liz Sandals, has been given the green light to launch fresh consultations on the long-delayed reforms this fall to allow implementation by the following year.
Will they be diluted? A government source acknowledges the consultations could produce changes, but "we won't omit all the words that McVety hates - he'll still be upset."
And Sandals remains confident that Wynne - her old boss at education, now her new boss as premier - has got her back: "Quite frankly, the premier and I are determined not to be put off the path by people who are deliberately trying to demonize it."
Stay tuned to the 2015 school year - five years and two elections after the reforms were derailed. Time's up.
Ontario's Lieutenant Governor
The Honourable
James K . Bartleman
The Lieutenant Governor's Literacy Initiatives
December, 2005
To open new opportunities for aboriginal youth, the Hon. James K. Bartleman has launched four innovative programs that promote literacy, drawing upon widespread support from individuals and organizations throughout the province of Ontario, Canada's most populous province.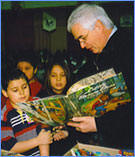 When the Hon. James K. Bartleman began visiting First Nations in Northern Ontario in 2002, he noticed that the schools had many bookshelves, but few books. At the start of 2004 he launched a province-wide appeal for donations of good used books to send to
these northern schools. Priority was given to 33 fly-in communities in the Far North, served only by winter roads. Ontario Provincial Police detachments across Ontario served as depots for collecting books, and dedicated volunteers sorted and packed
many thousands of books at OPP Headquarters in Orillia and at an aircraft hangar at Downsview in Toronto. By the end of February, 1.2 million books had been donated by generous Ontarians. After sorting, 850,000 good quality books were provided to First Nations and Native Friendship Centres across Ontario. Shipments were made possible thanks to the OPP, Department of National Defence, the Canadian Rangers, the Nishnawbe Aski Nation, the South Asian professional association EIPROC, Wasaya Airways, corporate donors, trucking companies and numerous volunteers. A resounding success, the Book Program ended in 2004.