Virtual Library of Newspaper Articles

Shamed, the teenage girls who bragged about inviting gatecrasher to the party which left Liam Knight disabled
The Daily Telegraph, Sydney Australia, Mark Morri, crime editor, May 05, 2014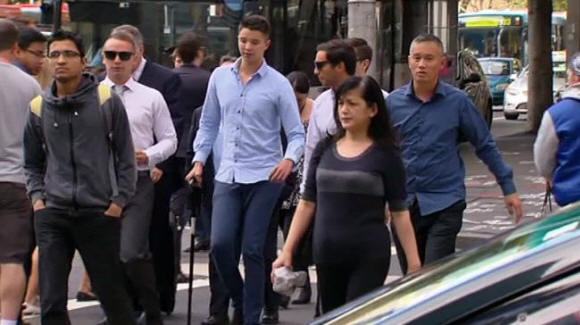 Liam Knight has condemned two teen girls for bragging about inviting the gatecrasher who speared him through the head with a metal pole, describing them as "absolute filth and the scum of the earth".
The 18-year-old suffered lifelong brain damage after the gatecrasher threw the 2.85m metal rod at him "like a javelin", piercing his skull, at a backyard birthday party for his friend Harry Staples in ­Forestville, in Sydney's north, last January.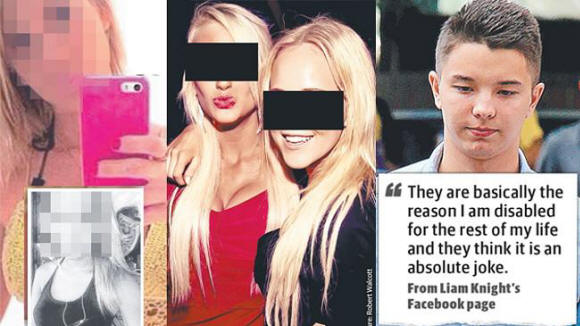 Liam Knight wasn't shy about offering his opinion on the teen girls.
Just hours after the unwanted guest was found guilty on Friday of throwing the steel rod at Liam, two Sydney teens were boasting they had invited him. The taunt came after Lisa Staples, whose son Harry held the 18th birthday party, told The Saturday Telegraph the girls had never shown any ­remorse or apologised to her family or Liam.
The girls, who cannot be named for legal reasons, took to Instagram soon after the story was published and posted a selfie that boasted they were "The girls that showed no remorse".
Incredibly the post received more than 100 "likes" from their friends.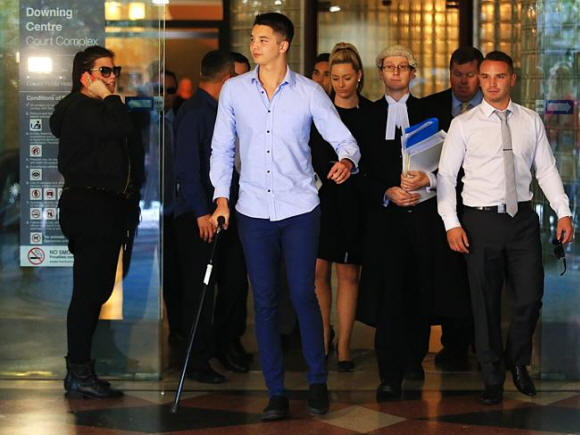 Liam Knight leaves court after the guilty verdict
The girls finally apologised yesterday after being contacted by The Daily Telegraph.
"To the person who wrote the article and to everyone that read it, of course we are remorseful, what's occurred is a tragedy. There are many factors at play here. So please don't point the finger at us," one of the girls posted at 2.36pm yesterday. Her friend "liked'' her comment.
Both the Staples and Knight families yesterday said they did not want "to lower their dignity'' by responding to the girls' taunts. Liam, who now suffers epilepsy and a loss of motor function, posted on Facebook: "I'd just like to point out that the two girls who invited the gatecrashers to the 18th where I was injured are absolute filth and the scum of the earth. They are basically the reason I am disabled for the rest of my life and they think it is an absolute joke.''
Liam, who will be under medical supervision for the rest of his life, said he was angry at his attacker.
"But I hate these girls just as much because they are that stupid and act like they are innocent little girls who have done nothing wrong," he said.
"I hope you are happy with yourselves because you are the reason for the way I am today."
Liam last night took his Facebook post down.
The state government said it would consider looking at a special gatecrashing law for anyone who invites unwanted guests to parties. Attorney-General Brad Hazzard's spokesman yesterday said the department was investigating the girls' involvement.
"The Attorney-General will ask the department to give ­advice on whether this case ­indicates the need for any ­further legislation in any particular area," he said.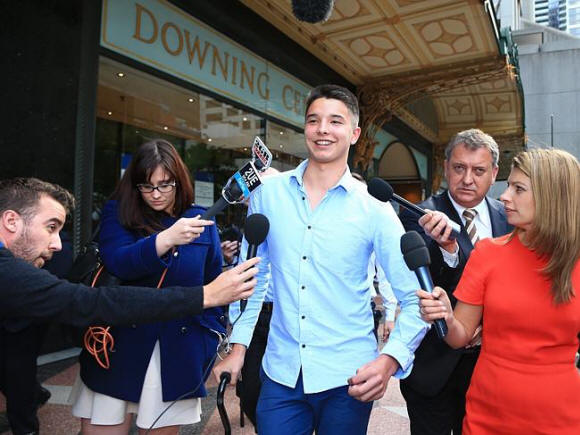 Liam Knight leaves court after the guilty verdict