TEDx - The Boy Crisis: Why Our Boys Are Struggling and What We Can Do About It
Dr. Warren Farrell - TEDx The Boy Crisis
Dr. Farrell published a book on the subject below Released - March 13, 2018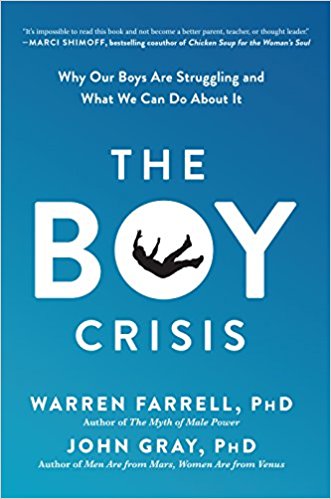 What is the boy crisis?
It's a crisis of education. Worldwide, boys are 50 percent less likely than girls to meet basic proficiency in reading, math, and science.
It's a crisis of mental health. ADHD is on the rise. And as boys become young men, their suicide rates go from equal to girls to six times that of young women.
It's a crisis of fathering. Boys are growing up with less-involved fathers and are more likely to drop out of school, drink, do drugs, become delinquent, and end up in prison.
It's a crisis of purpose. Boys' old sense of purpose—being a warrior, a leader, or a sole breadwinner—are fading. Many bright boys are experiencing a "purpose void," feeling alienated, withdrawn, and addicted to immediate gratification.
So, what is The Boy Crisis? A comprehensive blueprint for what parents, teachers, and policymakers can do to help our sons become happier, healthier men, and fathers and leaders worthy of our respect.
About the Dr. Warren Farrell
Dr. Warren Farrell is the author of books published in 17 languages. They include two award-winning international best-sellers: Why Men Are The Way They Are plus The Myth of Male Power. Warren has been chosen by the Financial Times as one of the world's top 100 thought leaders.
Dr. Farrell is currently the Chair of the Commission to Create a White House Council on Boys and Men. He is the only man in the U.S. to have been elected three times to the Board of the National Organization for Women (NOW) in New York City. He started more than 300 men and women's groups, including ones joined by men from John Lennon to John Gray. Dr. Farrell has appeared repeatedly on Oprah, TODAY, and Good Morning America, and been the subject of features on 20/20, in Forbes, The Wall Street Journal, People, Parade, and The New York Times.
Dr. John Gray is the author of Men are from Mars, Women are from Venus. USA Today listed Mars/Venus as number six among the most influential books of the last quarter century. In hardcover, it was the number one bestselling nonfiction book of the nineties. John Gray's books are translated into approximately 45 languages in more than 100 countries.
Dr. Gray's more recent books include Mars and Venus in the Bedroom, Why Mars and Venus Collide, and Work With Me (with Barbara Annis). John has appeared repeatedly on Oprah, as well as on The Dr. Oz Show, TODAY, CBS This Morning, Good Morning America, etc. He has been profiled in Time, Forbes, USA Today, TV Guide, and People. He was also the subject of a three-hour special hosted by Barbara Walters.
---


Health Canada Publication
"... the existence of a double standard in the care and treatment of male victims, and the invisibility and normalization of violence and abuse toward boys and young men in our society.
Despite the fact that over 300 books and articles on male victims have been published in the last 25 to 30 years, boys and teen males remain on the periphery of the discourse on child abuse.
Few workshops about males can be found at most child abuse conferences and there are no specialized training programs for clinicians. Male-centred assessment is all but non-existent and treatment programs are rare. If we are talking about adult males, the problem is even greater. A sad example of this was witnessed recently in Toronto. After a broadcast of The Boys of St. Vincent, a film about the abuse of boys in a church-run orphanage, the Kids' Help Phone received over 1,000 calls from distraught adult male survivors of childhood sexual abuse. It is tragic in a way no words can capture that these men had no place to turn to other than a children's crisis line." Read More ..