Father Wins Sole Custody When Children Abducted by Mother,
Anna Sedmina AKA Anna Kolesa

Help Me Get My Children Back From Vienna, dad asks Ottawa
CanadianCRC editor's comments:
The Hague Convention on the Civil Aspects of International Child Abduction, of October 25th,1980 entered into force between the initial signatory countries on 1 December 1st, 1983 to ensure the prompt return of children who have been abducted from their country of habitual residence.
Some courts in countries and governments such as in Poland in 2010 continue to ignore the Convention although they are signatories to the Convention and therefore assist parents who abduct children to those countries.
Canada has, at times, done nothing to help such parents of abducted children. IN 2009, the Canadian Children's Rights Council followed one such case in which the Central Authority of the Hague Convention couldn't find even one lawyer to accept such cases funded by Legal Aid Ontario. The funding of lawyers was so law that no experienced or even inexperienced lawyer would take the case which , in theory should be simply establishing in court the country of habitual residence and sending the children home.
The caseworker of the Attorney General of the Ontario twice asked the RCMP, Canada's federal police service which also provides local policing in much of Canada, to locate the abductor mother and abducted child but they refused claiming "It's a civil matter.".
The Canadian Press, appeared in numerous major Canadian newspapers including The Gazette in Montreal, September 14, 1981
TORONTO (CP) - A Toronto father has appealed to the federal government in an effort to have his children returned to him in accordance with a court order.
One night over a year ago Thomas Sedmina returned home from work and found a note from his wife, Anna Sedmina AKA Anna Kolesa, saying she was taking their children, Jeanette, 11, and Thomas Jr, 7, to Vienna where her parents live. He has seen the children only once, after a private investigator traced them to their Viennese school.
The Ontario Supreme Court family division has issued a court order awarding him custody of the children and a Canada-wide warrant has been issued for his wife for allegedly abducting them.
Sedmina has been to Vienna three times but the courts there tell him they have no power to enforce the Ontario order.
He says he needs External Affairs Minister Mark MacGuigan to intervene with his opposite number in the Austrian Government.
Diplomatic requests for their return made by the Canadian embassy in the Austrian capital have borne no fruit.
"My kids are Canadian," Sedmina said. "Their home is in Canada and that's where they should be".
"The children should have been back home last September after the first ruling by the Supreme Court of Ontario giving me custody. My wife won't give me visiting rights. I can't phone my kids. I have gotten only two letters from them in over a year. Nothing on birthdays or Christmas."
After Mr. Justice Coulter Osborne ordered last December that Sedmina be given custody of the children he made the first three visits to Vienna.
"When I finally found them, they said things like 'I don't love you. I hate you. My home is in Vienna. Go back to Canada.' They were programmed. They are totally brainwashed and afraid of me."
In a folder of documents, Sedmina carries the one letter he's received from his daughter since she was taken from him. It starts: "Hello daddy. How are you? If you love Thomas, me and your wife why don't you send some money?"
"What kid of 11 writes something like that on her own?" her father asked.
Anna Sedmina AKA Anna Kolesa is wanted by the Royal Canadian Mounted Police (RCMP) for Criminal Child Aduction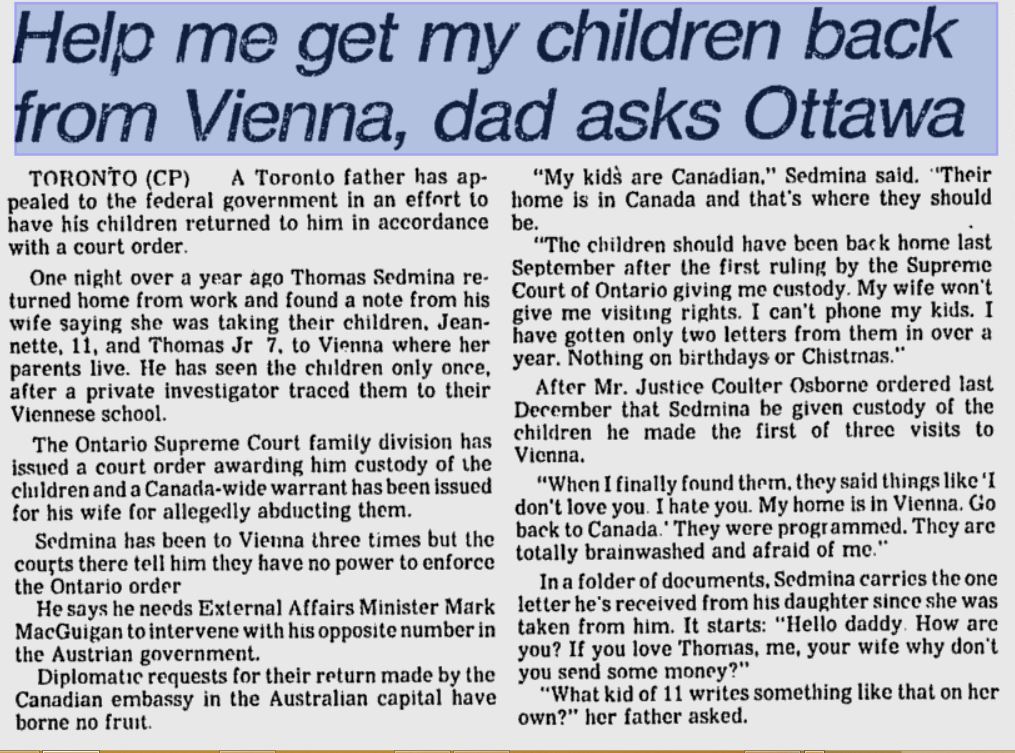 ---