Virtual Library of Newspaper Articles

Dad files $6.3M B.C. birth certificate lawsuit
CTV.ca News Staff, October 29, 2004
Convinced British Columbia is unjustly preventing him from adding his name to his children's' birth certificates, Darrell Trociuk is suing the province for $6.3 million.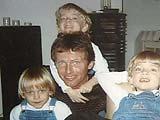 Backed by a Supreme Court of Canada decision that keeping his name off the birth certificates is unconstitutional, Trociuk says B.C. is blocking his attempts to be a dad.
Trociuk and the children's' mother, Reni Ernst broke off a two-year relationship shortly after their triplets were born in January, 1996.
According to Trociuk, that's when his troubles began.
"Originally in the hospital, she filled out a form and put 'unacknowledged'," he told Canada AM, recalling the birth of his sons Ryan, Andrew and Daniel.
"I said I wanted to be involved in the children's lives and support them and be involved and love them. So she decided not to send in the form... and agreed that I'd be acknowledged and the children would have joint names."
Although Ernst acknowledged he is the kids' dad, and accepts child support payments from him, Trociuk says she sent in the form anyway.
Trociuk then applied to the B.C. Department of Vital Statistics for his name to be returned to the record, and for his three sons to take the joint surname Ernst-Trociuk.
"It's a part of being involved in my children's lives," Trociuk told Canada AM when he was asked why the surname change is so important.
But the department refused his application without explanation. His claim was then rejected by both the provincial court and B.C. Supreme Court before it was dismissed by the province's Court of Appeal.
Canada's Supreme Court took a different position, however, ruling that the section of B.C.'s Vital Statistics Act preventing Trociuk's name from being on the birth certificate was unconstitutional
The high court gave British Columbia one year to change it.
According to Trociuk's suit, the government's actions have caused him "emotional upset, humiliation, degradation and pain and suffering and have caused him to be separated from his children, both physically and emotionally, and the damage and loss caused by this separation can never be recovered."
"This has been very financially hard on me. This has been a long, drawn-out court action and I'm trying my best," Trociuk told Canada AM on Friday.
The suit seeks $100,000 per child for malice, bad faith, improper purpose, breach of fiduciary duty, discrimination and/or negligence and $1 million per child for aggravated damages for malice, improper purpose, breach of fiduciary duty, discrimination and/or negligence and a further $1 million per child for punitive damages.
With files from The Canadian Press