Virtual Library of Newspaper Articles

'Dancing mom' gets 3 years for daughter's death
CTV.ca News Staff Mon. Apr. 11 2005
A Toronto father pronounced himself "sick" after the salsa-dancing mother of his toddler daughter was given a three-year sentence in connection with the child's death by abandonment.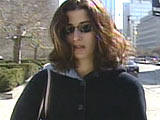 Clara Da Silva on her way into a Toronto courthouse on Monday.
"I'm sick to my stomach," Mark Yetman told reporters outside a Toronto courthouse on Monday. "You go out and beat up a guy on the street corner, you get five or 10 years. You kill my kid, it's totally fine."
Clara DaSilva, his former girlfriend, went salsa dancing in September 2002. She left her two-year-old daughter Adrianna alone in a sweltering apartment for 33 hours.
The temperature in the apartment rose to at least 35 degrees Celsius, and she had no food or water. DaSilva had lied to people, saying someone was at her apartment taking care of Adrianna.
On the evening of Sept. 9, DaSilva returned to her apartment to find her daughter face down in her crib.
Court was told that DaSilva left the apartment to get some money, and it wasn't until an hour later that she asked a neighbour to call for help.
CTV News Toronto's John Lancaster reported that Adrianna was frequently left alone.
The little girl was never taken for routine medical appointments and immunizations, and her diaper rash had gotten so bad that it was akin to second-degree burns.
"I feel like I've been shot," Yetman said. "For her to get three years -- big deal."
The maximum sentence for manslaughter is life in prison.
The prosecution had asked for eight to 12 years, while the defence argued for a conditional sentence of two years less a day. An appeal of the sentence by the Crown is under consideration.
In considering the sentence, Lancaster said the judge reasoned that DaSilva is a first-time offender, and is not considered a threat to society.
DaSilva's lawyer argued no parent would assume that leaving a baby alone for 33 hours could kill the child.
With files from CTV's John Lancaster
Copyright 2004 Bell Globemedia Inc.